Commercial Plots for Sale in Bahria Town Lahore – Open Form Deal
by UPN
February 28, 2022
0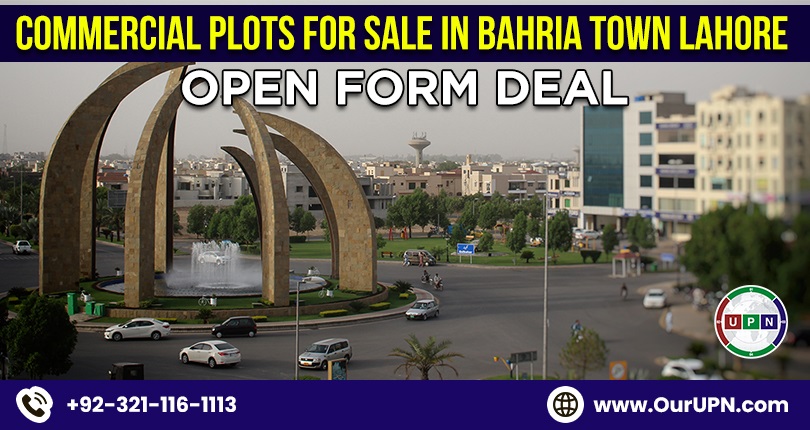 Bahria Town Lahore is a beautiful housing society, a luxurious development at a prime location. Launched many years ago, it's a well-developed project where facilities and features are mind-blowing. It's a complete residential place where buyers find it suitable to meet their needs perfectly. But, at the same time, it's an attraction for investors providing them life-changing commercial opportunities. Keeping its tradition to offer the best properties to everyone, Bahria Town has once again launched a new deal of commercial in Bahria Town Lahore.
Undoubtedly, this society is full of options for investing in commercial plots, shops, and offices. But this new deal brings something different and unique. That's is open form. Further details are:
Commercial in Bahria Town Lahore
The new deal of commercial plots is launched in Tauheed Block. This block is ideally located and thoughtfully developed. Features good construction this block has the following blocks in the surroundings:
Jinnah Block
Rafi Block
Nishtar Block
Iqbal Block
Moreover, the commercial in Bahria Town Lahore is available on the main boulevard that is easily accessible. These new plots are launched at the recently acquired new land where the development work is already started.
Most importantly, these are open form plots so that you will save around 5 lacs of transfer fee on them. The prices of the plots are also affordable, providing investors with a chance to own their commercial plot in Bahria Town Lahore. The launching price of the Tauheed Block 5 Marla commercial plot is 2.25 crores. Plots are developing rapidly; hopefully, the possession will be available by the next 6 months.
Comparison with Already Existing Commercials
Tauheed Block commercial's new deal is something exciting and beneficial you were waiting for. These plots are located at the heart-winning location of Bahria Town Lahore, making it the right property investment in 2022.
The same size and category plots in the proximity where the possession is available are currently available in 4.25 crores to 4.75 crores. But these plots are almost half in the prices.
Reasons to Invest in Commercial Plots in Tauheed Block
Bahria Town is always an excellent choice for commercial investment. But this time, it is winning the game by offering the best plots for sale. These 5 Marla commercials bring a lot of benefits along with them, among which some at the top are:
Affordable Rates
Now you can buy your 5 Marla commercial in 2.25 crores. Once the development work completes, and possession is announced, these plots will be available in the price bracket of 3.50 crores. However, the prices will continue to increase.
Ideal Location
The location of these plots is outstanding. Tauheed Block commercials are easily accessible from Azam Bhatti Avenue as these lies on the main boulevard. On the other hand, this location will soon directly link to AWD Housing Society. Setting up a business or constructing a plaza on these plots will surely return you more than your expectations.
High Investment Returns
Whenever we choose any commercial property, we constantly search for the value we will get back. So, this time, you don't need to be worried, as this latest deal is really worth buying. Plots are currently available at the lowest rates. However, prices will surely increase to double by the next 1 – 1.5 years.
Note: These are limited numbers of commercials in Bahria Town Lahore available on a first-come, first-serve basis.
So, don't wait and waste your time in thinking; just contact us to get the complete information of these plots. Then, your investment will be 100% secure and beneficial.
Please contact Universal Property Network  For More Information click here or visit our youtube channel further assistance