Commercials In Bahria Town Lahore
by UPN
April 4, 2021
0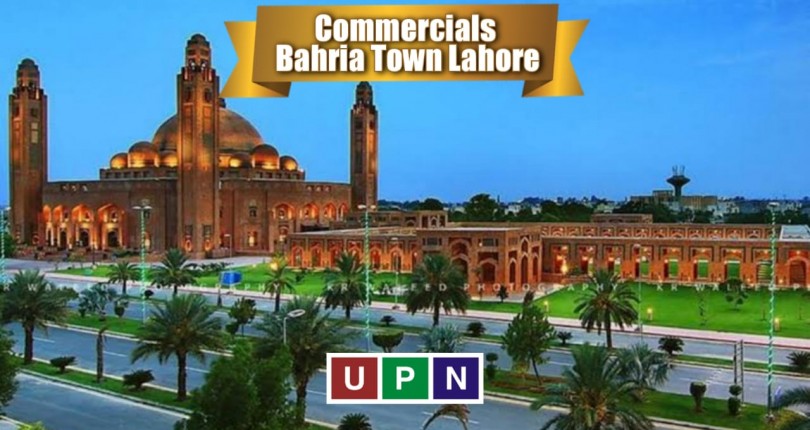 Bahria Town Lahore commercials are very popular and always high in demand. This society is known for its luxurious and peaceful environment, which attracts people to live in it. Simultaneously, the commercial properties for sale in Bahria Town Lahore are offering huge potential on investment. The commercials of Bahria Town includes plots, shops, and offices. These commercials are available in several areas of society.
The success of any commercial property directly links with the ratio of population in the society. For example, Sector C has become the commercial hub of this society. It's a well-populated area where the population is of the A+ category. The residential plots in their surroundings are available in the bracket of 1.70 crores to 3 crores. But still, the demand for commercials in Sector C is very high. However, the prices are already at the peak.
So, what we suggest?
Commercial Investment in Sector C
Sector C's commercial properties are good to buy only to run a business or generate handsome rental income. The plots and the shops in the commercial hub have already reached peak prices. Buying there is not suggested for investment returns. Investment in Sector C commercials can provide you with good profit, but it will be less than the other available options.
Commercial Investment in Sector E and Sector F
Bahria Town's Sector E and Sector F are offering a wide range of commercial plots for sale. Both these sectors have the best commercials that anyone can confidently choose to fulfil his requirements. Plots prices are affordable and have huge potential. The commercial plots in the Eiffel Tower's surroundings are good enough to return you with maximum returns. Also, the commercial plots of Sector F are available at reasonable rates.
The prices for these commercial plots are low, but these are increasing day by day. But a sudden increase in the rates of these commercials is expected after the passage of the new Ring Road Lahore patch from the surroundings. This RRL patch will reduce the distance to Bahria Town Lahore and attract more people to choose this place as their dream destination.
Bahria Town Lahore commercials include plots, but you can also invest in the shops and offices. A wide range of upscale projects are developed in Sector E and Sector F. You can also buy these properties in installments. Some of the best options are available in SQ 99 Mall, Jasmine Grand Mall, D Heights Bahria Town Lahore and so on.
Please contact Universal Property Network  For More Information click here or visit our youtube channel further assistance