Orchard Mall – Floor Wise Investment Analysis
by UPN
April 5, 2021
0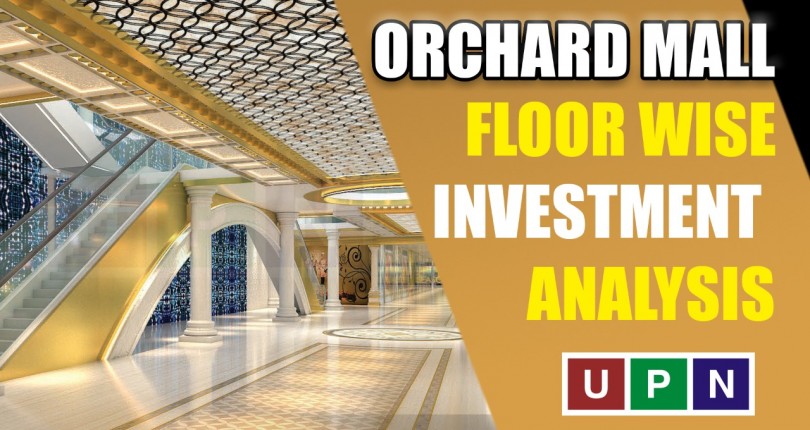 Orchard Mall is one of the most significant commercial projects in Lahore. It is a project by Q-Links Developers located on Main Raiwind Road in Bahria Orchard Phase 4. Launched a couple of years ago, Orchard Mall Lahore is a thoughtfully planned project. Developing at the fastest pace as per the international trends and desires of modern investors, Orchard Mall is one of the major developments on Raiwind Road.
Featuring basement + ground + 4 floors, Orchard Mall is spanning over 17 Kanal of land. All of its floors and the properties for sale are smartly planned, that none of its areas remains in the dark.
Orchard Mall offers retail outlets, an IT Market where the shops are dedicated to IT-related businesses, and hotel apartments. In simple words, this project offers a wide range of properties so that anyone can easily choose as per his needs and requirements. It features numerous investment opportunities, that choosing one seems difficult.
So, let's make the floor wise detailed investment analysis of Orchard Mall to know about the best option:
Orchard Mall – Investment in Basement
The basement of Orchard Mall is reserved/planned for Aslam Supermarket. It's a big name, a trusted chain of a supermarket owned by Q-Links. Not only in this project, but Aslam Supermarket will be the biggest grocery market on Raiwind Road.
You can also invest in the basement of Orchard Mall with a minimum investment value of 45 lacs. By investing in this market, you will be able to enjoy a 6% guaranteed rental income for 10 years.
Orchard Mall – Investment in Ground Floor to Second Floor
All these floors are developing with retail outlets and showrooms of several sizes. Many of the well-known brands like Warda, Engine, Rani, and Ideas have already signed their contracts with Q-Links even before launching this project. Once the possession announced, all these brands will get operational. But still, you can buy these shops with a 1-year installment plan.
It's a developing project awaiting possession, so the prices for the shops are still attractive. The minimum investment value required to invest in the ground floor is 1 crore. The starting prices of shops on the first and second floors are 70 lacs.  However, it is important to mention here that more than 90% of shops are sold out.
Orchard Mall-Investment in Third Floor (IT Market)
The third floor of Orchard Mall Lahore is designed with an IT Market. It is the first of its kind information technology market on Main Raiwind Road. Offering shops of several sizes, all these are completely dedicated to IT-related businesses and services.
Launched a few months ago, IT Market shops are available with 3 years easy installment plan. However, you can earn a handsome rental yield by making a full cash payment at the time of booking. The prices of shops in IT Market Orchard Mall are starting from 26 lacs.
Orchard Mall – Investment in Fourth Floor
The fourth floor of Orchard Mall features the best hotel apartments for sale. These hotel apartments are available in several sizes with an easy installment plan. Indeed, it is one of the most significant and highly profitable floors of Orchard Mall, featuring the high in demand Hotel Apartments. The lowest price hotel apartment is 29.90 lacs. The prices for other apartments are 36.90 lacs, 56 lacs, and 69 lacs.
Hotel apartments are different from residential apartments, where investments are completely meant for rent. Here Q-Links Developers provide you with another good opportunity by offering the handsome rent of your apartment before its completion.
Yes, Q-Links Developers offer an 8% guaranteed rental yield for these hotel apartments of Orchard Mall. You can also sign a contract of 10 years and can earn a good, regular rental income. This rental yield will be 8% till completion. Once the possession announced, the rental yield of your apartment will be 10%. It will be increased to 12.5 % after 3 years and 13.125% for the next 3 years.
You can easily buy Orchard Mall hotel apartments in full cash and easy installments.
Buying all the properties for sale in Orchard Mall is recommended. However, you can easily choose one suitable by contacting UPN!
Please contact Universal Property Network  For More Information click here or visit our youtube channel further assistance