Construction Cost of 5 Marla Plaza in Pakistan
by UPN
June 14, 2023
0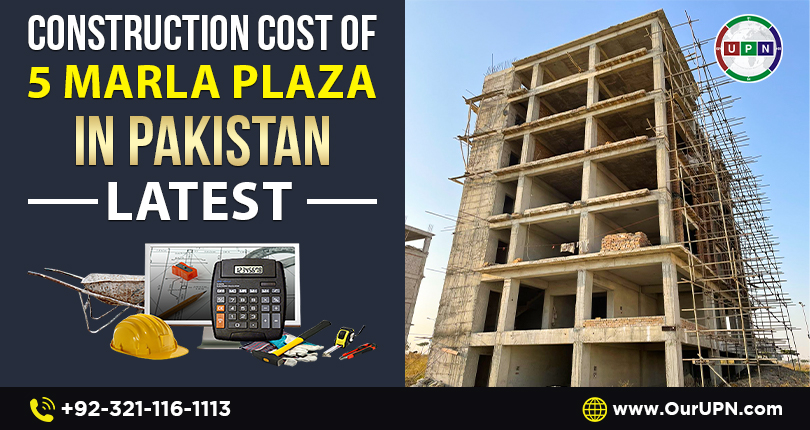 Introduction
Investing in commercial property is often considered advantageous as it brings more benefits compared to residential property. Commercial properties tend to be more profitable due to their potential for generating higher rental income. Additionally, they offer easier maintenance and upkeep, making them a convenient choice for property owners. Moreover, the demand for commercial properties is generally high, ensuring a steady flow of potential tenants or buyers. These factors make commercial property a lucrative investment option worth considering. So, if you are considering purchasing commercial property in Pakistan and have plans to construct a 5 Marla plaza, it's essential to gather information. You must be aware of the construction cost of 5 Marla Plaza in Pakistan. Knowing this cost will help you estimate prices and plan your budget effectively. In this post, you will find valuable insights to assist you in making informed decisions regarding your investment in a 5 Marla plaza in Pakistan.
Construction Cost of 5 Marla Plaza in Pakistan
Constructing a commercial property may initially appear costly, but with proper knowledge and guidance, you can manage the process efficiently. When you have a clear understanding of the requirements and a well-defined plan in place, you can navigate through the construction process more effectively. By staying informed and following proper guidelines, you can make informed decisions, optimize costs, and ensure a successful outcome for your commercial property project. So, without any further delay, let us discuss things in detail.
Typically, a 5 Marla commercial plot in Pakistan has dimensions of 30 x 40 feet. The covered area for one floor on this commercial plot is approximately 1200 square feet. If you choose to construct a lower ground floor, ground floor, and three additional floors, including a mumty (an additional floor on top), the total constructed area would be around 6,250 square feet. However, if you decide not to include a mumty, the total constructed area would be around 6000 square feet. These figures provide an estimation of the constructed area for a 5 Marla commercial plaza in Pakistan.
If you opt for standard construction without excessive spending on decoration but also ensure high-quality construction, the total cost for constructing a plaza would be around 5,000 rupees per square foot. This would amount to approximately 3 crores, 12 lacs, and 50 thousand PKR. It's worth noting that the construction cost may be higher in societies like Bahria Town or Defense Housing Authority. Conversely, the cost may be relatively lower in open areas or outside of such societies. These variations in cost are influenced by factors such as location and the amenities provided by the specific area where the construction takes place.
The construction cost of 5,000 rupees per square foot includes a basement, ground floor, three additional floors, and a mumty. If you wish to install an elevator in your commercial plaza, you should have a budget of approximately 3 to 4 million (PKR) available.
Overall Construction Cost of 5 Marla Plaza + Plot
To determine the overall construction cost of a 5 Marla plaza, you need to add the cost of the plot to the estimated cost of construction. The cost of the plot can vary depending on the location and other factors. If the commercial plot of 5 Marla is priced at around 5 crores (1 crore per Marla), the estimated overall construction cost would be approximately 8 to 8.5 crores. This includes the cost of the plot, which is 5 crores, and the estimated construction cost 3.12 crores. Also, this amount can vary depending on various factors such as design, materials, and labor costs.
If the 5 Marla commercial plot is priced at 2.50 crores (50 lacs per Marla), the total estimated cost would be around 5.50 to 6.50 crores.
Benefits on Constructing a Commercial Plaza
Constructing a commercial plaza is one of the most profitable decisions, you can make in real estate investment. Here are the reasons why you should know the construction cost of 5 Marla Plaza in Pakistan and develop it:
Rental Income: Owning a commercial plaza allows you to generate rental income by leasing out shops to businesses. This can provide a steady and consistent source of revenue.
Capital Appreciation: Commercial properties, including plazas, have the potential for capital appreciation over time. As the value of the property increases, you can benefit from selling it at a higher price in the future.
Diversification: Investing in a commercial plaza provides diversification in your investment portfolio. So, it spreads the risk across multiple tenants, reducing the impact of vacancy or non-payment by a single tenant.
Long-Term Stability: Commercial properties like 5 Marla commercial plaza typically offer long-term stability.  As businesses tend to establish themselves and operate for extended periods. So, this stability translates into a reliable income stream.
Business Growth Opportunities: If you have your own business, constructing a commercial plaza can provide you with the opportunity to expand and grow your business.
Increased Control: Building your own commercial plaza gives you control over the design, layout, and amenities of the property. You can shape it to meet the specific needs of your target market.
Economic Development: Constructing a commercial plaza contributes to local economic development by creating job opportunities. Also, it attracts businesses and stimulates economic activity in the surrounding area.
Tax Benefits: Depending on local tax laws, commercial property owners may be eligible for tax deductions on expenses such as mortgage interest, property taxes, and maintenance costs.
So, what are you waiting for? If you have a budget between 5 – 8 crores and or have a commercial plot, you should definitely start construction of your plaza in Pakistan. It will surely benefit you a lot. Contact us to get more information and complete real estate assistance.
Please contact Universal Property Network For More Information click here or visit our Youtube channel for further assistance.