Types of Real Estate Investments in Pakistan – Latest Information
by UPN
May 19, 2023
0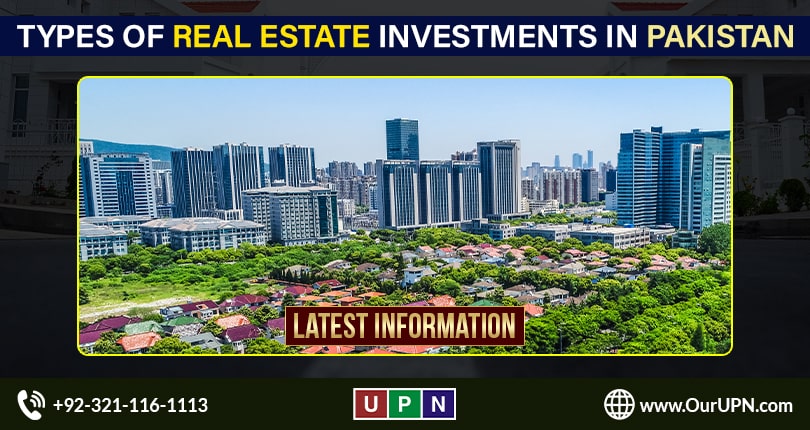 Introduction
Real estate investments in Pakistan have always been an excellent generator of significant income. It is the most profitable industry in Pakistan. Many people consider it to be the best investment because of its high profits. If anyone wishes to work in this field, they need to learn about the different kinds of real estate properties in Pakistan. Investors will be able to make better decisions after learning about the numerous investment possibilities. This sector provides multiple essential and exceptional chances for people to invest. They can establish their own real estate firm based on their financial capabilities. They can also invest in real estate to gain greater profits than other businesses.
In this blog, we will discuss the types of real estate investments in Pakistan for 2023. We will go through the specifics and techniques to generate revenue from these properties.
Real Estate Investing for Beginners in Pakistan
Real estate investments in Pakistan are a great way to increase your income and profit. The beginner who desires to start this business should keep the following considerations in mind:
The first step should be a low-risk investment.
Evaluate local markets and the value of the property.
Start with a small investment.
Always invest within your budget.
Invest in the more valuable property in the location where you are investing.
Property can be residential or commercial.
Examine your property to see if it should be sold or rented.
Sell your property while the market is at its peak.
Real Estate Investments – Categories
There are different types of real estate investments in Pakistan, which are:
Residential properties
Commercial properties
Industrial properties
Retail Properties
Mixed-use properties
REITs – (Real Estate Investment Trusts)
1)   Residential Properties – Real Estate Investments in Pakistan
There are various types of residential properties in Pakistan, depending on people's financial situation and needs. They can simply buy or rent a property. Residential properties are classified as follows:
Residential plots
Houses
Residential Apartments
Residential plots
The residential plots are a particular type of real estate investment that will profit in a variety of ways. The buyer can purchase residential land and then sell it for greater profits. If it is agricultural property, the owner can rent it out for a monthly income.
Houses
Houses will also profit from an investment perspective. A buyer can profit from a home in a variety of ways, including:
Buyers can rent out their homes to generate a monthly income.
Buyers can sell it when the real estate market rate rises.
Residential Apartments
Apartments are also excellent real estate investments in Pakistan. The buyer can earn money by renting out the apartment. The rent will be determined by the apartment's location, floor, and available features.
2)   Commercial properties
Commercial properties are best for real estate investments in Pakistan. These properties will increase in value over time. If a client has a strong budget, he should invest in commercial properties. These properties are available in various categories, which are:
Commercial plots
Commercial plaza or building
Commercial shops
Commercial plots
Commercial plots will undoubtedly provide the greatest return on investment. The customer can purchase a commercial plot and then resell it for a higher profit.
Commercial plazas and shops
The most valuable real estate investments in Pakistan are commercial plazas. Plaza may increase earnings in a number of ways, including
The buyer can rent it to other people to establish their businesses.
There will also be commercial stores for a variety of businesses. Renting out commercial stores will result in a significant profit.
3)   Industrial properties – Real Estate Investments in Pakistan
Industrial properties are another popular kind of real estate investment. These properties are usually used to develop, manufacture, bundle, and store products for the consumer market. Industrial properties may exist in addition to farming areas and be used for research and the distribution of products. The best example of an industrial property is:
Manufacturing, raw material, warehouses, and factories
These features provide a high return and increase the value of a business.
4)   Retail Properties
Retail properties represent some of the best real estate investments in Pakistan. These properties raise their values and provide a return on investment. Examples of retail properties include:
Shopping malls
Plaza or building
If an investor has a sufficient budget, he may purchase a plaza on which to construct a shopping mall. There are several establishments that will rent out their space for higher revenue. There will be many types of stores, such as brands, food stores, and many others. This sort of retail establishment regularly generates the highest profit and monthly revenue.
5)   Mixed-use properties – Real Estate Investments in Pakistan
The mixed-use real estate includes both residential and commercial construction within its boundaries. These properties may involve the planning and construction of residential, office, commercial, retail, or recreational activities. There are many different kinds of mix use characteristics, including:
Residential and commercial plots
Apartments and offices
Restaurants and resorts
Retail shops
Houses and plots
Real estate investments in Pakistan include all forms of properties that will benefit them in the future. These properties increase in value over time. Most importantly, the worth of these properties increases in accordance with their location and market rate.
6)   REITs – (Real Estate Investment Trusts)
Real estate investment trusts are known as REITs. People who cannot invest separately because of their limited budget could make investments with partners. Following the investment, profits are divided between all joint partners.
There are two types of REITs in Pakistan, which are:
Rental REITs
Development REITs
Rental REITs
A rental REIT system is set up to make investments in commercial or residential properties. These types of real estate investments in Pakistan are designed to generate rental revenue. A completely developed property is purchased and then rented out by the Rental REITs. The profits from these properties are divided among the share investors.
Development REITs
The land is bought for the purpose of developing commercial, industrial, and residential properties under the developmental REITs concept. These real estate investments in Pakistan are made through building construction or renovation. These properties are sold or rented. After the property is sold or rented, the profit is distributed among all share investors.
Conclusion
Real estate investments in Pakistan are the best way to start a new business. Real estate has a low risk of loss. A person can easily start with a low-cost investment. After some time, they are able to purchase their own properties. All of these properties are ideal for investment due to their location and prospects. Furthermore, investors should invest in these properties to increase their profits.
Please contact Universal Property Network For More Information click here or visit our Youtube channel for further assistance.