Coronavirus Impact on Real Estate in Pakistan
by UPN
March 31, 2020
0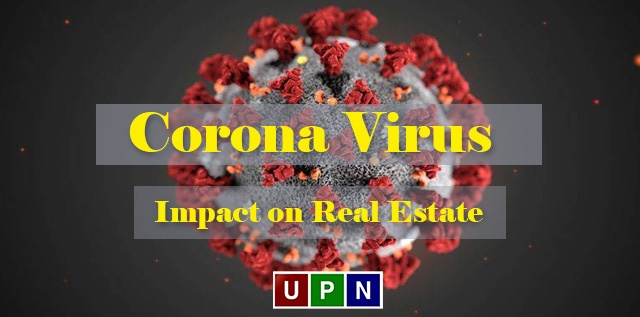 COVID-19
The number of patients of the Corona Virus is continuously increasing in Pakistan. Not only is the health of people but Pakistan's economy is also suffering a lot.  COVID-19 Pandemic (Corona Virus) is impacting ON many sectors as economic activities and businesses come to a halt. Due to persistent life threats, people are locked in their homes and everything is closed outside.
Corona Virus is impacting badly on the service sector as well as in the industrial sector. So, here it is quite pertinent to discuss the impact of COVID-19 Pandemic on the real estate sector of Pakistan.
Pakistan Government is taking all the emergency measures to mitigate the effects of the novel coronavirus spread. The federal government is forcing people to stay at home and all the businesses are temporarily closed.  Almost all the cities of Sindh, KPK and Punjab are partially locked down and economic activities have slowed down across the Country. The increasing number of cases is causing more panic in society. This developing situation has created an air of uncertainty which is quite damaging for the investment environment in the Country.
Pakistan Real Estate and Corona Virus Impact on It
The Real Estate sector of Pakistan had suffered a lot after the change of regime in 2018. Different new policies and taxes were introduced that totally changed the shape of the real estate market. Huge numbers of dealers, marketers, builders, and investors have hardly managed to survive from the recession in the past 2 years. They mainly survive due to massive investments by our Overseas Pakistanis. But this time, the issue is quite bigger. It seems that this virus will affect the property markets of all the big cities including Lahore, Islamabad, Karachi, and Multan.
As for now, there is little impact of Corona Virus on the behaviors of our buyers and sellers. The temporary ban on traveling from one city to another is a reason that different property deals are suffering. But the overall impact is still not very significant.
Some societies like Bahria Town Lahore, Islamabad, and Karachi, as well as the projects of DHA, have already closed their offices and facilities for a few weeks as a precautionary measure.
LDA has also closed its One Window Operation for 2 weeks in order to avoid public dealings.
Bahria Town Lahore and Karachi have also closed all of its Public Places. The closed places of these societies are including Eiffel Tower, Zoo, Gyms, Parks, and Sports Grounds, etc. But this is just the beginning of such restrictions. If the situation does not improve, we fear similar or more serious steps by other housing societies. That would mean all property transactions would practically stop for an unspecified period until the situation gets better.
Overseas Investment and Expected Property Prices
If local and global travel bans prolong, Pakistanis would not be able to come and invest in real estate especially during the vacations of Eid-ul-Fitr. This will also cause a major shock to the real estate sector because the overseas investment is providing large support to the Pakistan property market.
Since Coronavirus Spread is everywhere, property prices in all cities would be affected by it. If this uncertainty continues, it is expected that property prices will drop by as much as 10% to 20% due to the inactivity of markets.
So, those who sell their properties in this period are likely to suffer losses. However, those who buy would certainly benefit from their investments.
Here in Pakistan, we can just hope to control this COVID-19 Pandemic soon. But even if we manage to control it, our economic situation would not improve until the pandemic is controlled globally. Our economy and the conditions of the real estate market will only improve and grow when normal travel and trade activities will resume among other countries.
Stay Updated with Universal Property Network!
Check out our site for more detail. Latest News