Why Should You Invest in Real Estate of Pakistan 2023?
by UPN
March 13, 2023
0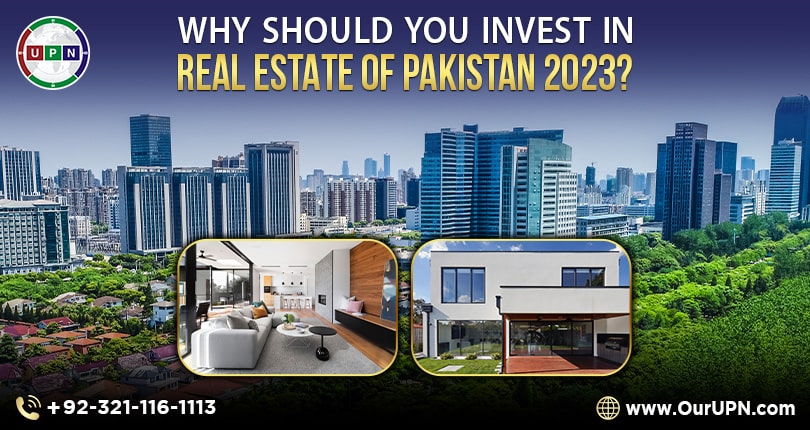 The real estate sector of Pakistan has been a lucrative investment opportunity for many years. It has been an essential part of the economy, contributing significantly to the GDP and creating job opportunities. The industry has faced some challenges in recent years, but the expectations for a comeback and the same unbalanced situation are 50/50. Still, buying property in Pakistan is a safe and profitable option as compared to many other businesses and investment options. In this latest blog, we will discuss the reasons to invest in the real estate sector of Pakistan 2023. Please keep on reading to know more:
Growing Demand for Housing with Increasing Population
Pakistan is one of the most populated countries in the world, with a population of over 220 million people. With this increase in population, there is a growing demand for housing. The government has been working on several initiatives to meet this demand, including the Prime Minister's Housing Scheme launched by Ex PM Imran Khan. Private builders and construction companies are also playing their part in building more and more residential units. However, these demands will continue to increase resulting in less availability and high prices. That's why buying the right time property at reasonable prices will surely benefit you more. It will not only be the right choice for you but also for your offspring.
Unstable Economy but Affordable Prices
Pakistan's economy is in a critical situation. From the start of 2023, our country has been facing several challenges. According to data, the economy has weakened so far in FY 2023. (July 2022–June 2023). Between July and December, exports dropped 6% year on year. Floods have caused an estimated USD 40 billion in damage and have boosted inflation and imports by damaging agriculture. But still, the hopes are there. As the economic situation stables, the demand for real estate will also increase, leading to higher returns for investors. So, this can be a life-making opportunity to buy your desired option at reasonable rates. Your investment in real estate will be secure and return you well.
Low-Interest Rates on Property Loans
Low-interest rates on property purchasing in Pakistan have been a significant incentive for investors and end-users to invest in the real estate sector. The State Bank of Pakistan has reduced interest rates in recent years to stimulate the economy and encourage house finance facilities. This policy has resulted in more people being able to obtain financing to purchase properties, leading to an increase in demand for property. This initiative also makes real estate investment more attractive than other investment options, such as fixed deposits or bonds, which provide lower returns. Additionally, the lower cost of financing can lead to lower monthly payments, making property ownership more affordable for buyers.
Real estate developers and builders also benefit from low-interest rates, as they can obtain financing for their projects at lower costs. This allows them to offer properties at more competitive prices, attracting more buyers and increasing demand for their projects.
Increasing Tourism Increases the Worth of Property
Tourism is a significant driver of economic growth in Pakistan, and the country has seen a significant increase in tourist arrivals in recent years. This increase in tourism can be a compelling reason to invest in the real estate sector in Pakistan in 2023.
One of the significant benefits of investing in real estate in areas with high tourist traffic is the potential for high rental yields. Properties in popular tourist destinations such as Islamabad, Lahore, Karachi, Murree, Swat, and Gilgit can attract a high number of tourists, providing investors with the opportunity to earn attractive returns on their investments.
Urbanization
Pakistan's urban population is expected to increase significantly in the coming years. The United Nations projects that Pakistan's urban population will increase from 75 million in 2020 to 106 million in 2050. This increase in urbanization will lead to higher demand for housing and commercial real estate, creating new investment opportunities. So, if you invest in a city, like Lahore, Islamabad, Karachi, Multan, or Faisalabad, in real estate of Pakistan 2023, you will surely get benefits.
Diversification
One of the significant benefits of diversifying a portfolio through real estate investment is the potential for higher returns. Investing in multiple properties across different sectors can provide investors with a range of income streams, reducing the risk of a single investment performing poorly. This diversification can also help to protect against market volatility, as returns from different properties may not be correlated, providing a level of stability to an investor's portfolio. In Pakistan, for example, investors can choose to invest in properties in different cities and regions, each with its own unique characteristics and economic drivers.
Tax Incentives to Encourage Real Estate Investments
The government has introduced several tax incentives to encourage investment in the real estate sector. These incentives include a reduction in taxes on rental income and capital gains. These tax incentives will increase the attractiveness of real estate investments and provide higher returns for investors.
In conclusion, investing in the real estate of Pakistan 2023 will be a beneficial decision. Buying property is always a safe option. Above all, the availability is currently at affordable prices. Once the political and economic situation of the country stables, prices will begin to increase providing you good returns.
Please contact us through WhatsApp, Contact Us form, or visit our UPN Youtube Channel for further assistance.