Why Real Estate Investment is a Smart Financial Move
by UPN
February 18, 2023
0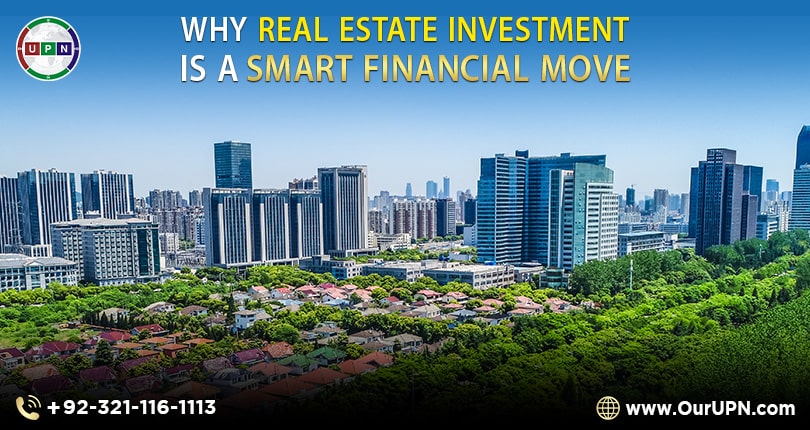 Real estate investment is a smart financial decision for everyone. The investment will give you a better return as compared to other businesses. The benefits of real estate investment include better income, tax advantages, and a high return. The most important thing is to select the best investment option. Before making an investment, consider the goal of the investment, the location of the property, and, most importantly, your budget.
In this blog, we will discuss real estate investment in 2023.
Real Estate Business in 2023
Real estate is a business that deals with the buying, selling, and investing of real estate properties. The real estate business is the best business in our country. It gives you a lot of benefits. The value of this business is increasing day by day. A person who invests a small amount of money can make a large profit. Real estate is an incredible investment for a variety of reasons. You can enjoy high rates of return, incredible tax benefits, and the financial power of real estate to build your wealth. There are many benefits to the real estate business, such as:
Real estate has a high financial value.
Real estate values will always rise in short term to the long term.
Real estate investment provides numerous tax advantages.
Real Estate in Pakistan
Real estate is the fastest-growing business in Pakistan. There is a huge scope for real estate in our country. For many years, many Pakistanis and foreign clients have been investing in real estate and earning huge profits. Everyone wishes to own a home in the best possible location, and as the population grows, so does the demand for residential and commercial units. As a result, the real estate industry in Pakistan is regarded as one of the most promising business opportunities in the country.
Real estate investment in Pakistan, is a vast industry that includes the sale and purchase of commercial and residential lands and buildings. Real estate services such as property management, development, real estate marketing, and so on are also included in the industry. Selected real estate investments always provide a high return. There are numerous real estate business ideas in Pakistan, including:
Develop an appropriate strategy
Create a real estate website
Focused networking
Time management strategy
Conduct Email campaigns
Utilization of social media
Several Things to Know in Real Estate Investment
When making a real estate investment, there are several things you should keep in mind. The person who follows these guidelines will receive more benefits than his expectations. You should estimate and be familiar with the following:
Cost of property
Value of property
Location of property
Budget for property
Consult a financial advisor
Cost of the property
Real estate investment also depends on the cost of the property. You should evaluate the overall cost before investing in real estate. What are you purchasing, and is it advantageous according to its price and location? Always pay a reasonable amount when purchasing a property so that you can benefit more in the future.
Value of the Property
The value of the property is another factor in real estate investment. When investing, keep information about the value of the property. Is the property you plan to purchase beneficial or not? The value of this property will either increase or decrease in the coming days.
Location of Property
The location of the property is the most important factor in real estate investment. Always buy a property in the ideal location. Location always affects the property's values. Some locations have not increased their values for many years, and some locations increased their values in just a few months. So always check the location while investing. You will get a better return by increasing the value of the property.
Budget for Property 
A budget is an essential component of any real estate investment. You should keep your budget in mind at all times. The property's value, location, and cost must be the best according to your budget. Everything should be within your budget and within your means. It could be a plot, villa, apartment, house, commercial shop, or any other type of property. All types of properties are available in every city in Pakistan, ranging from low to high budgets.
Consult a Financial Advisor 
Always consult a financial advisor before buying a property. They will be able to look at your finances and guide you through the steps that will help you reach your larger financial goals. They provide you with the best property guidelines in real estate investment based on your budget. Financial Adviser will help you make the difference between a short investment and a long investment. A financial advisor can easily show you many investment opportunities that include everything from the best location to future benefits within your budget.
Please contact us through WhatsApp, Contact Us form, or visit our UPN Youtube Channel for further assistance.