DHA Gujranwala Commercial Latest Updates
by UPN
March 25, 2022
0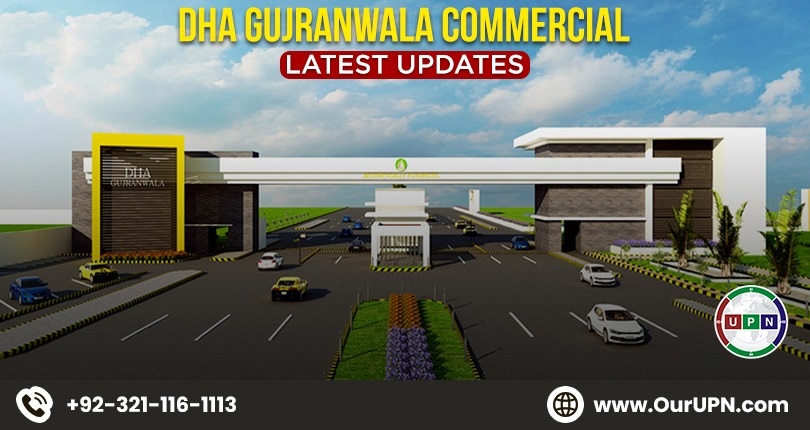 DHA Gujranwala is a high-standard, living housing society with appealing live facilities. It is one of the most prominent housing societies located between Lahore and Rawalpindi. Perfectly situated on GT Road, this place enjoys proximity to several major developments. The area covered by DHA Gujranwala is huge; moreover, the project planning is outstanding. DHA Gujranwala commercial is among the best and high demand properties for sale. At the same time, its residential options are heart-winning to meet the residency requirements in the region.
This appealing society is also popular as the "industrial golden triangle." Because all the area between Lahore to Gujranwala is industrial agriculturally based, buying the properties for sale is profitable for both buyers and investors.
Today in this latest write-up, we will discuss the complete details of commercial plots for sale in DHA Gujranwala. So, let's explore more:
DHA Gujranwala Commercial
This graceful housing venture offers a diverse range of commercial options. The sizes of the plots are:
4 Marla
8 Marla
These plots are available in three categories such as:
Army Persons Allotment
Files on Installments
Civilians Files
4 Marla Commercial Plots for Sale in DHA Gujranwala
These thoughtfully designed 4 Marla commercial plots are available in CZ1 Zone while further categorized as south side plots and north side plots. The latest prices of these commercials are starting from 3.25 crores to 4 crores. All the development work of these plots is complete. Moreover, the launching prices of plots are 2.25 crores in old bookings and 3.25 crores in new bookings.
Almost 11 installments of these plots are paid. At the same time, if any of these plots have numbers allotted, the own amount on the plots is 1 crore to 1.25 crores (old booking). Similarly, if new bookings plots have allotment numbers, you can also purchase them by paying a profit amount of 1 crore to 1.25 crores.
8 Marla Commercial Plots for Sale in DHA Gujranwala
This DHA Gujranwala commercial of 8 Marla also brings you a chance for a golden investment. These plots are also available in old booking and new booking. If the plots are available with plot numbers, the profit amount on these will be high. According to the recent updates, these plots are available in the own amount of 1.75 crores to 2 crores. Prices of the plots vary as per the location. Also, the prime location of these plots on the main boulevard plays a vital role in making these options ideal to consider.
Location of Commercial Plots
All these commercial plots in DHA Gujranwala are available in CZ1 Zone, which is easily accessible from Gate no 1. The second perfect location of these plots is CZ2 have access from Gate no 2. Moreover, the plots of CZ3 are accessible after the first round-about. Here you may find 4 Marla commercial plots at reasonable prices. But the availability is rare. The prices of these plots range between 1.75 crores to 2 crores.
Investment in DHA Gujranwala
Buying in DHA Gujranwala commercial is highly beneficial to earn huge returns. However, people looking to invest in residential options can confidently choose between:
5 Marla Residential Plots
10 Marla Residential Plots
1 Kanal Residential Plots
2 Kanal Residential Plots
Most of these plots are still available with ongoing flexible payment plans.
So, what are you thinking about? DHA Gujranwala is a rapidly developing jewel providing a chance of affordable investment and residential opportunities in the DHA housing society. Your investment in any of these plots will surely be worth it.
Please Contact Universal Property Network  For More Information click here or visit our youtube channel further assistance