DHA Gujranwala Balloting Results 2021
by UPN
October 9, 2021
0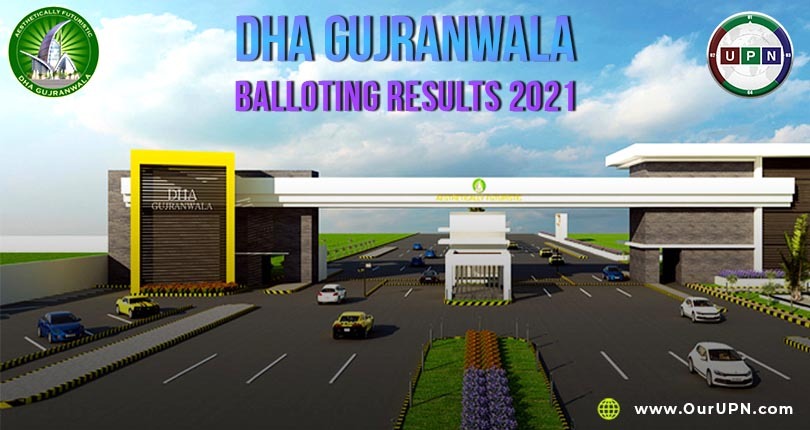 DHA Gujranwala balloting results 2021 are announced. The location ballot of the residential and commercial plots was held on 8th October 2021. Congratulations to all the successful investors of this recent ballot. Undoubtedly, it was one of the most awaited location ballots of plots. DHA Gujranwala location ballot results are available online at: (https://www.dhagwa.com/).
Further details of the plots categories included, number of plots, and schedule of new payment plans are:
DHA Gujranwala Balloting 2021 – Plots Sizes and Numbers
Both the residential and commercial plots were part of this recent ballot of DHA Gujranwala. So, the following are the sizes of plots:
5 Marla Residential
8 Marla Residential
10 Marla Residential
20 Marla Residential
4 Marla Commercial
8 Marla Commercial
The total number of plots are 10,000 amount which 300+ are commercial plots. Moreover, the residential plot's location after DHA Gujranwala Balloting Results is:
5 Marla: 1402 Plots
8 Marla: 24 Plots in K Block
10 Marla: 1428 Plots in L Block and G Block
1 Kanal: 1348 Plots in L Block, M Block and I Block
The location of the commercial plots is:
4 Marla: 160 Plots in CZ 1 and 2 Block
8 Marla: 72 Plots in CZ 1 and 2 Block
Important Highlights of DHA Gujranwala Balloting Results 2021
The payment plan of Villas in DHA Gujranwala is increasing from 1.5 years to 2 years. Down payment of the villas is also reduced.
The payment plan of apartments is also changing to 3 years whereas the down payment is reduced.
Moreover, ARY Laguna DHA Gujranwala is launching soon.
The possession of plots will be available very soon.
Again, Congratulation from the entire team of Universal Property Network!
So, the balloting results of DHA Gujranwala recent ballot are available online on their official site. However, if you want to know more or need our assistance, please share the following details with us:
Your Name
CNIC No.
Your Allocation Reference No for
Stay in touch with us!
Contact us for further assistance.
Please contact Universal Property Network  For More Information click here or visit our youtube channel further assistance