DHA Lahore New Ballot 2019 Results Announced
by UPN
December 22, 2019
0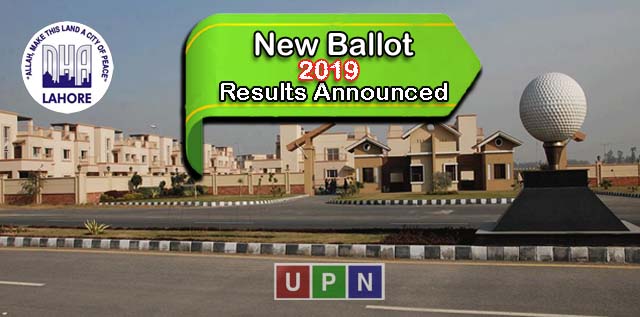 DHA Lahore has recently launched some limited numbers of residential and commercial plots in its different phases. And now they have successfully conducted their balloting as well. Even the results of that new ballot 2019 are also announced and available online. Anyone can simply check his ballot results by entering his CNIC/application number in the online results form.
Newly Launched Residential Plots
DHA Lahore has recently launched the new-booking of residential plots in the following sizes:
5 Marla
7 Marla
10 Marla
1 Kanal
The Newly Launched Commercial Plot Sizes are:
2 Marla
4 Marla
8 Marla
Successful Applicants of Balloting
The successful applicants in this plot balloting will need to submit a 10% down payment by 22nd January 2020. This payment is very important to get the allotment of subject plots, or else the result will be canceled.
Unsuccessful Applicants of Balloting
The unsuccessful applicants of balloting will need to wait till 27th January 2020, as they still stand a chance to be included in 2nd ballot. Indeed, if the successful applicants fail to pay the due 10% down payment, their offer for allotment will be transferred to 2nd successful applicant. The 2nd allottees list of the plots will publish on 27th January 2020.
10% Down Payment within Given Deadline
In case you have come out successful in this balloting, you can submit your down payment within the given deadline using the following methods:
You can make the payment
Through Bank Draft / Pay Order in favor of DHA Lahore along with covering letter containing particulars i.e. Name, Address, Application No. and Plot No. to facilitate proper credit to the owner.
Next, you have to deposit the cash in designated branches of banks within DHA on a Challan Form to be obtain from DHA Office.
You can also make an online payment for it.
Online payments can be made by depositing cash in any of the following bank accounts, however, copy of bank deposit slip duly paid into the bank will be sent through email to mast@dhalahore.org mentioning Your Name, Your Address, Your Application No. and Your Plot No.
The bank account details of DHA Lahore are:
Askari Bank Limited
Z Block Branch, Phase-III, DHA Lahore
Account Title: Defence Housing Authority Lahore
Account No. PK07ASCM0000271650501525
Swift Code. ASCMPKKAXXX
Branch Code. 027
MCB Bank Limited
A Block Branch, Phase-VI, DHA Lahore
Account Title: Defence Housing Authority Lahore
Account No. PK51MUCB0869622341000841
Swift Code: MUCBPKKAXXX
Branch Code: 1699
Check out our site for more detail. Latest News

Stay connected to Universal Property Network!