DHA Multan Development and Plot Prices
by UPN
October 19, 2020
0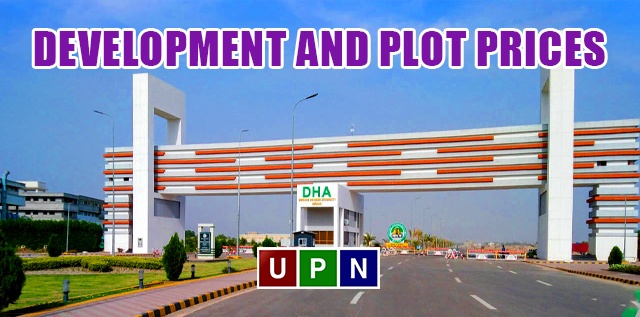 DHA Multan is the most recent and attractive addition in the chain of DHA Housing Societies. Just like the other housing projects of DHA, this society is brilliantly planned with all the desired luxuries, comforts and modern developments. The development work of this project is started so far. DHA Multan is a home for the best residential properties where you can invest in a wide range of plots that are currently up for sale. However, the demand for the affordable 1 Kanal plots in DHA Multan is very high.
So, in this latest blog, we will discuss the complete details of 1 Kanal plots only.
DHA Multan offers 1 Kanal plots in its total 20 blocks. The further details of these blocks, including the development status, charges, and the current prices of 1 Kanal plots are:
Development Status of Blocks
DHA Multan has completed the development work of P Block and Q Block. Even the possession of plots in these blocks is also announced one month ago. The development work is progressing in R Block, where the possession of plots is expected in December 2020. Moreover, DHA has also started developing the 1 Kanal plots in its Block A and Block H.
Development Charges of 1 Kanal Plots
The development charges on 1 Kanal plots is 21 lacs. However, it is important to mention here that DHA is only charging the development charges in the blocks where the development work is begun.
1 Kanal Plot Prices in DHA Multan
DHA Multan 1 Kanal plot in A Block is starting from 50 lacs to 65 lacs.
B Block is comprised of two categories while B1 and B2 however, B2 is only featuring 1 Kanal plots. These plots will cost you between 58 lacs to 70 lacs depending on the location.
D Block of DHA Multan is one of the best blocks with 1 Kanal plots. Here the minimum price of 1 Kanal plots is 55 lacs while the maximum is 70 lacs
DHA Multan E Block is offering plots of 1 Kanal at the average price of 50 lacs.
The plots of 1 Kanal in F Block, which is located adjacent to A Block will cost you around 46 lacs to 55 lacs.
1 Kanal plots located in G Block are available for prices ranging from 55 lacks to 65 lacs.
H block serves as an ideal location for 1 Kanal plots because of its easy access and appealing surroundings. Due to these reasons the demand for plots in this block are very high and is available from prices of 60 to 80 lacs.
Another favorable block for 1 Kanal plots is I Block. Plots available, range from 57 lacs to 75 lacs depending on the location.
J Block is not currently included in the balloting.
K Block is also a good option to buy 1 Kanal plots. The minimum price of plots is 55 lacs, and maximum prices are 65 lacs.
L Block offers 1 Kanal plots at the price of 45 lacs to 55 lacs.
For the further details of the next ten remaining blocks, please stay connected with us!
Check out our site for more detail. Latest News