DHA Phase 8 Air Avenue Apartments – Short-Term Investment Opportunity
by UPN
August 15, 2018
0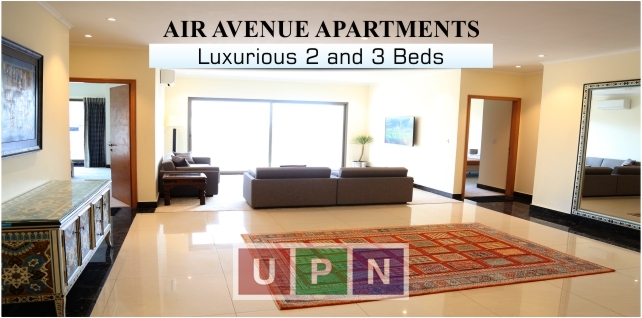 Unlike Karachi, apartments or flats are not a common sight in Lahore. Nevertheless, where they are, they are built with style and reflect perfection. DHA as a society overall, is a housing project for the elites. You can find the most extravagant houses, well carpeted roads, and witness and lifestyle that truly describes the meaning of luxury. The entire housing society, no matter what phase you look at, is a symbol of perfection and royalty. Similarly the Air Avenue Apartments in DHA Phase 8 are the perfect in every way. One can be tempted to ditch their house and start living in Air Avenue Apartments.
Air Avenue Apartments are breathtaking beautiful and located in the best locality of Lahore. With just minutes away from the Allama Iqbal International Airport, they are situated within the city limits unlike most of the developing housing schemes which are too far away. Built in the most modern ways, the architecture is simply irresistible and the materials used in construction are far better than one would usually use to construct a home personally. Being a project of the Pakistan Army, DHA formerly associated with urban developers, has always come first when you consider location, beautiful interior and materials used for construction.
Apartment Details
The ultra-modern apartments are available in sizes having 2 or 3 bedrooms. The apartments are a symbol of a luxury lifestyle with modern security facilities providing a friendly neighborhood. The fully furnished flats are fitted with imported quality fittings and an extravagant interior. Dining room, drawing room, attached baths with all bedrooms, balcony, modern design kitchen and powder room are present for each apartment. If you have guests coming over frequently, the 3 bed flat would be suitable for you as you can make the 3rd one a guest room.
Amenities provided to Air Avenue Apartments
Wide road network for easy access
Parks & recreational areas
24/7 Security
Easy access to hospital
Mosques
Water Supply
Underground electricity
Near to quality education institutions
Universal Property Network Services
We are authorized agents working actively in the real estate sector for the last 15 years. We have established our trust thru fair deals and by providing our clients with the best offers. If you are interested in purchasing an apartment or a plot in DHA, we are available. You can contact us thru our website, our telephone numbers or you can also visit our office at your convenience. Our expert realtors can guide you to a safe and profitable investment based on your budget and preference. If you are willing to buy or if you are an owner of a property in DHA and are willing to sell it for gain, we are the ones you can trust for the best deals in town.