DHA Rahbar Phase 1 & Development Update of DHA Lahore Phase XI
by UPN
February 1, 2018
0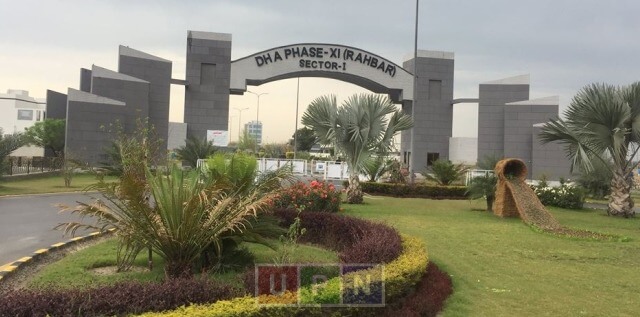 DHA Rahbar Phase 1 is an ideal place for a luxurious living in Lahore. Among serene environment at an amazing location, this sector of Defense Housing Authority is said to be one of the best for 10 Marla and plots. The development status in the entire phase 1 is good enough for inhabitation and already few families are living here. Almost all plots here are fully developed (on ground) and availability of possession increases the demand further. If you want to enjoy your living with DHA signature facilities at peaceful location, Phase 1 of DHA Rahbar is a suitable option which comes with reasonable rates.
DHA Rahbar Phase 1 Location
DHA Rahbar Phase 1 is located near main Raiwind Road also approachable from New Defense Road side. Coming from within the city towards Khayaban-e-Jinnah round about, it is quite close to Valencia Town which is at its north. Having access to the main city areas from both ways as now Ring Road Southern Loop has been opened, this sector is bound to be buyer's preferred choice.
Latest Updates (Block Wise) of DHA Rahbar Phase 1
In A, B C, D and E blocks of Phase 1, DHA Rahbar is offering 1 Kanal and 10 Marla plots mainly. There are few 8 Marla plots on the back side in A Block, but buyers are more interested for first two categories mentioned.
Blocks D, E & C
D Block is just alongside Main Boulevard and the most developed area in the Phase 1 where families are living in mainly in 1 Kanal houses. Now the construction at 10 Marla plots has started, so the demand is increasing for these plots.
E Block is adjacent to D Block and comprised of only 10 Marla plots. Construction of homes is also continued there and has equally good market than those of D block plots of same category.
In C Block at main commercial side, development is going on at full pace. A couple of stores and renowned fast food restaurant Timmy's Café is now open there. New construction on plots is continued and in this block trend of renting out your house after building is relatively high.
In all these blocks 10 Marla plot price ranges from 80 lacs to 105 lacs which is quite reasonable as ground level plots with possession are always high-on-demand.
Ring Road Southern Loop – The Game Changer
On the left of the society's main gate, Lake City Interchange of newly built Lahore Ring Road Southern is at a few minutes distance. It would be a game changer for this sector in upcoming weeks as property prices in Lahore especially in its vicinity are increasing. It's ideal time to get a plot in Rahbar Phase 1 and also to grab plot files in DHA Rahbar Phase 2.
For more updates from real estate sector, please keep visiting Universal Property Network (UPN).