Difference Between Gulberg Greens and Gulberg Residencia Islamabad
by UPN
June 3, 2021
0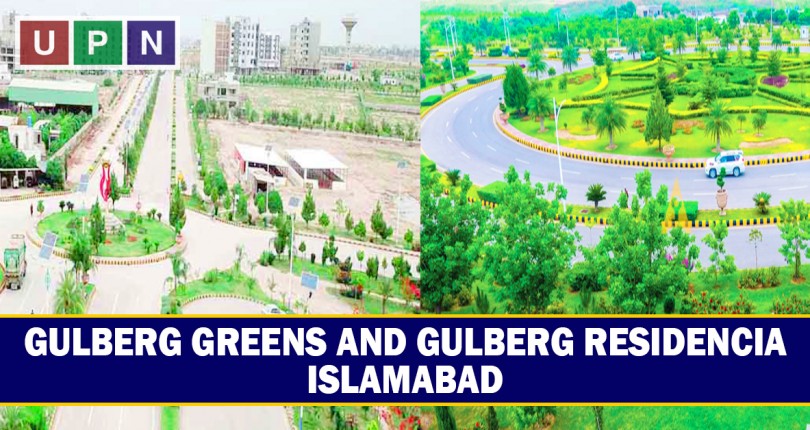 Introduction to Gulberg Islamabad
One of the latest and state of the art projects in Islamabad is the Gulberg Residencia. Gulberg in Islamabad is an attractive and appealing housing project located in the heart of the Capital. Gulberg Islamabad is further outspread into a commercial zone as well as 2 residential zones.
As Gulberg, being a Government Project/District, it is completely approved by The Capital Development Authority (CDA Approved) with a large number of existing residents. Gulberg Housing Project consists of the Gulberg Residencia and the Gulberg Greens, being ultra-modern and up-to date projects, making it a choice second to none.
Location & Covered Area
As Gulberg Residencia and Gulberg Green projects are located at a prime location right off the Islamabad Expressway, they have an ease of access to all the city facilities. Due to its convenient location, residents of the society would have ease of access to both Islamabad as well as Rawalpindi. Gulberg Islamabad spread across an area of 80,000 Kanals, with loads to offer to its residents.
Gulberg Islamabad offers a wide range of properties for general residential as well as farmhouse offerings. As it is already a well-established project, there are unique buying opportunities in Gulberg Residencia for ready-made, modern construction villas, well laid plots, as well as state of the art apartments. For the commercial zones, there are also complete plazas, offices, shops and plots available for sale.
Difference between Gulberg Residencia and Gulberg Greens
Below is a comparison between two projects of Gulberg:
-Gulberg Residencia
–Gulberg Greens
Both these are the residential projects of Gulberg Islamabad, however offered with a variance of one opportunity to invest in buying a farmhouse property while the second offering an opportunity to buy a residential villa. The Gulberg Greens offers farmhouse estates with larger land sizes starting from 4 Kanals and upwards. The Gulberg Residencia has residential buying opportunities starting from 5 Marlas up to 2 Kanals.
Considering the vastness of Gulberg, it is safe to say that it has housing arrangements catering to needs of all income households with facilities available to all residents.
Gulberg Greens and Gulberg Residencia Facilities & Amenities
Gulberg Islamabad features a magnificent D-Markaz which is the commercial zone of Gulberg with shops and offices easily accessible to everyone. The following amenities are a part of Gulberg Islamabad which makes the residents have a feel like none other.
-High-end and State of The Art Security Systems
-CCTV Video Surveillance 24/7
-New Infrastructure
-Entertainment Services like Libraries, Cinema Theaters, Restaurants, Shops etc.
-Broad Roads
-Primary, Secondary and Higher Education Schooling within Gulberg
-University and College options
-High-end medical facilities
Developmental Factors of Gulberg Islamabad
Gulberg Residencia Islamabad comprises of features for its residents that includes a well developed commercial area for all basic and advanced services for the residents and outsiders to enjoy. Within the Gulberg area is a Blue Area of itself along with a Business Park. Multiple World-Class Educational Institutions as well as Top of the Line Health Care makes Gulberg the perfect dream location for residents.
After reading the facts above, it is a no brainer that Gulberg serves to be a perfect society for the perfect family! We strongly suggest to invest in Gulberg Residencia and Gulberg Greens in order to enjoy life to the fullest and have a secured environment for your families.
For further information about Gulberg Residencia & Gulberg Greens, feel free to contact us at: UAN: 042-111-OUR-UPN (111-687-876)