Gulberg Islamabad – All the Latest Property Details
by UPN
February 26, 2020
0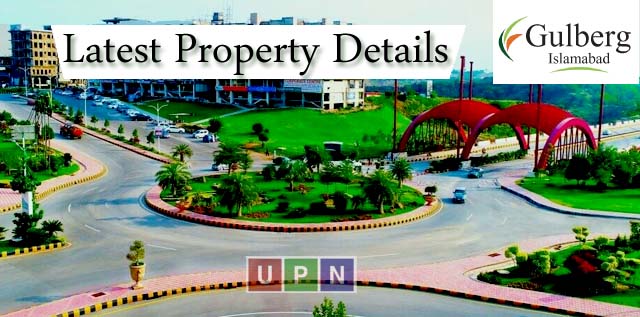 Gulberg Housing Scheme Islamabad is also known as IBECHS Phase 3.This project is basically funded by the Intelligence Bureau Cooperative Housing Scheme (IBECHS). Gulberg Islamabad is comprised of three sub-projects in it. These sub-projects are– Gulberg Green (Argo farms), Green Residencia and Gulberg Green Commercial Area.
So, let's check the details of all of these societies in Gulberg Islamabad one by one!
All about IBECHS
IBECHS is a welfare organization that works and offers the best housing facilities to the employees of the Intelligence Bureau. The project was initiated in 1984. That time, this project was named as IBECHS Phase 1. Later, the addition of Phase 2 was made which is now famous as Pakistan Town.
IBECHS further launched another project in 2005 with the name Gulberg Islamabad. It is one of the most luxurious and the largest housing project in Zone IV of Islamabad.
Location of Gulberg Islamabad
This very well-planned housing project is located at the main Islamabad Expressway near Airport Chowk. Gulberg Islamabad is easily accessible from different routes. The Head Office of IBECHS is also located in Gulberg Green.
NOC Approval
Gulberg Green is a CDA approved project. It is holding a valid NOC CDA/PLW-HS (127)/2009/257.
Development Updates 2020
Gulberg Islamabad is the most popular residential society in Islamabad. It is featuring the number of attractive properties for sale. Most of the area and blocks in Gulberg Islamabad are already developed and possession is available.
Actually, the development work of this society is around 80% completed. Moreover, the remaining is progressing at the fastest speed.
Gulberg Green (Agro Farm Houses)
Gulberg Agro Farm Houses are located at Mouza Koral in Zone-IV of Islamabad on Main Expressway. Next, it is a beautifully planned area that will soon become the ideal place of Islamabad to live in a peaceful and fresh environment.
Gulberg Green is featuring a total of 6 blocks in it. These blocks are Executive Block, Block A, B, C,  Block D, and Block E.
Gulberg Agro Farm Houses are offering the farmhouses in following sizes:
Jasmine Enclave (4 Kanals)
Rose Enclave (5 Kanals)
Tulip Enclave (10 Kanals)
Gulberg Residencia Islamabad
The second most beautiful part of this society is Green Residencia Islamabad. It is located at the distance of only 6 to 7 KM off the Islamabad Highway. This luxurious project is total comprises of 20 blocks. However, one of its block D is completely featuring commercial properties.
Gulberg Residencia is offering residential plots of 5 Marla, 7 Marla, 10 Marla, and 1 Kanal. Moreover, the constructed houses of 7 Marla, 10 Marla, and 1 Kanal are also available for sale.
Commercials in Gulberg Islamabad
This society is featuring the best-designed commercial area. The commercials of Gulberg Islamabad are further divided into three basic parts like Business Park, Business Square, and Civic Center. Furthermore, the area now becomes the hub of commercial activities in Islamabad. Here you can buy the commercial plots of 50×50, 80×80, and 90×96 sizes.
In addition, you can also invest in different high-rise projects that are offering attractive properties for sale.
So overall, Gulberg Islamabad is a fabulous option where you can buy different residential and commercial properties. It is a perfect place to live as well as to invest in Capital City.
Check out our site for more detail. Latest News
For more details, contact Universal Property Network!