District One Faisalabad – Location Map, Payment Plan, and Booking
by UPN
December 22, 2022
0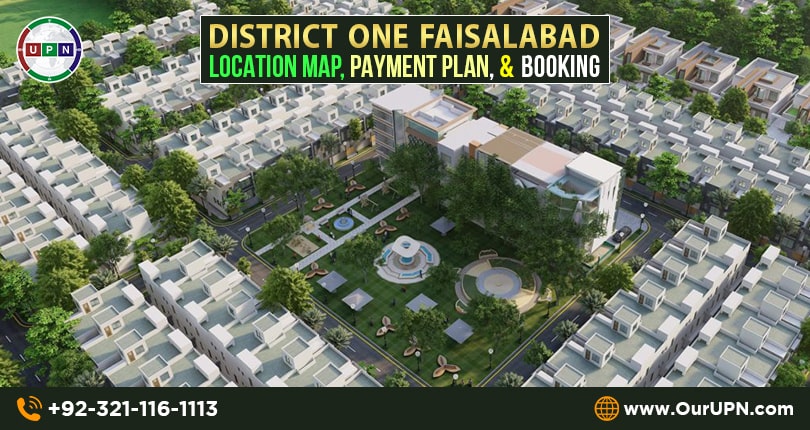 After the successful launch of outstanding projects District One Lahore and District One Sheikhupura, Habib Rafiq Group are soon launching District One Faisalabad. It's a soon-to-be-launched, FDA-approved housing society. It's a first-of-its-kind, state-of-the-art venture with top-notch amenities and countless attractions. Designed to provide opportunities for an elevated lifestyle, this society is also incredible to gain investment benefits. Planned on the prime location of the city, it enjoys access from multiple routes.
Having a diverse range of properties, high-quality development, and reasonable prices, it stands out high among others. Moreover, the easy payment plan will also increase its worth to investors and end-users.
In this latest blog, we will discuss the complete details of this upcoming housing society. Stay connected with us!
Master Plan
It's a mega-housing society with an attractive master plan. The entire project is smartly designed by well-known architects and engineers working under Habib Rafi Pvt. Ltd. District One Faisalabad spreads over a large area and has several blocks where the best residential and commercial properties will be provided. These properties will come with bundles of benefits and amenities such as parks, wide roads, street lights, green areas, CCTV cameras, security, school, and more.
Also, you will find healthcare facilities, mosques, and shopping centers within walking distance. The complete details of the District One master plan will be disclosed soon.
Plots for Sale in District One Faisalabad
This latest housing society has all the modern-day features. Similarly, the plots in this society are designed by keeping in view the requirements of buyers and investors. Here one can invest in a variety of plots depending on his desires and demands. Following are the plots sizes details:
3 Marla Residential Plots
5 Marla Residential Plots
10 Marla Residential Plots
 1 Kanal Residential Plots
The expected sizes of the commercial plots are from 2 Marla to 8 Marla.
District One Faisalabad Payment Plan
One of the biggest attractions of this project will be its prices. But the District One Faisalabad payment plan will surely make it a prominent option among the other societies. Booking of the plots will start with a 10% down payment and the remaining will be payable in 3 years convenient payment plan. District One plots prices will start from 25 lacs only. Its plan will include some half-yearly installments and a reasonable amount at the time of possession.
Hopefully, the possession of plots will be handed over in the ongoing payment plan.
District One Faisalabad Location Map
This new society holds great value because of its prime and tactical location. District One Faisalabad is located ideally on Main Canal Road, which is the hub of modern housing societies. This project is mainly next to Wapda Town and can be easily approachable from Saiyaan Wala Interchange and Nishatabad Faisalabad. Undoubtedly, this housing society is designed in a peaceful location in the city. It features a green environment in the surroundings and has beneficial surroundings.
Anyone can access it from multiple routes. Its strategic location indicates high investment returns. Also, this location is close to other major arteries of FSD. Many of the top-notch shopping centers, malls, entertainment places, schools, and healthcare facilities are lying nearby. All the transportation facilities are also close. Thus, this location surely makes this project a high-standard project, and great to live in the city central and important area.
 About Developers
District One Faisalabad is a project by 101 Group. However, it will be developed by the leading real estate group Habib Rafique Pvt Ltd (HRL). These developers have recently launched District One Lahore and District One Sheikhupura. Also, they have earned a huge name by successfully delivering Capital Smart City Islamabad and Lahore Smart City. These are the credible developers in the property sector. That's why they always gain investors' trust and attract their investments.
By keeping in view the previous work history of these top-class developers, we assure you that District One Faisalabad will be another masterpiece with up-to-date amenities and high-class development.
Facilities Available
District One Faisalabad will be the best housing society in the town. It will have all the heart-warming features starting from the basics to the latest. It's a place where you will have the best living, the same as your dreams. Some of its valuable facilities are:
Gated Community with Boundary Wall
Security available 24/7
Commercial Areas and Markets
Hospital with World-class Facilities
International Standard Educational Institutes
Jamia Mosques and Mosques in Other Blocks
Parks and Lush Green Landscapes
Availability of Water, Gas, Electricity, Internet, and Mobile Services
Underground Wiring and Uninterrupted Supply of Basic Amenities
Water Filtration Plant for Provision of Clean Water
Reasons to Invest
You can confidently invest in this first-class venture because of the following reasons:
It is a master-planned community with attractive residential and commercial properties
It has an ideal location on Main Canal Road FSD and is easily accessible from different major roads.
Beneficial surroundings near the major landmarks
Variety of plots and easy installments option.
Booking with 10% only and remaining in 3 years.
High-Standard and speedy development
Fully-facilitated living and high investment returns.
Secure and beneficial investment in Faisalabad
So, what are you still thinking about? Grab out this latest investment opportunity in Faisalabad as the society is officially launching in a couple of weeks. Stay in touch to get further details including prices, booking procedure, and investment analysis. We at UPN are here to assist you with the best property deals that you always dream of and desire. Happy investment!
Frequently Asked Questions (FAQs)
Here are the answers to the commonly asked questions
This project is soon launching on Main Canal Road.
It's a top-notch development by the Habib Rafique Group. Buying their projects is always profitable.
Here you will be able to buy a variety of residential and commercial plots, as the details are coming soon.
Please contact us through WhatsApp, the Contact Us form, or visit our UPN Youtube Channel for further assistance.