Is Faisalabad Smart City Launching Soon?
by UPN
March 28, 2022
0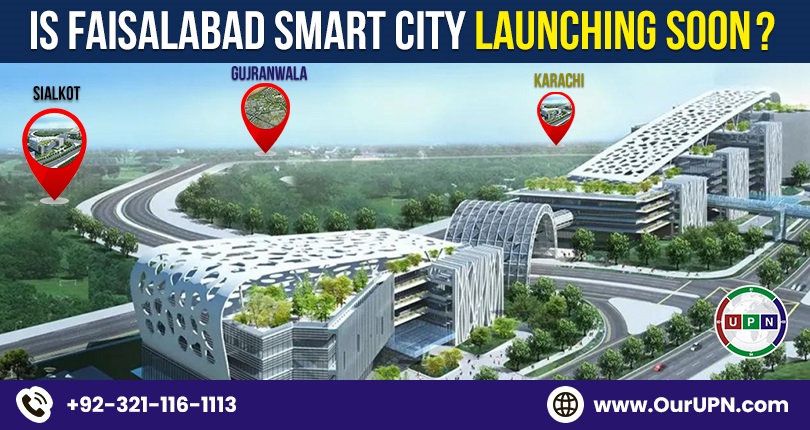 Have you missed the chance to invest in Capital Smart City or Lahore Smart City? Or are you planning to get the best deal at pre-launch prices in one of these projects which offers huge profits? Then, be ready for the biggest surprise of the year. It is Faisalabad Smart City. Yes, HRL and FDH have decided to develop a chain of smart cities in the different major cities of Pakistan. However, the official launch of Gujranwala Smart City, Sialkot Smart City, or Karachi Smart City is not yet confirmed. Hopefully, these projects are under the plan and will be announced soon, providing buyers and investors a chance of profitable investments.
Faisalabad Smart City
It's the first smart city project in Faisalabad, a grand and excellent development. It's a dream destination where everyone will have a chance to invest in higher profits. This place is planned as per the latest standards and trends, making it a perfect place for your home.
Faisalabad is the third-largest city of Pakistan, and the second-largest metropolitan city of Punjab will soon welcome this magnificent project in the real estate sector. Faisalabad property market is one of the fastest-growing markets and has enormous hidden potential. Once this project is officially launched, it will surely enlighten the future of this city by offering incredible options. The wait of investors who had been long thinking to invest in the best project is soon going to end in Faisalabad real estate.  This wait will indeed be compensated with lots of investment returns.
Not only this, but soon, the launch of DHA Faisalabad is expected that will surely be worth everyone's investment. This smart city project in Faisalabad will definitely be the pioneer of the sustainable future of this city.
This smart city project will cover a large area of land, further divided into several blocks. The entire project is planned perfectly, boosting up the value and attraction to its properties. Faisalabad Smart City will offer the best properties for sale in Faisalabad, allowing people to build a home to spend time with their family and loved ones. These properties will be attractive in terms of prices, location and profits. At the same time, it will come with bundles of benefits and amenities you will love to enjoy. Here we can confidently add that Faisalabad Smart City is soon coming to the Manchester of Pakistan with full grandeur and lots of opportunities.
Is the Launch of Faisalabad Smart City is Officially Confirmed?
No, there is no official confirmation by HRL or FDHL about the development of FSC. Once this project and its development in the future are announced, we will surely update you.
Master Plan
The master plan of this appealing society is perfectly designed to attract investors attracted to at first sight. Although, the Faisalabad Smart City master plan is not yet announced, and it will come after the official launch. However, everyone is expecting the same excellence and planning from the developers of Capital Smart City and Lahore Smart City. The area details will be available soon. But the blocks of this society launching soon are:
Overseas Block

General Block

Executive Block

Smart Villas
The current market information has confirmed the availability of the following properties:
3 Marla Residential Plots

5 Marla Residential Plots

7 Marla Residential Plots

10 Marla Residential Plots

1 Kanal Residential Plots

2 Kanal Residential Plots

4 Marla Commercial Plots

8 Marla Commercial Plots
Here we also expect the launch of Smart Villas of different sizes by the management of Faisalabad Smart City. The details will be shared once available.
The entire master plan of this project will be a true description of smart planning and the excellent work of developers. The properties for sale in this first smart city of Faisalabad will come with top-notch amenities such as smart schools, colleges, universities, smart shopping centers, grocery setups and marts, and high-standard health facilities. The whole project will feature lush green parks and heart-winning green landscapes. Your investment will surely return you hugely as living or investment in this latest project will make you feel "wow".
Faisalabad Smart City Payment Plan
It is an advanced and fully facilitated, high-class residential venture with a large area of land. It will offer a diverse range of properties at attractive prices. As we shared above, the sizes of the plots will be almost the same as the plots of Lahore Smart City. But prices are expected to be low and affordable.
For example:
The expected price of 3 Marla plots is 30 lacs to 40 lacs. Booking starts with a 10% down payment. Similarly, 5 Marla and 7 Marla plots prices will range between 40 lacs to 90 lacs. Booking will start with a 10% down payment only.
The expected rates for 1 Kanal and 2 Kanal residential plots will remain in the window of 1 crore to 1.5 crores. Also, the booking will be possible with a 10% down payment.
Please note: These are the expected prices only.
The payment plan of Faisalabad Smart City will span over 3 years. It will feature 36 monthly and 6 half-yearly installments. Around 20% of the total amount will be payable at the time of possession.
Location Of Faisalabad Smart City
Whenever we choose a project for residence or investment, we always check and desire the best location. A good location of a housing society guarantees its success. That's why HRL and FDH will develop this masterpiece at the outstanding location of the city. Not only the prime location but it accesses from the various major points of the city is also important.
Keeping in view the success of their previous projects and their locations, the developers of Faisalabad Smart City have utilized ample time in finalizing the location of this society. Undoubtedly, it is going to locate in one of the poshest areas of Faisalabad that will leave the residents with high contentment. The actual location details are yet to be disclosed. However, the market analysis and information come about these two places where Faisalabad Smart City can be located such as:
Gatwala Commercial Hub
Canal Expressway
These are the two prime locations of Faisalabad and indeed the perfect options for the development of Faisalabad Smart City. Why are these two locations only? Because:
Canal Road Faisalabad has already gathered the elite class with the establishment of modern and attractive housing societies. It is also an easily accessible place and has numerous scenic views and major developments. If the location of FSC is Canal Road, it will exhibit high rates of property and also attract a large number of buyers and investors. This area is already developed and have of great importance. Also, it's an important route to travel to different cities and regions.
On the other hand, if FSC is launched at Gatwala Commercial Hub, it will also gather huge attention. The property prices will be low and it will offer incredible opportunities to buyers and investors. Gatwala commercial hub is situated on Sheikupura- Lahore Road. A 15 minutes drive from the main city centers. This Smart City project, if developed at this location, will be the largest and the top-most facilitated project on this venue. Buying there will be highly beneficial in all the terms.
This project will enjoy the proximity to some of the best societies of Faisalabad such as Paradise Valley and Wapda City.
About Developers:
The magnificent combo of HRL and FDH is behind the iconic planning of Faisalabad Smart City. They both together plan to expand the lineage of smart cities in the major cities of Pakistan. These are the same developers of Capital Smart City and Lahore Smart City. This FSC will be a joint venture of Habib Rafique Private limited and Future Holdings developments (FDHL). These two are the two biggest and most trusted names in the real estate sector of Pakistan.
HRL is an internationally recognize development and construction group growing successfully in Pakistan. They have already known for their great construction services in some of the major residential and commercial projects of the country. Habib Rafiq Group has been working for the last many years. It's the name of class and reliability.
At the same time, Future Development Holding is the second major contributor in the smart city projects of Islamabad and Lahore and now coming to Faisalabad. FDHL is a collaborative company run by various national and international business entities. Both these two groups are together delivering the best projects in the real estate and construction sector of Pakistan.
Sialkot Smart City
Sialkot is one of the most beautiful and important cities in Pakistan. It is also the 13th populous city. It is located in the northeast of Punjab. There is some news in the market that Sialkot Smart City is also launching soon. But the developers (HRL and FDHL) have denied it. We are also waiting for the official confirmation and announcement.
Karachi Smart City
After enormous success in Islamabad and Lahore, the combo of two top developers, HRL and FDHL, are maybe launching their project in Karachi, the city of light. But again, no confirmed news is there. The increasing demands of the property and people's migration to Bahria Town Karachi and DHA Karachi are raising the hints that the next target and destination of Smart City will be Karachi. Once the details are available, UPN will surely update you. Karachi Smart City will surely get a huge success.
Gujranwala Smart City
The management of LSC and CSC is active and smartly planning the development of smart cities in the major cities of Pakistan. Then, how one can deny the importance of Gujranwala. It will surely launch there. But the time, location, and other details are yet to be confirmed officially. Gujranwala Smart City, if announced, will be one of the best and top facilitated projects in the region.
Facilities You will Get in Upcoming Smart Cities
Although it's too early to talk about the amenities in the upcoming smart city projects of Pakistan, by keeping in view the masterplan of Lahore Smart City and Capital Smart City, we assure you, no compromise will be made on facilities. Yes, everyone in these new smart cities will have access to all facilities. Even, its residents will have every world-class amenity at their doorsteps. Faisalabad Smart City will be full of all the basic and modern facilities of modern projects.
There will be wide carpeted roads, proper use of smart technology, availability of internet throughout the society, an eco-friendly environment, and all standard facilities. Smart waste disposal system, FSC will have an installation of sensors for detection of pollution, and much more. Hopefully, it will be the third-best and the largest smart city project in Pakistan. Some of the top facilities we can guess in the upcoming projects are:
Electrically Wired Boundary Walls
Secure Gated Society with Mega Entrance
Parks, Green Landscapes, Lakes, and Numerous Recreational Places
24/7 Availability of Basic Facilities
Grand Jamia Mosque and Mosque in Every Block
High Standard Hospitals and Facilities
Sports District with All Sports Facilities
Proper Commercial Markets and Centers
Faisalabad Smart City Launch Date?
It is expected in 2022, but no official confirmation.
Conclusion
The chain of Smart Cities is launching soon in the different major cities of Pakistan. However, the official announcement is yet to come. Everyone is anxiously waiting for the third smart city project; it is Faisalabad Smart City. But whenever the details are available, we assure you, these projects will bring incredible investment and residential opportunities. Both investors and buyers with the desire to get the best property in the town will enjoy huge profits on investment.
So, what are you thinking about? If you are looking for already available options for the best projects, we suggest you buy in Lahore Smart City. It's a masterpiece under development. It offers a variety of options for residential and investment purposes. Most importantly, its plots are available with ongoing payment plans. Your money will be secure, and you will get huge profits. Contact us for further assistance and details!
Please Contact Universal Property Network  For More Information click here or visit our youtube channel further assistance