Dolce Mall Shops and Food Court Bahria Town Karachi
by UPN
September 19, 2022
0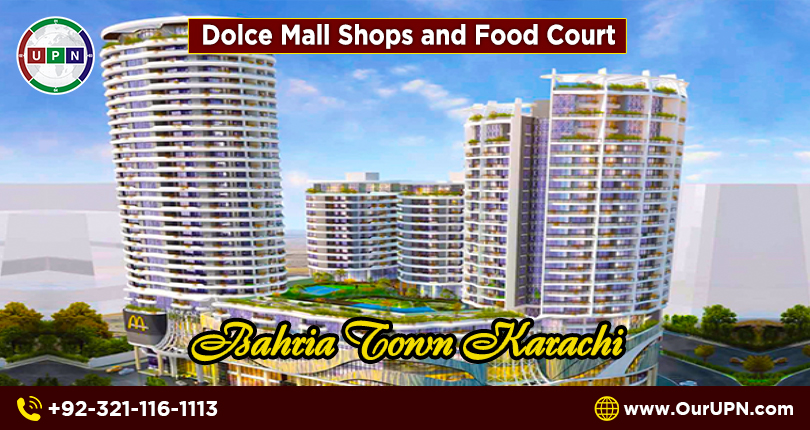 Dolce Mall is one of the most beautiful, latest, and appealing projects launched a few months back in Bahria Town Karachi. Owned by Dolce Builders, it's a state-of-the-art development with countless unique features and attractions. Dolce Mall shops are designed brilliantly, providing investing a chance for profitable investment in the city of lights.
This project has an eye-catching exterior, lovely interiors, mind-blowing planning, a valuable location, and a thoughtfully created payment plan. Dolce Mall is undoubted, a name of perfection with beneficial surroundings. It offers great investment, business, and living opportunities to people seeking something exceptional in Bahria Town Karachi. Further details are:
Dolce Mall Bahria Town Karachi
Planned perfectly on the latest terms and modes, it's a high-rise venture spreading over almost 3.84 acres of land. The land area is 18,000 sq yards and has fabulous planning such as:
Two basements for parking, offering space for 800 – 900 vehicles
Lower ground and ground floor with spacious shops
The first and second floor are also featuring Dolce Mall shops
The third floor has the impressive development of a food court
There are high-rise towers connected to it. One tower which lies close to Theme Park is a ground + 29 floors building. Also, two towers feature ground + 10 floors and two tower buildings are ground + 15 floors. All these high-rise buildings are offering luxurious living spaces in different categories. Most importantly, it has 3 – sided entrance, making it an easily accessible development for everyone.
The vacant area between the mall and the residential towers is planned with valuable walking tracks, pathways, and a swimming pool. This planning indeed discloses the mind-blowing work of developers and the team on the project's development as per the latest standards.
Dolce Mall Location
The graceful Dolce Mall features excellent planning. At the same time, it has a prime location in the heart of Bahria Town Karachi. It is located in the proximity of Imtiaz Super Market which is also a major development in this society. The location of this project is almost a 4 – 5 minute drive away from the main entrance of BTK. The popular Theme Park lies nearby while the speedily developing AQ Supermarket and AQ Bazaar are also at a short distance.
Not only are this but the well-populated Precinct 19 Bahria Apartments and Precinct 2 Villas close to Dolce Mall shops. Theme Park Commercials is a place for the development of several important mix-used projects adjacent to it. Overall, the location of Dolce Mall is appealing and valuable. It undoubtedly adds more charm and worth to its investment.
Dolce Mall Shops for Sale
The shops for sale in Dolce Mall are located on Lower Ground, Upper Ground, First Floor, and Second Floor. These are the perfect outlets to invest in. Available in the size range of 120 sq feet to 900 sq feet, you can choose as per your requirements. These shops are exceptional in all ways, offering great business and investment opportunities. Most importantly, their overall planning makes them prominent among others. You can purchase a small size shop or can go with the option of a showroom, to run a successful business.
Dolce Mall Shops and Food Court Prices/Payment Plan
Dolce Mall payment plan is one of the most searched things on the internet these days. The reason is the curiosity of investors rises after getting details of the floor plan. But don't you worry! The rates are surprisingly affordable. The prices of shops in Dolce Mall are starting from 25 – 30 lacs only. Sounds impossible? However, it's true! You can easily book your shop in Dolce Mall Bahria Town Karachi at the affordable rates of 24,500 per square foot. The prices of the shops range from 25,000 – 40,000 per square foot.
Booking in Dolce Mall shops starts with a 25% down payment and 10% at the time of digging. The 5% of the total amount will be payable at the time of possession. On the other hand, the rest of the 60% amount will be divided into 48 monthly installments. The payment plan of Dolce Mall spans over 4 years. But the developers have committed to deliver this project and hand over the possession within 3 – 3.5 years of booking.
It means you will get a complete hold of your property before the completion of the payment plan. Wow!
Food Court Shops for Sale at Dolce Mall Bahria Town Karachi
A diverse range of shops is available for sale at the food court area of Dolce Mall. It lies on the third floor enabling people to enjoy their meals after shopping with their loved ones. These Dolce Mall food court shops are available in three categories. Some of these shops will cost you 30,000 per square foot.
Some of these Dolce Mall shops are 25,000 per square foot such as the front-facing shops. However, the remaining food court shops will cost you 23,000 per square foot only. Moreover, the booking amount is 25%, 10% on digging, 5% on possession, and 48 monthly installments. Possession will be handover before the completion of 4 years installment plan.
Residential Properties at Dolce Mall
As it's a newly launched project, the developers have only revealed the details of commercial properties only. The upper floors/towers are designed with duplex apartments and apartments of different sizes.
The details of these residential spaces will be available soon. You will be also able to book these luxury living spaces on easy installments.
Investment in Dolce Mall Bahria Town Karachi
This latest project is indeed a masterpiece, a unique and heart-winning development in Bahria Town Karachi. It is exceptionally planned by Dolce Builders, making it a great place for investment, business, and residence in Bahria. People looking for highly valuable properties on installments should invest in them as the rates are surprisingly low. At the same time, the returns on investments are huge even more than your expectations.
Dolce Mall shops excellent location is taking this project to the next level of success. Your capital will be 100% safe and return you a lot. So, what are you thinking about? Be ready to get the best property deal in Bahria Town Karachi, by contacting UPN. We are the authorized sales partners of Bahria Town Karachi. You can trust us and we will serve you with the best!
Frequently Asked Questions
Here are the answers to the commonly asked questions about Dolce Mall Bahria Town Karachi:
Is Dolce Mall a Popular Project?
Launched a few months back, it is one of the most popular mix-used development in Bahria Town Karachi. From location to prices, payment plan, and development plans, everything wins the heart.
Is this Project Approved by Authorities?
Dolce Builders is a well-reputed name in the real estate sector of Pakistan. Moreover, Bahria Town management never approves a project to be developed on their landscape that has any flaws. You will find it completely approved by relevant authorities.
Which Properties are the Best to Invest in Bahria Town Karachi?
Dolce Mall shops and food court shops both are ideal to invest in. However, preferring one over the other completely depends on your requirements and choices. You can contact us directly for further assistance!
Please contact Universal Property Network or Visit our Youtube channel for further assistance.