Dominion Food Street – New Investment Opportunities in Bahria Town Karachi
by UPN
December 6, 2020
0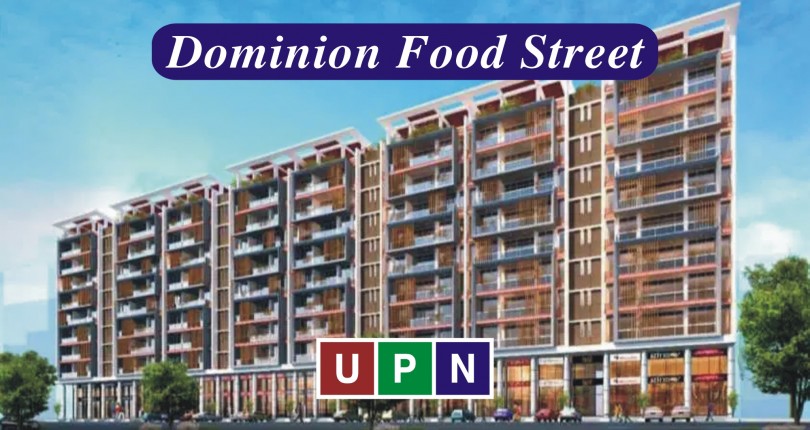 Dominion Food Street is a first of its kind high-standard real estate development in Bahria Town Karachi where all the shops are offered for food products only. Located ideally, it's a newly launched project by the well-known Iqbal Builders and Real Estate. Dominion Food Street provides you with an opportunity to run a successful food company inside a multi-storey high –rise mall.
Currently, this project is at its initial stages so you can invest in generating huge profit. But once, the possession announced, and it's operational, you can start your food chain or any business related to the food industry. Moreover, these shops for sale at Dominion Food Street can provide you with high rental income due to increased footfall. So, let's check the further details of this project below:
Dominion Food Street – Project Details
Dominion Food Street is a multi-storey project offering shops, apartments and penthouses.  This project is developing over a total of 12 plots of 133 sq yards. Dominion Food Street is planned on Plot no 27 to Plot no 38.
It's a ground + 8 storey high-rise development where the basement, mezzanine and ground floors completely offer you shops in following sizes:
460 sq. ft to 590 sq. ft
The prices for the shops in Dominion Streets start from 45,000/- per square feet.
Apartments for sale in this project are offered with four bedrooms accommodation. These apartments are available at the price of 8,000/- per square feet.
This multi-purpose project also offers the best penthouses with 4 bedrooms, lounge, open garden on the terrace and much more. These penthouses are available in the price of 10,000/-.
All the shops available in Dominion Food Street will be soon operational with national and international food chains. Different local restaurants will also become a part of it. This place is undoubtedly, best to invest where you can earn huge as well as it will facilitate the residents of Bahria Town in the best manner.
A Project by Iqbal Builders and Real Estate
Dominion Food Street is the most recent project by Iqbal Builders and Real Estate. The company is among the trusted names and authorities builders in Bahria Town Karachi. They have already delivered numbers of successful projects such as Dominion Business Center 1, which is completely operational. Their second project was Dominion Business Center 2, which is almost ready, and the ground floor is functional. Dominion Business Center 3 and Dominion Twin Tower and Residency are there recent projects where properties are available at reasonable rates along with easy installments.
Another attractive project by the same builders is Dominion Mall which is located close to Bahria Town entrance.
Location of Dominion Food Street
Dominion Food Street is ideally located project. It is only 300 to 400 meters away from Bahria Town main gate. It is placed in the surroundings of Bahria Hospital. Moreover, commercials, especially Theme Park, AQ Mall and Residency, as well as Danzoo, are easily accessible from it.
Merging Option is Available
Dominion Food Street also offers the best opportunity to merge your disputed plots in it. 100% amount of your file will be adjusted while the remaining will be payable in installments.
So, if you are looking for the best shops for sale in Bahria Town Karachi or want to be an owner of an apartment or penthouse, choose Dominion Food Street! You can easily book your from  Universal Property Network today!
For More Information click here or visit our youtube channel