Bahria Town Karachi – Complete Details 2022
by UPN
December 7, 2022
0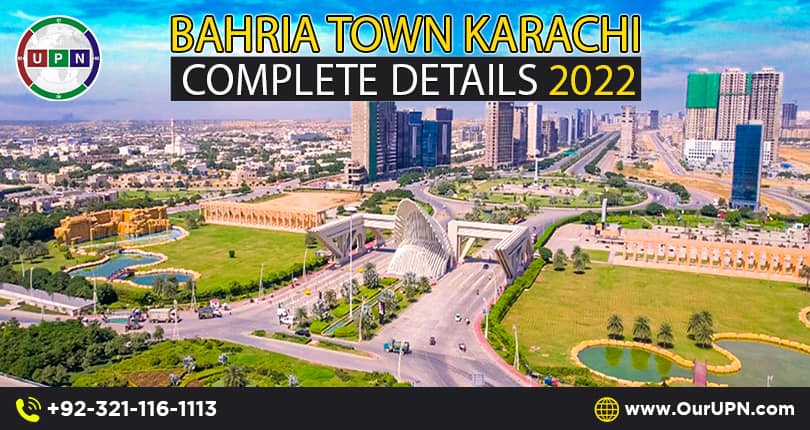 Bahria Town is the best housing society in Karachi, and Malik Riaz is the developer. Bahria Town Karachi was launched in 2014. In only 8 years, it has already become a "city within a city," a living community with thousands of residents who enjoy the luxuries of life.
This society contains all types of facilities, comforts, and entertainment. It has the highest infrastructure level and is the best example of turning visions into reality. Bahria Town Karachi covered 46,000 acres of land.
In this blog, we will discuss the complete details of Bahria Town Karachi.
Bahria Town Karachi Location
Bahria Town Karachi is ideally located on the Karachi-Hyderabad M9 Motorway. We can also say it is located on Super Highway. Due to its location, this housing project is perfect for people who want to build their homes in a peaceful environment.
Some major landmarks are a short distance away.
20 minutes from the Super Highway Toll Plaza
25 minutes from Jinnah International Airport
25 minutes from the Metro Bus Station
28 minutes from the Dream World Family Resort
30 minutes from Malir cantonment
35 minutes from Gulzar-e-Hijri Scheme
Precincts in Bahria Town Karachi
Bahria Town Karachi is divided into more than 60 precincts. Some precincts are completely developed, and some of them are under construction. Prices of all precincts are different and reasonable. These precincts contain different sizes of residential plots, commercial plots, villas, and luxurious apartments with 24-hour security.
Bahria Town Karachi plots for sale
Residential plots for sale
75 sq. yards
125 sq. yards
250 sq. yards
500 sq. yards
1000 sq. yards
2000 sq. yards
Commercial plots for sale
125 sq. yards
133 sq. yards
500 sq. yards
2200 sq. yards
Villas for sale
125 sq. yards
200 sq. yards
235 sq. yards
250 sq. yards
Apartments for sale
1-bedroom apartment
2-bedroom apartment
3-bedroom apartment
4-bedroom apartment
Residence in Bahria Town Karachi
Bahria Town is a well-planned community, and thousands of families living a luxurious lifestyle in this society. It is a safe and secure society for residents.
Bahria Town precincts have different locations, features, and designs. And these precincts include:
Central Park Apartments
Midway Commercial
Bahria Farmhouse
Jinnah Avenue Commercial
Bahria Town Tower
Bahria Icon
Bahria Paradise
Bahria Sport City
Bahria Golf City
Bahria Heights
Bahria Homes
Bahria Apartments
Central Park Apartments
Central Park Apartments have a view like New York's Central Park. It consists of 32 acres of land. It is a high-rise apartment building. Central Park Apartments provide 4-bedroom apartments and 4-bedroom penthouses. Some features of Central Park Apartments are:
Jogging tracks
Children's play area
Lakes
Flower garden
Roller skating ring
Midway Commercial
It is a premium commercial project for business and investment in Bahria Town Karachi. Commercial plazas are available in the ideal location of Jinnah Avenue. It is located 4 kilometers from the main gate and 1 kilometer from Jinnah Avenue. Midway Commercial has two opposite sides of buildings, the A and B sides. Some surrounding areas are:
Precinct 4
Precinct 6
Bahria Apartments
Bahria Heights
Grand Jamia Mosque
Bahria Farmhouse
Farmhouses are the most comfortable and ideal living environments. An international theme park and Dan Zoo are also established there for children and families. Bahria Town Karachi has luxury plots ranging in size from 400 to 8000 square yards. Some features of Bahria Farmhouse are:
Gated community
Security and Maintenance
Dan zoo
International Theme Park
Hypermarket
Jinnah Avenue Commercial
Jinnah Avenue Commercial is an ideal location for the business area. Commercial plots are constructed along the 18-lane, 400-foot-wide Jinnah Avenue, which is a copy of the Sheikh Zayed Road in Dubai. Some of its features are:
Direct access to the superhighway
Near the airport
Spacious parking for all plazas
Bahria Town Tower
It is a smart luxury building for retail shops, and cooperating offices are also available there. It is ideally located on Tariq Road in Karachi, which has the highest daily footfall. This beautifully designed building stands tall at 275 feet and consists of 23 floors. The wall features, a large LED screen with excellent visibility from a long distance. Some of its features are:
Located on Tariq Road
23 Floors
24/7 security and surveillance system
Centrally air-conditioned
Power backup
Gold-class cinema
Bahria Icon
It is the tallest building in Pakistan, consisting of 62 floors and 42-storeyed residential towers. It is located in Shahrah-e-Firdousi, Karachi. The biggest shopping brands and apartments are available there, including cooperating offices. International architects and consultants designed this beautiful building for the Bahria Icon. There is one flyover and two underground subways for easy access. Some of its features are:
Pakistan's largest cogeneration plant
Luxury apartments
Leisure and entertainment
Water filtration
Management system
Communication system
two-kilometer-long underpasses
Bahria Paradise
This beautiful place is a replica of Central Park. There is a playground with walking and jogging tracks. Also, a children's park with rides and green landscapes. It is ideally located near the Jamia Masjid in Bahria Town. There are many residential plots of 250, 500, and 1000 square yards and 5-bedroom villas of 500 square yards with greenery surrounding them. Some of its features are:
Gated community
32-acre Central Park
Green Landscape
Playgrounds and jogging tracks
Children's park with rides
Lake
Flower gardens
Bahria Sports City
The largest Rafi Cricket Stadium is built in Bahria Sports City, which is a copy of the Dubai International Cricket Stadium. In addition, four-bedroom villas with 350 square yards are available for luxury living in Bahria Sports City. There are also gym, tennis, squash, badminton, and coaching programs to enable the growth and development of talent. Some features of Bahria Sports are:
Grand gymnasium with tennis, squash, and badminton courts
Football ground
Cycling and jogging tracks
Coaching Programs
Bahria Golf City
Bahria Town Golf City offers stunning 1, 2, and 4 Kanal residential plots with modern and luxurious Golf & Country Club facilities. It has a 36-hole golf course that meets international standards. Bahria Town also designed the Golf City projects in Islamabad and Lahore. This project is profitable and expensive due to its hills, landscape, and features. Some features of Bahria Golf City are:
Gated Community
View of green from your window
Golf View 7-Star Hotel
Rayan Golf Course & Country Club, Pakistan's First 36-Hole PGA Standard Golf Course
5-Star Golf and Country Club
Bahria Heights
Bahria Heights is a unique project that consists of four identical buildings. They offer 2-bedroom apartments and commercial shops, including a lobby and waiting area for guests. Commercial areas include a gym, spa, restaurants, mini-golf, and much more. Some features of Bahria Heights are:
24/7 security
Commercial shops and stores
Aesthetically designed courtyards
Lobby and waiting area
Restaurant and cafe
play area for children
Car parking areas
Bahria Homes
Quaid Block and Iqbal Villas are the most prominent blocks for residences. Villas in these blocks range in size from 125 to 250 square yards. It is a premium residential project with luxurious facilities for a modern lifestyle. All villas are designed by highly qualified architects, and they use the finest materials. These villas reflect the true comforts of life. Some features of Bahria homes are:
Ideal community
Grocery stores
Park and green area
Sports Complex
Properly designed villas
Ventilation system
Bahria Apartments
It is the most beautifully designed of the 2-bedroom, 3-bedroom, and 4-bedroom apartments. These apartments have modern architecture and a luxurious view by international standards. These apartments have a separate parking space and green area. Some features of Bahria apartments are:
Parks and playgrounds
Reception area
Security and maintenance
Ventilation system
Street lights
Separate parking
Some Wonder Replicas in Bahria Town
Many wonder replicas are built in Bahria Town Karachi. It is a great development in society that enhances its beauty. Visitors and residents are attracted to these replicas.
Eiffel Tower
Eiffel Tower is located in precinct 37 of Bahria Sports City. If you love heights, the Eiffel Tower is an attractive place to visit and explore the fun. Bahria Town lightning increases the beauty of the Eiffel Tower at night. This beautiful tower is a replica of the Eiffel Tower in Paris, France. There is a lift to the top of the Eiffel Tower, and there are also entry fees.
Entry fees for the Eiffel Tower are:
For adults: PKR 200/-
For children: PKR 100/-
Taj Mahal
The Taj Mahal is beautifully located in Bahria Paradise at the entrance of Precinct 56. Precinct 57 is situated right across the road from the replica of the Taj Mahal. A mosque and guest house are also available in the surrounding of the Taj Mahal. Seventeen acres of land have been allocated for this beautiful replica. This stunning structure is a replica of Agra's Taj Mahal, India.
Adventures in Bahria Town Karachi
Some beautiful adventures are established in Bahria Town. They increase investor demand and provide residents with an international lifestyle. All these attractions are developed in different precincts in Bahria Town such as:
Bahria Dancing Fountain
Day and Night Safari
Carnival Area
International Level Theme Park
Dan Zoo
Bahria Dancing Fountain
A show featuring a water fountain is one of the most popular attractions in Bahria Town. More than 250 water fountains dance to the beat of music from the symphony, opera, pop, and local folk groups. The water in the Dancing Fountain rises to 180 feet in the air to the beat of the music, displaying unique expressions. The timing of these fountains is Sunday from 7:00 pm–9:00 pm.
Day and Night Safari                                                                
It is another attraction in Bahria Town. Visitors can visit any time of day or night. This park's animals and birds are especially appealing to children at night.
Carnival Area
The Carnival Area has fun for families. Restaurants and cafes, including Burger King, Pizza Hut, Baloch Ice Cream, and many others, are enjoyed by families. Amusement rides and events also increase the fun for the public.
International-level Theme Park
The theme park introduced in Bahria Town Karachi meets international standards. Families enjoy rides like a roller coaster, 3-D games, a massive ferry board, rides on the water, and many more.
Dan Zoo
Dan Zoo is like an international zoo for kids in Bahria Town, established in 2018. Children and visitors enjoy seeing the birds and animals at the Dan Zoo. There are a variety of animals, including lions, panthers, tigers, cheetahs, monkeys, black bears, giraffes, deer, zebras, and many more.
Bahria Town adventures timing
Monday to Friday: 4:00 pm-11:00 pm
Saturday and Sunday: 12:00 pm-11:00 pm 
Bahria Town adventures ticket
For adults: PKR 2,000-/-
For children: PKR 1,500-/-
Features and Facilities in Bahria Town
Bahria Town Karachi has world-class features, which are given below.
Security 24-hours
Carpeted roads and boundary walls
Street lights
International five-star hotels
Grand shopping malls
Hypermarkets
Cinemas gold-class
Sport facilities
High educational schools, colleges, and universities
Hospitals with 24-hour services
Theme park and water rides
Community Sports, Golf Clubs, and Zoo
Jamia Mosques
Grid stations and transport system
Sewerage system
Cricket Stadium
Graveyard
Why invest in Bahria Town Karachi
Bahria Town Karachi is the best housing society for investment. You will enjoy an international lifestyle in this society. Plots, villas, houses, and apartments are available according to your desire. There are some reasons to invest:
It is ideally located on the Karachi-Hyderabad M9 Motorway
World-class amenities and features
Availability of luxurious apartments
A peaceful environment
Fun and entertainment for children
24-hour security
Beautifully designed villas
Huge profit in future
If you are looking for an ideal investment in Karachi, then you should choose Bahria Town.
Frequently Asked Questions (FAQs)
Which is the best society in Karachi for residence and investment?
Bahria Town is one of the most valuable societies in Karachi for residence and investment, as it is 100% approved.
Which is the most beneficial commercial investment option in Bahria Town Karachi?
Jinnah Avenue is the most demanding and beneficial commercial investment in Bahria Town Karachi.
Is buying safe and profitable?
Yes, 100% investment is safe and profitable.
Please contact us through WhatsApp / Call 03211124445, the Contact Us form, or visit our UPN Youtube Channel for further assistance.