Eastern Executive Villas – New Deal Announced
by UPN
September 26, 2020
0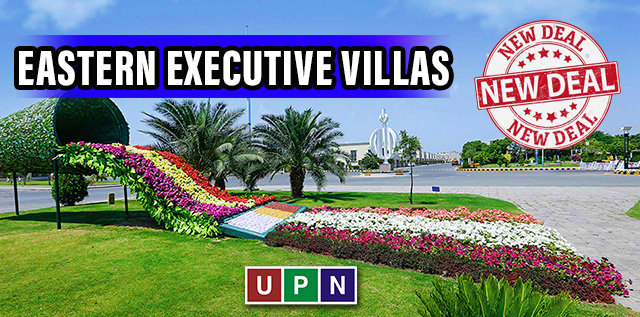 Eastern Executive Villas are the newly announced executive villas by Q-Links Developers. These are the very beautifully, high-standard double-storey villas where you will love to enjoy every single moment of your life. Eastern Executive Villas can be your first choice. It's a place where an exceptional lifestyle packed with exclusivity and affordability is waiting for you. Designed at the top-class location of Bahria Orchard Phase 1, Q-Links are soon launching the best 5 Marla villas on installments.
Eastern Executive Villas Bahria Orchard Lahore Phase 1
Eastern Executive Villas are the smartly designed, highly-attractive 5 Marla double-storey villas available with three bedrooms and four bedrooms accommodation.  These are around 200 villas launching soon in Eastern Extension. The booking price of an exclusive Eastern Executive Villas with three bedrooms accommodation is 74.90 lacs. However, a 5 Marla double storey Eastern Executive villa with four bedrooms accommodation are available at the total price of 79.90 lacs.
The complete payment plan details will announce soon. However, these executive villas' payment plan will span over three years. Possession will be handover within two years, and the development work will begin very soon.
What is the Difference Between Eastern Villas and Eastern Executive Villas?
Eastern Villas are the 5 Marla double-storey villas located at the ideal location of Eastern Extension Bahria Orchard Phase 1. This extension is located adjacent to the Eastern Block, and the area is accessible after passing the Eastern Block. However, the location of Eastern Executive Villas is more attractive and easily accessible in comparison to these previous villas.
Executive Villas lies in the proximity of the very beautiful Mosque and operational Bahria Hospital. An 80 ft. wide road will directly connect to these Eastern Executive Villas, so the location is more prominent and ideal.
In the past, this 80 ft wide road ends near the boundary wall. However, Bahria Town has recently acquired this land to develop Eastern Executive Villas by Q-Links Developers. So, this road will have a direct approach to Executive Villas.
How Can You Book Your Eastern Executive Villas Before its Launch?
Eastern Executive Villas is one of the most attractive properties on installments ever. So, such a beneficial investment opportunity can never be missed. But at the same time, the numbers of villas are less. So, the only solution to book your Eastern Executive Villas is to pay a token amount of 1 lac.
By paying such a minimal amount, you will be sure that you have a good property in your hand. This payment will also give you a time of around 7 to 10 days to arrange the remaining amount. Moreover, with this token amount, you will be safe from paying any own price.   It mostly happens in such kinds of property deals that all the villas sold outs within a couple of days, and the buyers will have to pay extra to buy them.
So, don't waste your time and make a timely decision to make the most profitable investment in Bahria Orchard Phase 1 in Eastern Executive Villas.
Contact Universal Property Network for further details!
Check out our site for more detail. Latest News