Eighteen Islamabad – A Luxurious Project by Ora Developers and Saif Group – Payment Plan and Prices
by UPN
December 27, 2017
20 Comments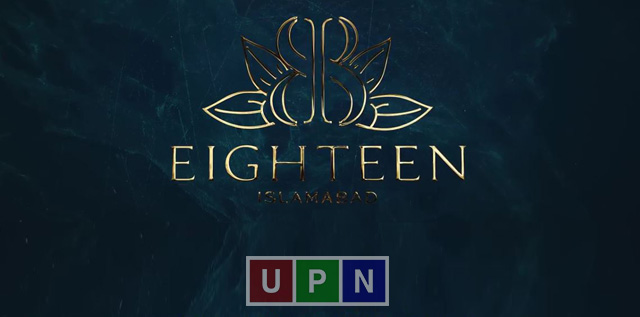 Eighteen Islamabad is an upcoming grand residential project in the capital city of Pakistan. With January 18, 2018 set to be the official launch date for booking, Eighteen Islamabad will be offering lavish and elegant residential units for sale. Beautifully designed villas of different sizes will be part of the project, in addition to apartment buildings. Despite having a suburban location, Eighteen Islamabad will provide all the modern day facilities and amenities for future residents. An 18 Hole Golf Course, a business district that consists of several office buildings and a state of the art shopping mall adds to the overall appeal of the project. The land is fully owned by the management of the project with an NOC approval also granted by Rawalpindi Development Authority (RDA) and Capital Development Authority (CDA).
Eighteen Islamabad Location
Eighteen Islamabad will cover more than 572 acre of land. The futuristic project will be located at a drive of 10 minutes from New Islamabad Airport. On its one side GolraMorr will be situated at a distance of 5 km and Lahore-Islamabad Motorway will be just 3Km away from this project.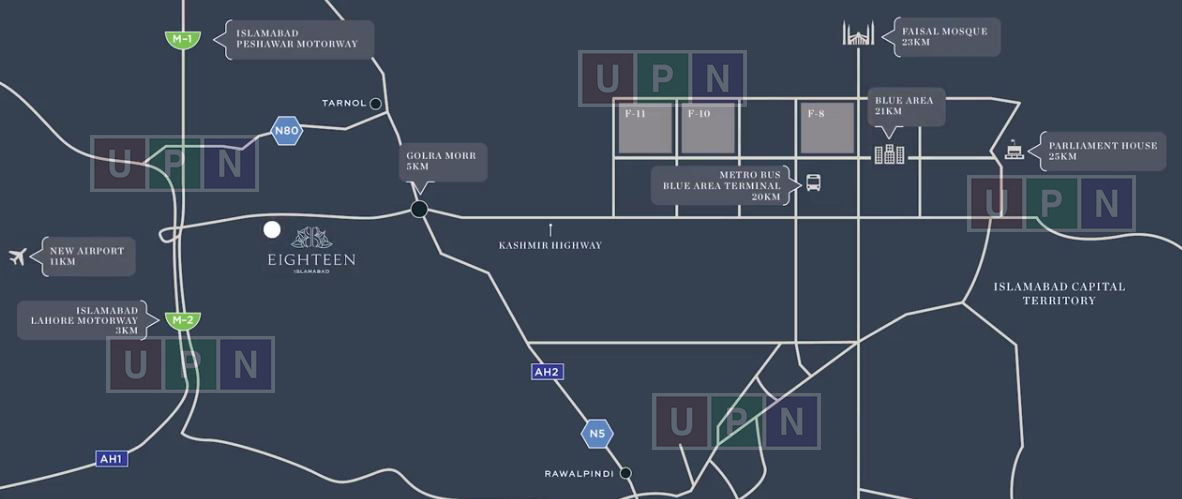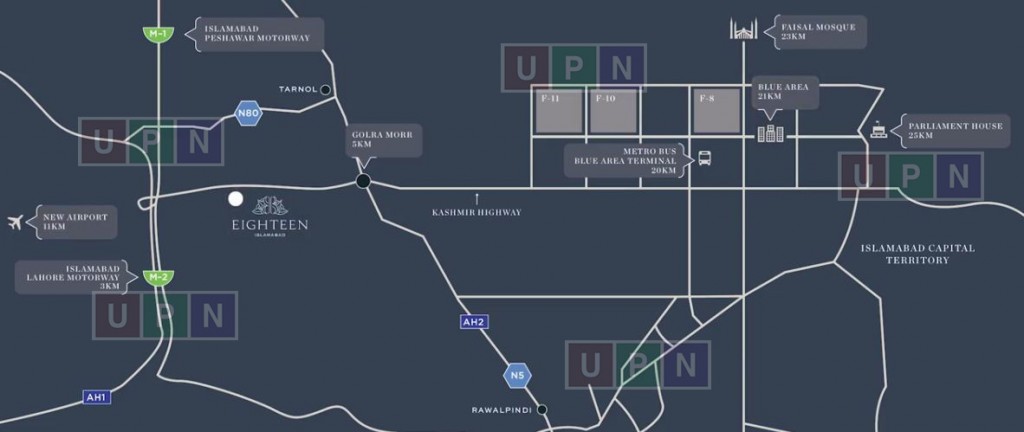 Eighteen Islamabad Map
According to Eighteen Islamabad Map, the project will be located on the road that travels from Islamabad to the New Airport of Islamabad. Just near to the main entrance of the Eighteen Islamabad, The Core will be situated – business district of the project. The Resort (5 -Star Hotel) and The Square (Grand Shopping Mall) will be constructed right next to The Core.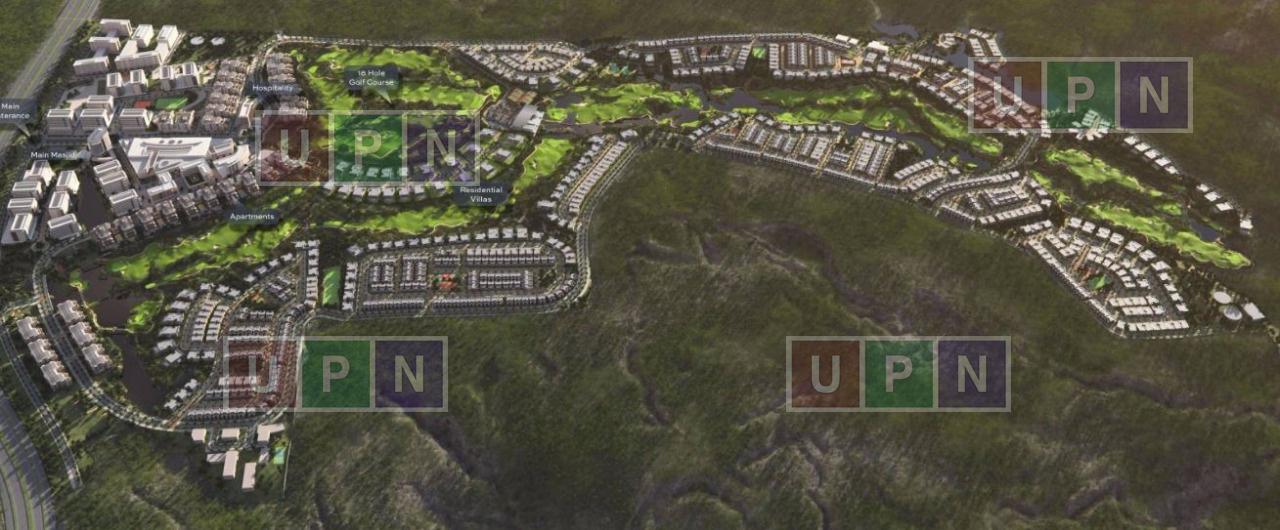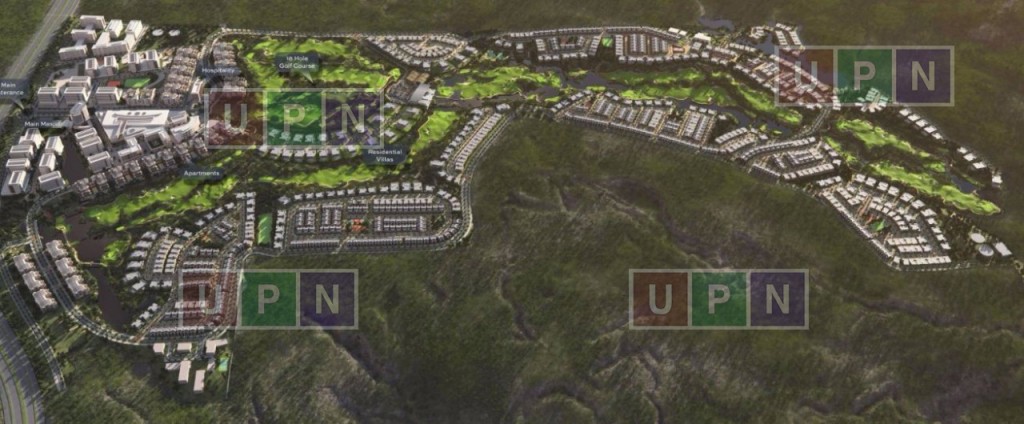 After that, an 18 Hole Golf course will be located. Residential villas and apartment buildings will aesthetically surround the golf course, providing serene views to the residents.
Eighteen Islamabad Villas
Nearly 1100 villas will be constructed for residents. They will consist of following categories:
8 Kanal (7 Bedroom, 8 Bathroom, 6 parking Spaces, Swimming Pool)
4 Kanal (6 Bedroom, 8 Bathroom, 3 parking Spaces, Swimming Pool)
2 Kanal (5 Bedroom, 7 Bathroom, 2 Parking Spaces, Swimming Pool)
1 Kanal (5 Bedroom, 6 Bathroom, 2 Parking Spaces)
10 Marla (4 Bedroom, 5 Bathroom, 2 Parking Spaces)
Eighteen Islamabad Villas
900 apartments divided into following categories:
4 Bedroom Apartment (400 Sq. Yard/15 Marla, 3 Parking Spaces, 5 Bathroom, 1 Powder Room)
3 Bedroom Apartment (270 Sq. Yard/12 Marla, 2 Parking Spaces, 4 Bathroom, 1 Powder Room)
2 Bedroom Apartment (200 Sq. Yard/8 Marla, 1 Parking Space, 2 Bathroom , 1 Powder Room)
Eighteen Islamabad Developers
A consortium of investors will be investing USD 2 Billion in the development of Eighteen Islamabad. International and National companies will be investing in the project with Egypt based ORA Developers and Pakistan's Saif Group being the leading investors in the project. ORA Developers was earlier involved in the launch of Mobilink Telecom services, through its subsidiary ORASCOM. Kohistan Builders and Developers are also going to be part of the project.
Booking and Prices
Prices of  Villas and apartments will be announced once the project is officially launched on January 18, 2018. Payment plans will be introduced at the same time along with booking details.
Eighteen Islamabad Project Timeline
         Development work will commence as soon as the booking process is completed. The management of project already owns 572 acre of proposed land and an NOC was also granted by Civil Aviation Authority for high-rise buildings due to the proximity of the grand project to New Islamabad Airport. 1st phase of Eighteen Islamabad will be completed in 3 and half years. Entire project will be fully completed in next 6 years, as per the administration of this project.
For further information regarding Eighteen Islamabad or any other real estate project of Pakistan, kindly sign up for our free newsletter.