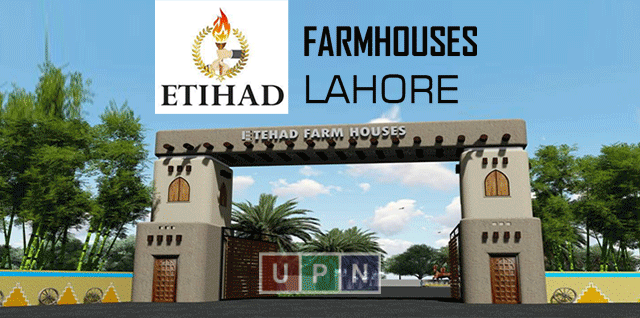 Etihad Farmhouses Lahore is an attractive project that is designed beautifully to provide an outclass mixture of modernity and peacefulness. In this modern residential place, you can grow your own food products like vegetables and fruits. It's a place planned for your comfortable lifestyle within a peaceful and pure environment. In Etihad Farmhouses Lahore, your life and lifestyle will be completely changed.  You can build your dream residence and can harvest and eat whatever you want!
This project is considered the best choice for investors as it is definitely a secure investment option in all the housing societies located in its surroundings. It is one of the best opportunities for people to invest, live and grow organic food items that are definitely a great reason for satisfaction.
About Developers
This biggest and largest project is designed and developed by Etihad Marketing. These developers are providing the best real estate services from the last many years. Etihad Marketing and developers are busy in providing the best place to live where all the modern-day facilities are available for its residents. The demand for these Etihad farmhouses Lahore is increasing rapidly as it's a unique and modern housing project to live peacefully. It's a great opportunity for higher returns of investment.
Property Types
In this modern farmhouses project, you can easily but a constructed farmhouse as in the form of plots so that you can construct it as according to your choice. Etihad Farmhouses offers the farmhouses of:
4 Kanal Farmhouses
8 Kanal Farmhouses
16 Kanal Farmhouses
Location Details
Etihad Farmhouses is located on Bedian Road Lahore. It is located on the drive of a few minutes away from Nawaz Sharif Interchange. Phase 6 of DHA Lahore located close to these farmhouses. Actually, the location of this project considered the ideal one for the top facilities and benefits available in its surroundings.
Latest Prices of Etihad Farmhouses
One of the most attractive reasons behind the popularity of Etihad Farmhouses is the reasonable rates of the property and the flexible and easy payment plans introduced by the developers. There are 3 different sizes of farmhouses are available. You can easily book your one by paying 27 lacs per kanal. The prices of 4 Kanal Farmhouses is 1.80 crore.
The prices of 8 Kanal Farmhouses is 2.16 crore. However, the farmhouses of 16 Kanal are available at the prices of 4.32 crores.
Top Facilities & Unique Features
After becoming the part of Etihad Farmhouses Lahore, you will be surrounded with so many attractions and unique facilities that is only a dream in other housing projects.
The place will provide you with a proper and secure environment with the best lifestyle.
Standard educational facilities are available in the surroundings so that your kids will get the best facilities that you have always dreamed of.
The well-developed and vast commercial area is located close to Etihad Farmhouses.
Best Health Services are also available at these farmhouses.
Beautiful Park, Jogging track, and other Entertainment Facilities are also available at Etihad Farmhouses Lahore.
There is also a Central Mosque designed in Etihad Farmhouses.
For booking and details, contact Universal Property Network.