Etihad Town Phase 2 Possession Announced – Good News
by UPN
November 20, 2021
0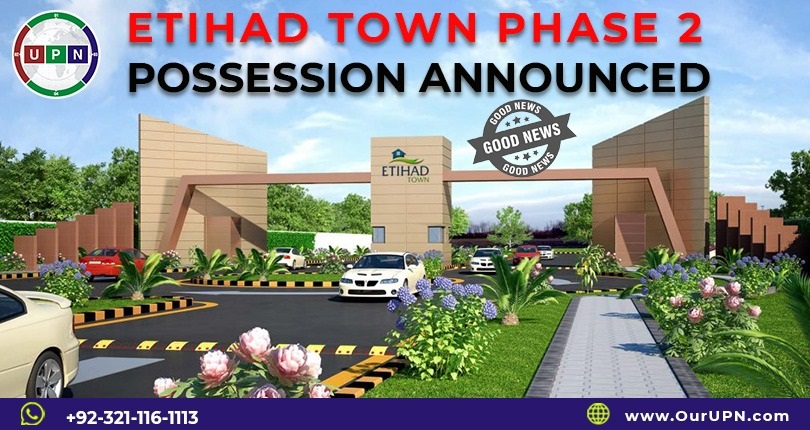 Etihad Town Phase 2 is one of the attractive LDA approved housing projects located ideally. The possession of this appealing society is announced. Congratulations to the plot holders of Etihad Town Phase 2 who had confidently invested in this project.
This society was launched a year ago; it is a completely developed community. It's a project by Etihad Holdings who had successfully delivered Etihad Town Phase 1. Located at the easily accessible location of Raiwind Road, this project also has proximity to several top housing societies of Lahore. Both the residential and commercial properties are available for sale at Etihad Town. However, the latest investment opportunities are waiting for you at Union Apartments. Further details of location, properties, and prices are:
Etihad Town Phase 2 Location
This beautiful housing society Phase 2 of Etihad Town, is located adjacent to Etihad Town Phase 1. The actual location of this project is on Raiwind Road Lahore, at a distance of 3.5 KM from Thokar Niaz Baig. One can easily approach this project from the several other major routes of Lahore. Moreover, this project also has proximity to DHA EME Sector, Wapda Town and Johar Town Lahore.
Etihad Town Phase 2 Plot for Sale
This appealing project offers a wide range of residential and commercial properties to facilitate investors ideally. However, the demands are increasing, and that's why the prices. The plots for sale in Etihad Town Phase 2 are:
5 Marla Residential
10 Marla Residential
4 Marla Commercial
5.33 Marla Commercial
6 Marla Commercial
8 Marla Commercial
The launching prices of plots are:
Residential Plots of 5 Marla: 6,495,000/- and 10 Marla: 12,495, 000/-.Moreover, these plots are available with a flexible payment plan of 2 years.
Similarly, the launching prices of commercials in Etihad Town Phase 2 are 22,495,000/- for 4 Marla plots, 29,995,000/- for 5.33 Marla commercial plots. On the other hand, 6 Marla commercial plots launching prices are 32,995,000/- and 8 Marla commercial plots launching prices are 79,195,000/-.
Also, all these commercial plots were launched with 2 years installment from which 1 year of installments is paid.
Current Prices and Possession
The latest prices of Phase 2 properties are not the same as the launching prices But rates are increasing. For example, the launching rates of 5 Marla residential plots are 65 lacs, but the latest prices are around 85 lacs. Similarly, 10 Marla residential plots will cost you 1.50 crores. The same increase is visible in the commercial plots.
The possession of plots is announced now both the residential and commercials are ready to construct. It's big news for the plot holders who had to earn 25 – 40 lacs by investing in the plots of Etihad Town Phase 2.
Etihad Town commercial plots and residential plots possession is available, which means soon it will have good construction and inhabitation. Moreover, the prices will continue to increase.
Latest Investment Opportunities
Undoubtedly, the plots for sale in Etihad Town Phase 2 are excellent for real estate investment in Lahore. However, residential plots are only good for construction and residence purposes. Therefore, these plots prices are already increased. On the other hand, the commercial plots are a suitable option for investment and rental gains. But to invest in commercial plots, you will need good capital. At least an amount of 2.50 crores – 3 crores.
So, what to do if you have a low budget and desire to invest in Etihad Town Phase 2? Buy Union Apartments.
These are luxurious, high-standard, fully-facilitated apartments in Etihad Town. Available in the sizes of:
1 Bedroom
2 Bedrooms
3 Bedrooms
Union Luxury Apartments booking starts with a few percentages of down payment. The balloting date of these apartments is 30th November 2021. Also, these luxury living spaces are available with a convenient payment plan of 3 years. But the prices are going to increase very soon. Yes, its developers have announced to increase the prices after balloting. The new payment plan and prices are not available yet. However, we expect an increase of 1.50 lacs – 3 lacs in each category.
So, this is the last chance for safe and profitable investment in Union Apartments. The current prices of apartments are:
1 Bedroom: 50 lacs
2 Bedrooms: 1.10 crores
3 Bedrooms: 1.25 crores
These apartments are beautiful descriptions of luxury, class and style. Living there would be like living in the womb of facilities. So you will surely enjoy and be happy while residing with your loved ones.
It is Good to Invest?
Etihad Town Phase 2 properties are ideal for thoughtful design to meet the following needs of investors:
Residential Needs
Commercial Investment and Profits
High Potential Through Property
Good Rental Income
Returns on Construction
We UPN suggest you buy there as it's a marvellous development with several top investment options for everyone!
Please contact Universal Property Network For More Information click here or visit our youtube channel further assistance