LDA Approved Societies Near Thokar Niaz Baig Lahore
by UPN
November 23, 2021
0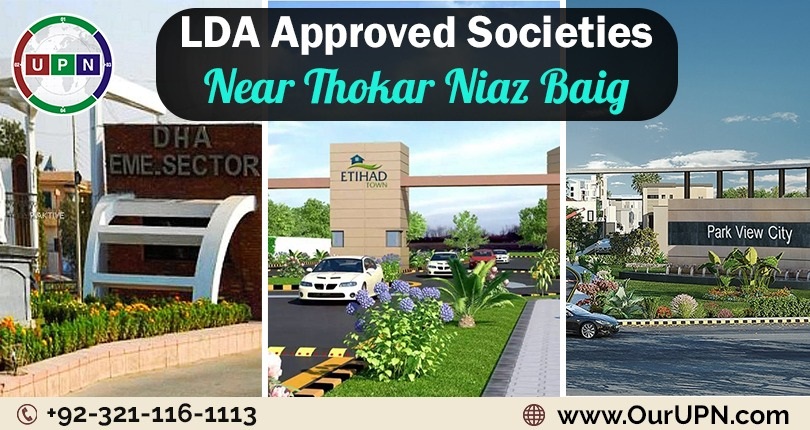 Whenever we plan to buy a property, we always prefer investing in a project approved by the authorities. Lahore is the 2nd largest and one of the best urban cities in Pakistan. It's a well-developed, modernized society where world-class living amenities are available. This city features several international standard residential and commercial projects which offer properties with bundles of benefits. But despite many attractions, both buyers and investors invest their capital in Lahore LDA approved societies.
Lahore City has several locations where some of the top housing societies are located. But Thokar Niaz Baig holds significant importance. It's a major city centre that connects/provides different routes, i.e., Raiwind Road Lahore, M2 Motorway, Ring Road Lahore, Canal Road, and Multan Road Lahore.
At the same time, the surroundings of Thokar Niaz Baig have several new and top-class societies which offer heart-winning residence and profitable investment opportunities. So, if you are also one of them, looking for the best LDA approved societies for buying your desired property near Thokar Niaz Baig, please keep on reading.
Lahore LDA Approved Societies
Following are the best LDA Approved Societies in Lahore where you can buy confidently for residence and investment gains.
DHA EME
Spreading over 737 acres of land, DHA EME Lahore is one of the beautiful and well-developed housing societies in Lahore. Easily accessible from Canal Road Lahore, this society is actually located on Multan Road. Its distance from Thokar Niaz Baig Interchange is only 4 KM. DHA EME is completely approved by LDA and has nine impressive blocks offering a range of residential and commercial properties. It also have options in ready to move properties.
The residential plots sizes in DHA EME Lahore are:
5 Marla
10 Marla
1 Kanal
2 Kanal
The commercial plots for sale are available in the sizes of 2 Marla up to 6 Marla.
Moreover, you can buy luxury apartments in DHA EME Sector Lahore.
This society features all the top-class living amenities and has good inhabitation as well. Currently, there is no new or open booking of any residential or commercial property. So, you can only invest in full cash.
Additionally, we suggest buying in DHA EME Sector for residence purposes. People who desire to quickly start construction on their residential plots or buy ready to move houses can prefer DHE EME happily.
Etihad Town Lahore
Lahore LDA Approved Societies have a long list. But Etihad Town Lahore holds importance because of its ideal location, well-known developers, and appealing amenities. This society has two beautifully developed phases. Also, its third phase is launching soon. Etihad Town Phase 1 and Phase 2 are located on Main Raiwind Road at a distance of 2 – 3 KM from Thokar Niaz Baig. The residential plots for sale in Etihad Town Lahore are:
5 Marla
10 Marla
1 Kanal
Moreover, Etihad Town Phase 2 have plots available with an ongoing payment plan. Here you can buy a 5 Marla residential plot in the price range of 75 lacs to 85 lacs. Also, you can invest in the commercial plots of 2 Marla up to 8 Marla sizes.
Etihad Town Phase 1 and Phase 2 have several options available in apartments, shops and offices. Therefore, we suggest buying in Etihad Town properties for residence, investment and rental gains.
Park View City Lahore
It's a project by Vision Group located ideally on Multan Road Lahore. This society is only 3 KM away from Thokar Niaz Baig Interchange, and one of the beautiful Lahore LDA Approved Societies. Covering a large area, Park View City developers had successfully delivered more than ten blocks. Also, 20,000 + families are residing there and enjoying a high-standard lifestyle. This society has several new blocks and new bookings offering the best plots for sale in Lahore.
Park View City Lahore new bookings include the attractive Park View Golf Estate Block and Overseas Block. Both these blocks have the best plots of 5 Marla and 10 Marla. The prices of the plots are low than the plots in other blocks. However, these blocks are designed with updated facilities which makes them ideal to invest in.
Park View City new bookings are available with flexible payment plans of 3 – 4 years. Also, booking starts with a 25% down payment.
Conclusion:
So, what else is stopping you from buying your desired property in the proximity of Thokar Niaz Baig? These top LDA Approved Housing Societies are ideal for making a safe and sound investment in the real estate sector. These projects feature good development and have numerous options available to facilitate modern buyers according to their requirements. Investment in DHA EME Sector, Etihad Town Lahore, and Park View City Lahore properties will surely be worth buying.
Contact Universal Property Network for further details and assistance, and we are here at your service.
Please contact Universal Property Network For More Information click here or visit our youtube channel further assistance