Faisal Heights SA Gardens Lahore – Latest Developments, Payment Plan & Available Options
by UPN
June 3, 2019
0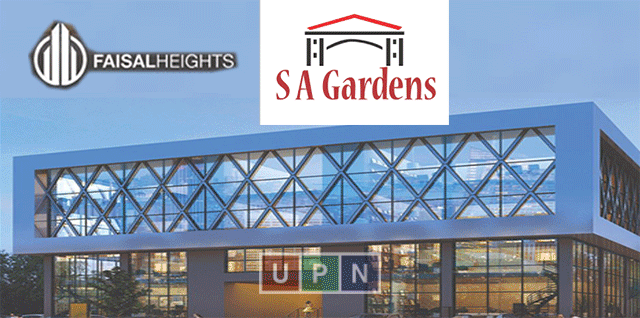 Are you looking to buy an office or a residential apartment in Lahore?  Be happy as Faisal Heights SA Gardens Lahore is offering both the options in an outstanding manner. Faisal Heights is offering the best opportunity to buy a luxurious residential place as well as beautifully designed offices where you will find all the facilities in your surroundings.
It offers:
Deluxe Apartments of Different Sizes
Well- designed Luxurious Office Spaces
Deluxe Apartments
Project Plan Details
It's a Modern Architectural Building
Latest site, floor, interior, and exterior designs
Quality Management
Beautiful offices & Luxury Living Spaces
Installation of Best Equipment
Faisla Heights SA Gardens Lahore is a 3 story building that is designed for both commercial and residential purposes. Its ground floor is specific for shops, 1st floor is planned for offices while the 2nd floor is available for the residential purpose.
Development Update
It is a new modern multi-purpose project in Lahore whose development work has already been started according to its proposed plans and designs. The pace of development at Faisal Heights is satisfactory and it is expected to complete in almost 1.5 years.
Location Details
Faisal Heights is beautifully located in Faisal Block Commercial Market SA Gardens Phase 2, Kala Shah Kaku Lahore. Located on the ideal location, the project is providing a great opportunity to both investors and buyers in Lahore.
Latest Prices & Payment Plan Details
The developers of this project have brilliantly planned it with all the modern facilities and unique features. Prices are affordable as well as you can also avail the best option of easy payment plan. Special discounts will be given to the buyers who will buy the apartment, shop or the offices in one payment however 6 months quarterly installment plans are also available. You can easily book your desired property with a down payment of 25%. Complete details of the payment plan are given below:
Ground Floor Payment Plan
| | | | | | | |
| --- | --- | --- | --- | --- | --- | --- |
| Office No | Area/SFT | Rate/SFT | Booking | Quarterly Installments (6) | Amount | Total Amount |
| 1 | 907 | 14,000 | 3,491,950 | 1,745,975 | 12,698,000 | 13,967,800 |
| 2 | 874 | 14,000 | 3,059,000 | 1,529,500 | 12,236,000 | 12,236,000 |
| 3 | 874 | 14,000 | 3,059,000 | 1,529,500 | 12,236,000 | 12,236,000 |
| 4 | 907 | 13,000 | 3,242,525 | 1,621,262 | 11,791,000 | 12,970,100 |
| 5 | 874 | 13,000 | 2,840,500 | 1,420,250 | 11,362,000 | 11,362,000 |
| 6 | 874 | 13,000 | 2,840,500 | 1,420,250 | 11,362,000 | 11,362,000 |
Office Floor Payment Plan
| | | | | | |
| --- | --- | --- | --- | --- | --- |
| Office No | Area/SFT | Rate/SFT | Booking | Quarterly Installments (6) | Total Amount |
| 1 | 605 | 11,000 | 1,663,750 | 831,875 | 6,655,000 |
| 2 | 590 | 11,000 | 1,622,500 | 811,250 | 6,490,000 |
| 3 | 585 | 11,000 | 1,608,750 | 804,375 | 6,435,000 |
| 4 | 605 | 11,000 | 1,663,750 | 831,875 | 6,655,000 |
| 5 | 590 | 11,000 | 1,622,500 | 811,250 | 6,490,000 |
| 6 | 585 | 11,000 | 1,608,750 | 804,375 | 6,435,000 |
Apartments Floor Payment Plan
| | | | | | |
| --- | --- | --- | --- | --- | --- |
| Office No | Area/SFT | Rate/SFT | Booking | Quarterly Installments (6) | Total Amount |
| 1 | 1,084 | 7,500 | 2,032,500 | 1,016,250 | 8,130,000 |
| 2 | 1,057 | 7,500 | 1,981,875 | 990,937 | 7,927,500 |
| 3 | 905 | 7,500 | 1,696,875 | 848,437 | 6,787,500 |
| 4 | 905 | 7,500 | 1,696,875 | 848,437 | 6,787,500 |
For more details contact Universal Property Network