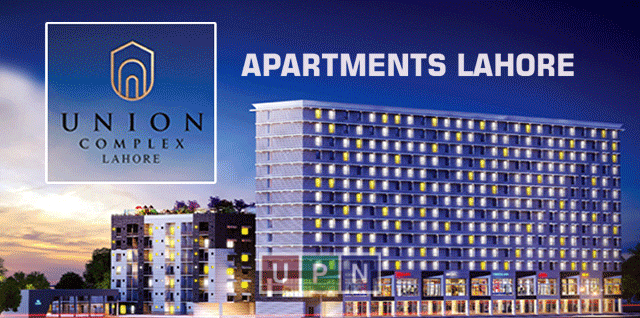 Union complex Apartments is among the top most projects that are catching the attention of buyers for its ideal location. These apartments are developed on unique and advanced ideas while offering exceptional living options in them. High living standards and the quality of this project will attract you to it.Union Complex Apartments ensure a good value in the future both for residential and commercial buyers. Let's have a look at further details.
Project Details
These apartments are designed in the advanced building with lavish interior and exterior
Innovative Furnishing that attracts everyone
Ultimate privacy & security
Smartly planned Luxurious shops & apartments
All the basic amenities and top facilities of life
Exceptional living standards that you have dreamed for
Developers Details
AYQ Developers Pvt. Ltd has brilliantly planned these luxurious apartments in Lahore. The outstanding development of the project and the provision of all the best luxuries and amenities of life make it your first choice. This is definitely the most exclusive and luxury apartment's projects in Lahore that will lead AYQ Developers to the new height of success
Project Plan Details
Union Complex apartments Lahore is offering beautifully designed and modern apartments of different sizes. In this new residential and commercial option, you can easily buy both large and small apartments including 2, 3 and 4-bed apartments of your choice. The building of these complex apartments is comprised of 4 towers.
In Union Complex Apartments, you will find the best arranged fast speed lifts to approach easily to all floors.  To handle emergency cases, there is a proper arrangement of the earthquake control system and emergency fire control.
Location Details
Union Complex Lahore is located on Main Ferozpur Road, Lahore. The project is located close to Lahore Ring Road & Green Line Metro Bus. These luxury apartments are located at the ideal and main location of the city so you don't need to travel for long hours to approach your daily requirements. All the modern facilities are available in the surroundings of Union Complex Lahore.  These attractive facilities are:
Shopping Malls
Commercial Zone
Banks & Hospitals
Entertainment Zone
Well-Reputed Schools & Universities
Latest Prices & Payment Plan Details
Union Complex Lahore is offering all these apartments at the economical prices. This is the reason that the popularity of the project is continuously increasing. Not only the affordable rates, but the developers of this modern venture have introduced an easy installment plan as well. The prices of these apartments and shops both are attractive to live to start your business and best to get returns of your payment. You can easily book the desired option with a down payment of 10% of the total amount.
Features & Facilities At Union Complex Apartments
Best Infrastructure & Modern Development
Eye-Catching Building Architecture
Spacious & Deluxe Apartments
Modern Equipment & Ideal location
Well-Equipped & Well-Designed Shops
Extensive Lobbies & Lift & Elevators
Rigid Security & CCTV Cameras
Parking Spaces & Play Area for Kids
Large Restaurant
Waiting Area
Attractive & Unique Design of Luxury Apartments