Fully Furnished House in Bahria EMC Lahore
by UPN
May 25, 2023
0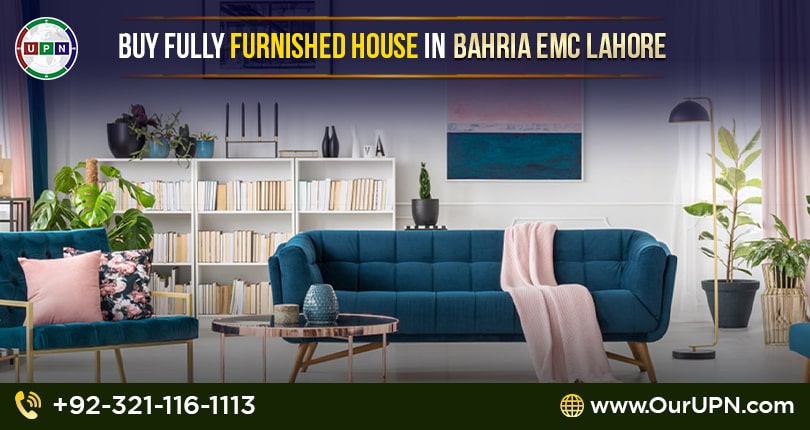 Introduction
Bahria EMC (Education and Medical City) is the greatest housing society in Lahore that provides small residences to people. A furnished house in Bahria EMC is a cost-effective choice for people who desire to live in a popular area. These residences are often smaller in size and have modern amenities. They give people a comfortable living environment with their best development. They are completely furnished with cupboards, cabinets, ceilings, and tiled floors, among other amenities. Bahria EMC provides a range of facilities, such as schools, hospitals, commercial markets, grocery stores, parks, playgrounds, and many others. These furnished houses are a great option for people on low incomes who wish to live in a desirable location.
In this blog, we will discuss the furnished house in Bahria EMC in Lahore. We will go over its ideal location, stunning layout, affordable price, features, and investment benefits.
Location of Furnished House in Bahria EMC
This beautiful house is located in Bahria EMC on Sue-e-Asal Road in Lahore. It is located in Block B of Awami Villas in Bahria EMC. It is extremely close to Ferozpur Road and Multan Road. This furnished house in Bahria EMC will also have easy access to different amenities such as a shopping mall, grocery store, park, playground, school, hospital, and many others.
Furthermore, it is close to some of the most famous housing societies and places, which are:
21 minutes from Raiwind Road
18 minutes from Model Housing Pvt. Ltd.
24 minutes from Govt. Officers Cooperative Housing
27 minutes from Kalma Chownk.
29 minutes from Model Town.
30 minutes from DHA.
Layout – Furnished House in Bahria EMC
Bahria EMC is a luxury housing community divided into multiple blocks, A to D. Block B has this beautiful house with modern conveniences and features. This block is next to Main Boulevard and Block A. It also includes its own amenities for inhabitants, such as a park, playground, and mosque. This house is built on a 40 ft. wide road and has a parking area outside. The layout and structure of this furnished house in Bahria EMC are as follows:
2 bedrooms, each with an attached bathroom. These bedrooms have wardrobes as well as high ceilings.
One stylish kitchen that comes equipped with shelves and drawers
TV lounge
Washing area
One separate bathroom
Ventilation area
A heavy main door that has an auto-lock for protecting
Wallpaper and other decorative elements are used to cover and decorate walls.
Prices Update – Furnished House in Bahria EMC
This housing society provides furnished houses as well as plots of various sizes. These houses are ideal for modest families looking for modern conveniences and amenities. When compared to nearby housing societies, these houses are economical and affordable.
This is the best opportunity to get a fully furnished house at an affordable price. This house ranges in price from 40 to 45 lacs.
Why Invest in a Furnished House in Bahria EMC?
Furnished houses are the ideal choice for the people in this housing society. This house is the best because of its valuable location, low price, and available facilities. The furnished house in Bahria EMC provides several advantages and reasons for buying and investing, including:
Ideally located in Block B of Awami Villas
Fully equipped with modern construction and layout
Eco-friendly environment
Security services and CCTV cameras are available 24 hours a day, seven days a week.
This house is constructed on a 40 ft. wide road.
Residents have convenient access to retail malls, food stores, and a variety of other attractions.
Children will have easy access to parks and playgrounds.
There are outstanding institutions for education and hospitals for medical care.
Prices are affordable.
The houses can be useful for rental purposes.
A parking space for two cars is available outside the home.
A high return is expected from the investment.
Conclusion
These houses are specifically intended for small families on a limited budget. The development has a modern architecture and layout. Additionally, this furnished house in Bahria EMC Lahore offers a comfortable and convenient way of life. This house is also outstanding because of its modern features, layout, exceptional location, reasonable price, and advantageous surroundings. Furthermore, it is also advantageous for investment purposes. This investment will generate a significant return in the future.
Please contact Universal Property Network For More Information click here or visit our Youtube channel for further assistance.