Goldcrest Mall DHA Lahore – Grand Launch Event & Booking Details
by UPN
April 6, 2018
0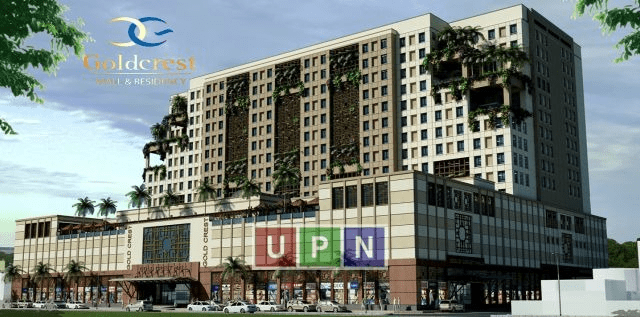 Goldcrest Mall and Residency DHA Lahore is all set for a grand launch. A joint venture of DHA Lahore and Giga Group Holding will be an iconic landmark in downtown of DHA. Housing multiple retail and recreational opportunities, the stylish studio apartments will be a top notch attraction of this project. Complemented with state-of-the-art facilities, these luxurious apartments and retail shops are right options to invest.
Goldcrest Mall & Apartments DHA Lahore – Grand Launching
The grand launch of Goldcrest Mall & Residency, DHA Lahore is scheduled to take place at project site in Phase 4 on 7th and 8th April. In this two-day event, the attendees will get to know about complete details of the project. They can also checkout its development which is already in process. All investment prospects available in this venture will be marketed and you will be briefed about every bit of details. Moreover, through live tour of model studio apartment at this event, you will see what type of luxury and comfort will be offered. Entry is free and event is open for all. Those who want to invest for luxury living and returns on investment should attend this event. They can also avail special pre-launch prices to be offered during this event.
Goldcrest Mall & Residency – Details & Floor Plan
Goldcrest Mall & Residency will be a multi-storey complex having 14 floors above ground and 4-floors basement car parking. Covering 243,000 sq ft area, it will have retail shops, food court, fine-dining restaurants, cinema and extravagantly designed apartments.
Commercial Shops (Ground Floor to 2nd Floor)
Food Court, Kids Play Area (2nd Floor)
Multiplex Cinema (2nd and 3rd Floor)
Gym, Spa & Fine Dining Restaurants (3rd Floor)
Sauna, Steam Room & Plunge Pools (3rd Floor)
Studio Apartments (5th Floor to 14th Floor)
Highlights and Features of Goldcrest Mall & Residency
The following features will make this project a truly high-end commercial complex of modern infrastructure.
Earthquake Resilient Structure
Designated Fire Exists
Double Height Grand Lobby
Hi-speed Wireless Internet Cloud
Reserved Residential Parking
Residential Storage Facility
Central Air-Conditioning and Heating
24/7 DHA Security System
24 Hours Concierge Service
Goldcrest Residency Apartments – Booking Details
At ten floors designated for residency, 254 well-designed apartments of different living space will be available. It will include 1-Bedroom, 2-Bedroom and 3-Bedroom apartments spanning at floors 5 to 14. These apartments can be booked at 30% down payment and will be available at installment plan (20 monthly installments 50% of total price). 20% of the amount will be payable on possession. We will keep you posted about booking details and payment plan or if there is any discount offered.
With a 7-8% rental income, these apartments are an amazing investment option in the most urbanized area of the city.
For more updates and information, please keep visiting Universal Property Network (UPN).