New Deal of Umer Block Al-Kabir Town – Booking Details – Latest Update
by UPN
April 10, 2018
0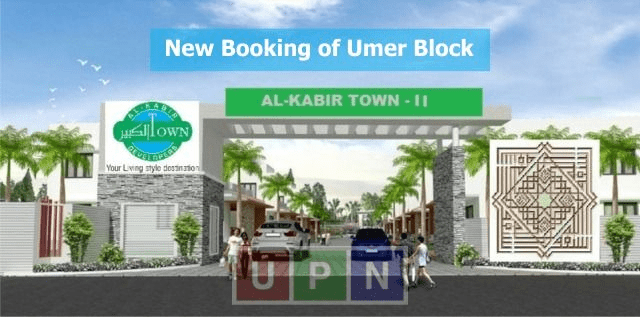 Al-Kabir Town has been trending high in property market of Lahore for offering affordable plots. In the recent past, it came up with a number of new bookings like Usman Block and 2-Bed Apartments in the Phase 1. Now again, it has brought a wonderful opportunity for buyers by its new launching. The booking of Umer Block 3 Marla Plots in Phase 2 which was speculated and doing rounds in the relevant circles is available now. According to the details, it is being offered on easy installment plan at quite economical price for buyers' convenience.
Umer Block Al-Kabir Town Location & Map
Umer Block will be part of Al-Kabir Town Phase 2 and will be located near Ali Block as per expectations. Recently Ali Block's balloting held and map launched, so one can anticipate that this new block will be located nearby Ali Block. Umer Block map can't be available at this early stage before balloting, so we cannot confirm anything on this point. We will provide it online as soon as it is officially launched.
Umer Block Al-Kabir Town Booking Details & Payment Plan
The 3 Marla plots of Umer Block in Al-Kabir Town Phase 2 can be booked at just Rs. 100,000. The total price of these 3 Marla plots is Rs. 1,500,000 (each) and it will be available on monthly installments of Rs. 10,000 only. The buyer will have to pay a fix amount in account of yearly installment too but not mentioned by far.
Details of Payment
Booking Amount
Rs. 100,000
Payable within 7-15 days
Rs. 100,000
Monthly Installment x 60
Rs. 10,000
Yearly Installment x 5
(Still to be Defined)
On Balloting
Rs. 200,000
Total Price
Rs. 1,500,000
Umer Block Balloting & Development
In Al Kabir Town Phase 2, development is continued on the site but at very early stages. Hopefully it will be done block-wise and then Umer Block development will start. At this stage, we have no clue about when Umer Block balloting will take place.
At 5 year payment plan and monthly installment as low as Rs. 10,000, this is a must have option so get it at your earliest.
To book one of these plots for you and for further assistance, please contact our realtors. Keep visiting Universal Property Network (UPN) for more details.