Golden Investment Opportunities on Raiwind Road Lahore
by UPN
December 17, 2021
0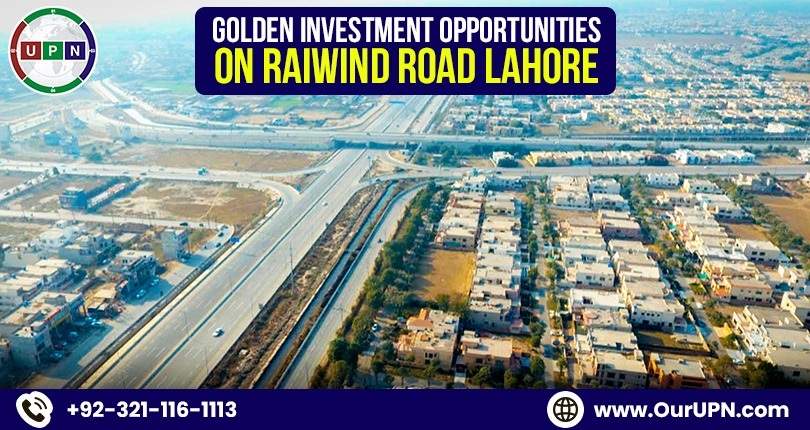 The hub of modern housing societies, Raiwind Road Lahore has become a popular investment destination among investors. It is one of the major arteries in Lahore developed with several high-standard and advanced developments. All these residential and commercial projects are thoughtfully planned to provide golden investment opportunities to everyone. As a result, the properties for sale on Raiwind Road Lahore are reasonable in price, have a prime location, and have easy access. Even many of these projects are offering properties with convenient payment plans.
Investment on Raiwind Road Lahore
If you are also looking for the best investment chances in Lahore, please keep on reading this latest post. We are sharing below the details of the latest property deals launched in some of the best housing and commercial projects where buying will surely be worth it!
Maryam Town Lahore
It's a recent project by Al-Kabir Developers. Completely approved by LDA, it is located in the proximity of Bahria Orchard Lahore on Main Raiwind Road. Furthermore, this society is planned on the latest ideas and with advanced amenities. Maryam Town Lahore offers the best residential and commercial plots available on booking. The prices of plots are low, while flexible payment plans are available for the ease of investors. The plots available for sale are:
3 Marla Residential Plots
5 Marla Residential Plots
2 Marla Commercial Plots
4 Marla Commercial Plots
Bahria Orchard Lahore
This society holds so much importance for being the high-standard but budget-friendly project of Bahria Town Pvt. Ltd. Located perfectly on Raiwind Road Lahore, Bahria Orchard comprises four phases. All these phases are developed on the latest trends and feature good inhabitation. However, the golden investment opportunities await you in:
OLC A Block Bahria Orchard Phase 2
This block is offering open form commercial plots of 3 Marla and 5 Marla. Also, a new deal of residential plots is launched, offering the best price, 5 Marla residential plots. These residential and commercial plots are among the ideal properties you can choose to fulfil your property requirements.
LCO Phase 2
It's an extension of Bahria Orchard Phase 2 located perfectly. It is easily accessible from Raiwind Road Lahore and Jati Umrah Road Lahore. LCO Phase 2 was launched with three blocks, i.e., K Block, L Block, and M Block. But recently, some new blocks and extensions have been added to it. These are K Block Extension and N Block. Both these are offering low-cost 5 Marla plots. Moreover, these are open form plots that mean no transfer fees or extra charges.
J Block Bahria Orchard Phase 2
Another exciting deal of plots is launched in Bahria Orchard Phase 2. This new deal of plots is available in J Block, offering 5 Marla plots on open forms.
Overseas Prosperity Homes
Bringing you another good deal for investment in Lahore. It features 5 Marla beautiful independent villas. Featuring ground and first floors, these villas come with 3 beds and 4 beds accommodation. Overseas Prosperity Homes are ideally located in Bahria Orchard Phase 2. The launching prices of these houses are low as compared to the ready villas available in the proximity. Moreover, booking starts with a few down payment percentages and remains in 24 monthly installments.
Bahria Orchard Phase 4
Raiwind Road Lahore investment opportunities also include the best commercial plots of 8 Marla in Bahria Orchard Phase 4. These are open form plots located at the main boulevard of this society. These are on-ground plots; you can easily purchase at attractive prices.
Residential plots of 10 Marla are also available for sale in G5 and G6 Blocks of this society. Therefore, you can choose them confidently for medium to long-term investment gains. Prices of plots are reasonable but will increase with the increasing construction and inhabitation.
Arabian 99 Mall
It's a new project at the prime location of Bahria Orchard Phase 4. Designed with shops, offices, and apartments, Arabian 99 Mall and Apartments is an attractive choice for investment. The sizes and categories of the properties are different. Moreover, a convenient payment plan is available for the ease of investors. In addition, Arabian 99 Mall has easy access and beneficial surroundings.
Kings Town Sector B
It is also a project by Al-Kabir Developers offering residential plots and commercial plots at reasonable rates. The properties for sale in Kings Town Sector B are:
3 Marla Residential Plots
5 Marla Residential Plots
2 Marla Commercial Plots
4 Marla Commercial Plots
Located adjacent to Kings Town Sector A, it's a new society with new investment chances for everyone. People with small budgets and desires to invest in installments can prefer this society.
So, that's all about the latest and profitable investment opportunities on Raiwind Road Lahore. All these new deals are attractive and will surely provide investors with the returns of their desires. For further details and assistance, confidently contact us anytime!
Please contact Universal Property Network For More Information click here or visit our youtube channel further assistance