Golf View Residencia – Bahria Town Lahore
by UPN
May 11, 2017
0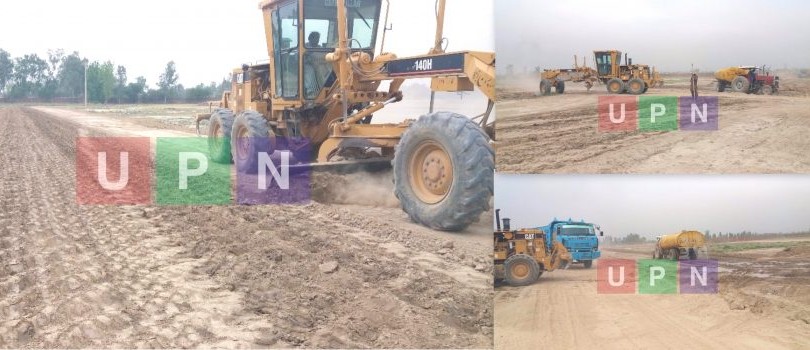 Developments in Golf View Residencia (GVR), Bahria Town Lahore restarts after a long delay. The completion of Southern loop of Ring Road was the main cause behind delayed development of GVR. The start of machinery moving in Golf View Residencia on May 2, 2017 confirms restarting the developments in Golf View Residencia.
Golf View Residencia is a prime project of Bahria Town, Lahore. Golf View Residencia (GVR), Bahria Town Lahore is an exquisite project in Pakistan. The society planning shows that each house faces park enabling beauty of nature and refreshment. The project, Golf View Residencia (GVR) is a 2-3 years old project, which at its earlier stages goes through 10-15% development completion. However, Golf View Residencia (GVR) is under pervasive controversies of Bahria Town and Ring Road impact.
Although, a brief discussion of Ring Road and its impacts on overall property market presents the details of how Bahria Town administration is facing pressure over the issue . To limit the discussion to Ring Road impact on Golf View Residencia, BTL, it had been in the notice that after initial development estimating about 10-15%, Bahria Town stopped further progress. This was due to many plots coming under the route of Ring Road and it bisects Golf View Residencia in two parts. In addition to it, back in six to seven months, the Ring Road Authority has cleared all area of its route crossing GVR troubling Bahria Town's projects i.e. Talha Block- Sector F and Grand View Residencia.
In response, Bahria Town Administration faced series of protests by the file holders as it previously claimed that Ring Road does not affect GVR. Malik Riaz (CEO, Bahria Town, Lahore), himself conducted a meeting in Grand Bahria Hotel to satisfy protesters. In his face-to-face meeting with investors, Malik Riaz committed for map revision and starting of development within 6 months. The additional announcement that an Australian designer would design the new map of Golf View Residencia (GVR) also not delivered as promised. After, this meeting, a price surge of approximately 1 million in properties of GVR took attention of news and media.
After series of announcements and news about Ring Road and Bahria Town conflict, finally, developments starts in Golf View Residencia (May, 2017). The interesting fact is that the investment perspectives in Golf View Residencia (GVR) seems highly profitable. The investment now is lowest, for example, 10-Marla plot in Nargis Block- Bahria Town (residing near GVR) is 70 Lakh whereas, 10 Marla plot in GVR is 45-55 Lakh (off-ground, however, development started). This shows a potential gain of 15- 25 Lakhs for investors. Nargi's block is a developed block of Bahria Town, whereas the nearby plots of GVR are 10% developed.
Investments in Golf View Residencia, Bahria Town Lahore is also feasible because of development, balloting of plots, availability of map, plot numbers assigned, however, plots are off-ground (under-developed).
The location of Golf View Residencia (GVR) is another advantage for investment perspectives. At one side, the GVR connects to Raiwand Road enrooting to Shaukat Khanum Memorial Hospital (SKMH). On its other end, it is connecting Nargis Block- Bahria Town Lahore that is a direct route to approach Main Gate of Bahria Town to Multan Road. Due to direct approach to main roads, GVR gets a clean shortcut to major roads of Lahore; otherwise, the alternative defense road is busy route with heavy traffic. With the due importance of location and investment perspectives, a high-rise of footfall in Golf View Residencia (GVR) leads to a rise in prices.
For Best Investment Options Please Always Contact: Universal Property Network (UPN)