Park View Villas – Location, Payment Plan, Features and Development Update
by UPN
May 5, 2017
8 Comments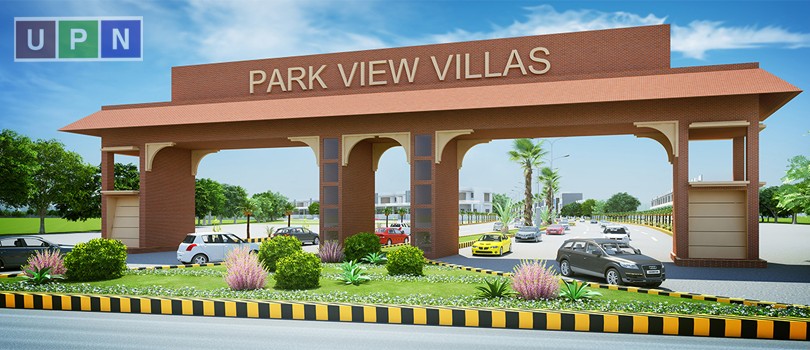 Park View Villas Society is a blend of traditional and urban society. Park View Society is a project launched by "Vision Group" in 2002. Park View Housing society, located opposite to Allama Iqbal International Airport, Lahore is a successful project by Vision Group after which they started a new project, called "Park View Villas" in 2010.
A project that presents a combination of heritage and modern lifestyle. The artwork/architecture in Park View Villas is an inspiration of historic places. In addition, the society is designed to combine nature in lifestyle of residents.
Park View Villas Location
Society is located in River Edge Housing Scheme at Main Multan Road, opposite to DHA EME. The other location benefits of this society include proximity to following areas:
• 3-KM distance from Thokar Niaz-Baig Flyover
• 2-KM distance from Lahore Motorway
In addition, the society has a signal free approach from Canal Road. The location is attractive because of its accessibility from main societies and areas of Lahore.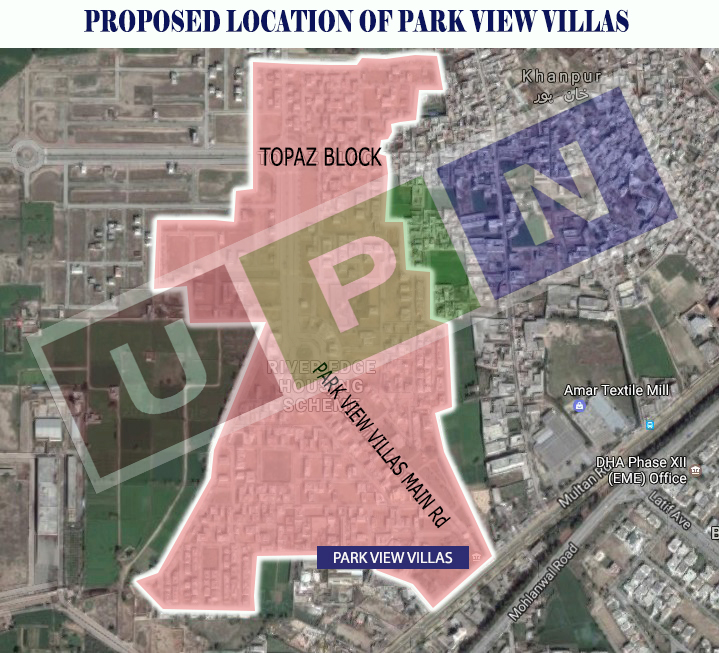 Location Map
The proposed location of Park View Villas is in River Edge Housing Scheme i.e. at Park View Villas Main Road.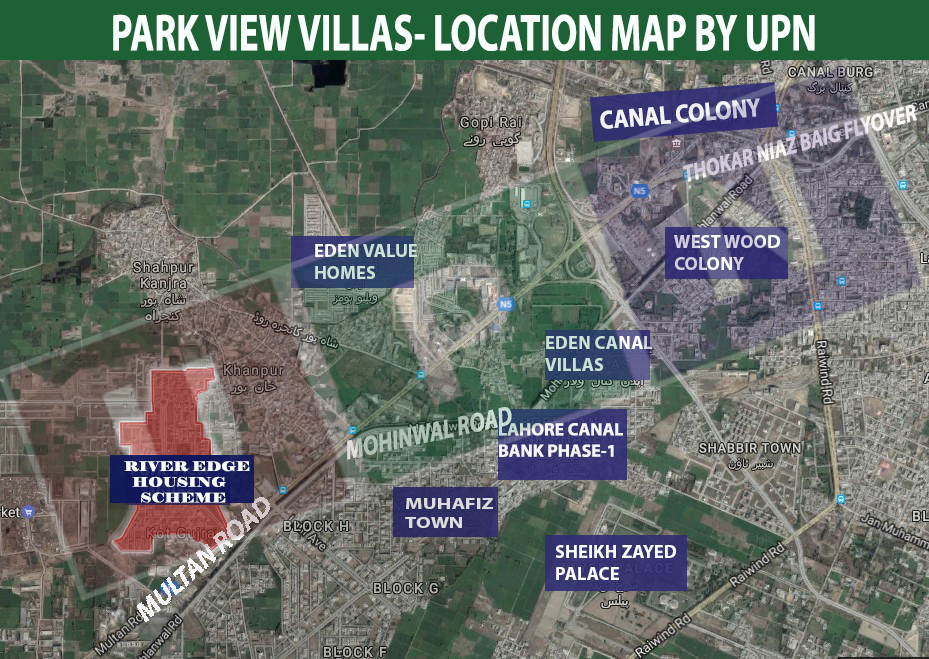 Park View Villas Investment Perspective:
Investment in Park View Villas is highly attractive because of location perspectives. The gains in society are quick and profitable. In comparison to nearby locations, for example, 5-Marla plots in Muhafiz Town are available on 30 lakh whereas the plots of 5-Marla in Park View Villas is available at 25 lakh. In coming two years, the potential gain on this land is about 20%.
Due to completion of Ring Road and its connection to main roads of Lahore, the intrinsic value of property in Park View Villas is high, as prices will increase within 2-3 years. Thus, investors can perceive a high future return of today's investment whereas the residential buyers can expect the increase in property value.
Park View Villas Feature
Monuments/ Symbolic Features:
Park View Society is a project that emphasizes on comfort and art. The main features of this housing scheme accredits to the elements of arts, history and nature. The followings are the symbolic amenities are:
Sublime Architecture
Park View Villas endeavors for innovation and creativity that is visibly reflecting in its contemporary designs and architecture. The Park View Villas are presenting incredible architecture designs for mosques, parks, plazas and other places taking care innovation and quality parameters. The improved standard of monuments is an effort of Park View Villas administration to provide quality of life with overall satisfaction and happiness such as the design of mosque in the below picture: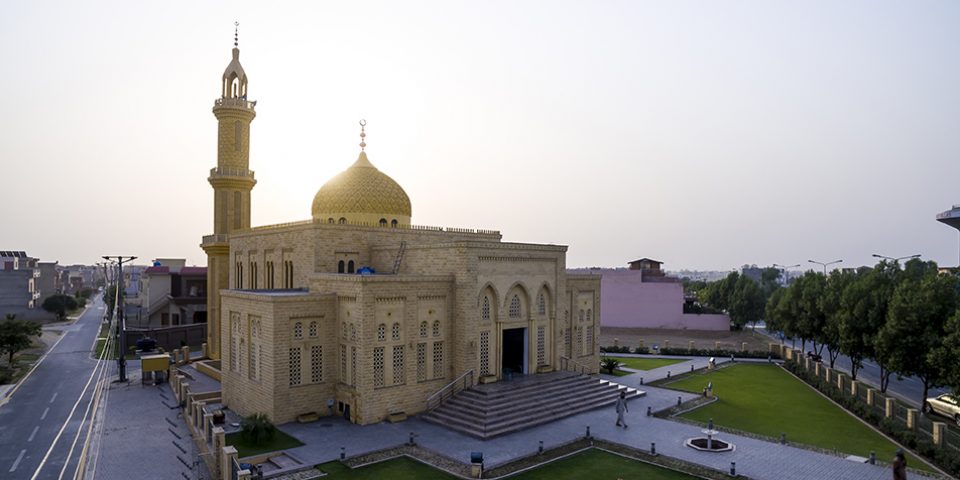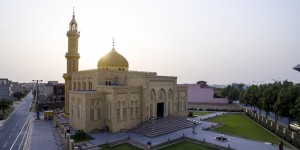 Historical Inspiration
The exclusivity of Park View Villas is its inspiration of Greek art and culture reflected in its monuments. The society tries to cope up with golden era and revitalize the concept of royal and luxury built monuments.
Sturdy Foundation:
Sturdy Foundations of Park View Villas means established infrastructure for roads, sanitation and underground wiring. The infrastructure development using design re engineering is an essential aspect of housing societies these days. Park View Villas is a true inspiration of modern infrastructure and innovation.
Flora and Fauna:
Flora and Fauna concept introduced by Park View Villas presents the touch of nature and wildlife. The society provides recreational facility of fully functional zoo. This is an opportunity for residents and visitors to interact with nature and wildlife and participate in other side activities such as games and other greenery present in the parks.
Other Features
It offer variety of facilities including:
Basic Utilities (electricity, gas, water and sanitation)
Advanced Infrastructure Development
High Security (Gated Community)
Access to main roads of Lahore
Ease of transportation, education and healthcare facilities
Park View Payment Plan
The plots for sale are available on easy installments. The year wise category is different for range of plots. However, new bookings are open as per following payment plan:
| | | | | |
| --- | --- | --- | --- | --- |
| Plot Size | Plot Type | Down Payment (25%) | Installments | Total Price (PKR) |
| 5-Marla | Residential | PKR. 641,500 | 2-Years quarterly (PKR. 240,563) | 2,550,000 |
| 10-Marla | Residential | PKR. 1,256,500 | 1 Yr., 4- quarterly installments (942,375) | 5,000,000 |
| 01-Kanal | Residential | PKR. 3,137,750 | 1 Yr., 4- quarterly installments (2,353,312,50) | 12,500,000 |
| 04- Marla | Commercial | PKR. 7,512,750 | 1 Yr., 4- quarterly installments (2,351,438) | 12,500,000 |
| 08- Marla | Commercial | PKR. 7,512,750 | 1 Yr., 4- quarterly installments (5,634,563) | 30,000,000 |
For Best Investment Options Please Always Contact: Universal Property Network (UPN)