New Blue Area Commercial Plots in Islamabad
by UPN
March 11, 2020
0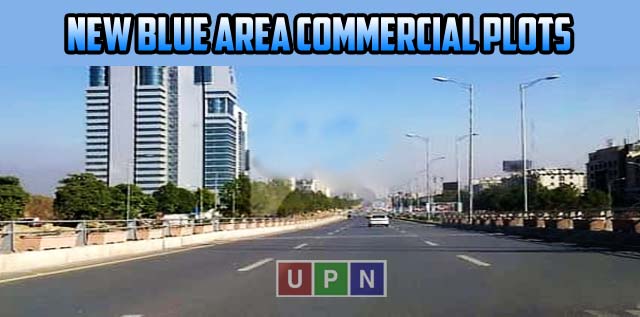 Prime Minister Imran Khan has recently approved the CDA's plan to develop "New Blue Area Islamabad". This project will be constructed on the land of 170 Kanals. All of these New Blue Area commercial plots will be sold through open auction. Both investors and developers can easily become a part of this auction.
Revenue of 30 Billion Rupees is Expected
This project is launched with a hope to generate more than 30 billion rupees revenue initially. Moreover, this amount will be used for the development of low-cost housing projects in Pakistan. Just like Naya Pakistan Housing Scheme, the Federal Government is also planning to launch more housing projects for the middle and lower-middle-class of Pakistan.
Existing Blue Area of Islamabad
The existing Blue Area of the Capital City is the most congested commercial market. It is a place where thousands of businesses are smoothly operating. However, the demand for commercial property is continuously increasing due to the continuous immigration of people from across Pakistan.
This New Blue Area Commercial Plots are launched to accommodate the new business in Islamabad.
New Blue Area Project Location
This is happening for the first time in the history of Pakistan, that the government has announced to the extent any commercial area. So, the ideal location is also chosen for it. This New Blue Area project will locate opposite to F-9 Park Islamabad. However, this location detail is not yet confirmed.
The existing Blue Area of Islamabad is located along Jinnah Avenue opposite to Sector G-6, G-7 and F-7, and F-6.
As this New Blue Area will be located opposite to F-9 Parks, so it is important to mention here that a couple of plazas are also under construction there. This new project holds a specific importance. So, soon after the auction, the construction of many high-rise buildings and plazas is expected.
According to the latest details, CDA will auction a total of 26 commercial plots in the New Blue Area Project. This auction is planned to be held in April 2020. The most interesting fact is that the revenue generated will be used for the further developments of low-cost housing projects across the country.
New Blue Area Venture and Economic Growth
New Blue Area Project will not only boost the economic growth of the country but also a good opportunity for people related to construction activities. In addition, this new venture will open thousands of new job opportunities in this area. Moreover, different new businesses would love to operate in this area.
Check out our site for more detail. Latest News