Gulshan-e-Lahore – Location Map, Payment Plan, and Booking
by UPN
December 10, 2022
0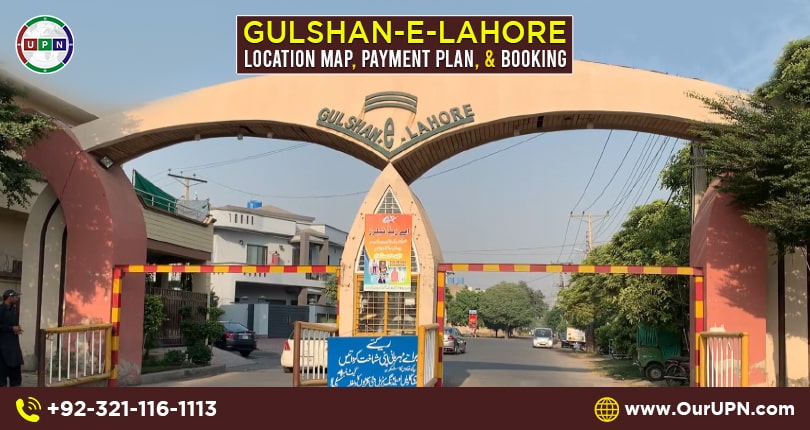 Gulshan-e-Lahore is a well-developed residential project in Lahore designed with the aim to accelerate the living standards of people. It's a complete housing venture, a high-standard development with the best living opportunities. Planned on modern terms and attractions, it's a gated community with complete security. It's a LDA approved medium size residential project where you will have access to all world-class facilities. It's a development where you will property with the best facilities and a maintained lifestyle.
This place can be your first choice because of its affordability, comfort, and quality. Everything in this society is planned and organized excellently meeting the needs and demands of buyers and real estate investors. It's a properly maintained project where families are enjoying their living. Gulshan-e-Lahore has three main entrances while the main roads are 60 feet wide. Further details are provided below in the blog, please keep on reading!
Gulshan-e-Lahore Master Plan
This premium venture features high standards and quality. It's a completely developed society spreading over 380 Kanal of land. It's a medium size society but here you will find everything essential to live a facilitated lifestyle. Its developers have developed its property from the entrance to the end, everything is exceptionally shaped. It meets the latest development trends and requirements of modern societies.
The entire land of this project have five blocks named alphabetically i.e., Block A, Block B, Block C, Block D, and Block E. These blocks are offering residential plots of various sizes designed to meet the different living and investment needs of everyone. As the development work of this project is complete, here you can also buy a house or rent it. These properties of Gulshan-e-Lahore come with all the top-class amenities.
From basic facilities like electricity, water, and gas to top-notch like good educational and healthcare institutes, everything is available there. The wide network of roads and green belts further increases the project's beauty and attraction.
Gulshan-e-Lahore Plots for Sale
This attractive housing society offers residential plots in various sizes. Also, a number of beneficial commercial plots and ready properties are available there. Investing in a plot here lets you make your dream of ideal property come true. All of its properties are examples of the best project planning where a piece of land comes with bundles of extra amenities. You will surely get the desired value for your money as the prices are increasing rapidly. The plots for sale in Gulshan-e-Lahore are ideal to meet your residential and investment needs as the sizes are:
5 Marla Residential Plots
10 Marla Residential Plots
12 Marla Residential Plots
1 Kanal Residential Plots
The residential plots of 10 Marla are in abundance while the other sizes are also high in demand. The ready properties for sale in this society include houses, villas, and apartments. Even, you can purchase a commercial shop and plaza at reasonable rates.
No Installments Only Cash
One of the most prominent things in Gulshan-e-Lahore is the availability of properties on cash only. There is no previous or ongoing payment plan offering plots/houses on installments. It is because of the 100% development, possession, and increasing inhabitation. The biggest benefit of purchasing property on cash in this society is that you will surely get what you are paying for.
Your plot will be handed over to you just after the complete payment. There would be no wait for possession announcement or development. You can easily start construction, after the transfer.
Plots Prices in Gulshan-e-Lahore
The plots for sale in this project are reasonable in price. Yet despite the complete development, possession, and availability of top-notch amenities, the prices are low as compared to nearby societies. Here you can easily purchase your plot at the following rates:
5 Marla plots prices are starting from 75 lacs.
10 Marla plots will cost you between 1.30 crores to 1.50 crores.
1 Kanal residential plots are available in the price bracket of 1.70 crores to 2.10 crores.
Please note: The difference in the prices of the plots is because of the location and nearby attractions and developments.
Gulshan-e-Lahore Location
The developers of this housing scheme have chosen a tactical location for its development. It is located on Khayaban-e-Jinnah Road Lahore which is connected to different major arteries of the city. Its location is Mouza Kamba Lahore. The location of this project is prime as it has easy access from multiple routes. Basically, this project has three main entrances one from Wapda Town Phase 1, the second from Tariq Ismail Road Lahore, and the third from Khayaban-e-Jinnah Road Lahore. The distance to this society from Main Raiwind Road is also short. Also, this project is surrounded by five top housing ventures such as:
Wapda Town Phase 1 Lahore
Dream Villas Lahore
Punjab University Employees Corporative Housing Scheme Lahore
Tariq Garden Lahore
Valencia Town Lahore
Green Town and the DHA EME Society are also at a short distance. The University of Central Punjab is lying close.
Most importantly, it is only 3 KM away from Shaukat Khanam Hospital.
The surroundings of Gulshan-e-Lahore are also beneficial as you will find many great schools, and healthcare facilities nearby. The transportation facilities and popular commercial spots are a few minute's walks. Overall, you can easily reach this luxurious address in Lahore.The connection of this society to different major roads further boosts the worth of properties available.
Significant Features
Gulshan-e-Lahore is one of the popular localities where a good number of families are enjoying a facilitated lifestyle. This housing venture is completely developed and has LDA approval. Some of the other significant features of this society are:
Water Filtration Plant
Water is a basic need of life and access to clean and healthy water is essential. The developers of Gulshan-e-Lahore understand this fact very well. They offers a water filtration plant in the center of this society. It is completely operational and ensures the availability of clean water 24/7.
Park in Every Block
This entire society is comprising five blocks where you will find five parks. It means each of its blocks has a well-developed park. These parks ensure a fresh and joyful lifestyle within this society
Schools and College
There are many housing societies in Lahore near the best educational institutes. But what if you get a quality education within your own society? Yes, it's possible in Gulshan-e-Lahore. This society have a number of good schools such as Allied School, American Lyceum, and Concordia College.
Well-Developed Mosques
Gulshan-e-Lahore is a brilliantly developed housing venture where you will find two beautiful mosques by the society's administration and one is constructed privately. These developments provide you the easy access and the opportunity to fulfill your religious duties without any hurdles. So, what else can be better?
Commercial Markets
Having a proper commercial market within a society is essential for its success. That's why Gulshan-e-Lahore is developed with two main commercial markets. These are 100% operational markets where you will have access to everything you need i.e., grocery, boutique, saloons, tailors, laundry, mobile accessories, ice-cream parlor, fast-food etc. You will surely experience this place better in every term.
Benefits of Investment
Lahore's property market is full of opportunities. You may find several options to invest in especially on installments. But ignoring the properties available in Gulshan-e-Lahore would not be the right decision. You have to invest in this project because:
It is completely approved by the authorities
Its location is ideal and easily accessible
Have complete development and good inhabitation
Affordable property prices and possession available
Operational commercial markets, schools, and water filtration plant
Increasing property prices means good returns in the coming years
So, whether you are an investor who desires to grow your capital or an end user searching for your dream property, invest in Gulshan-e-Lahore. It's a secure place where properties come with heart-winning amenities.
Please contact us through WhatsApp, the Contact Us form, or visit our UPN Youtube Channel for further assistance.