Gwadar Golf City – Bringing A Great Chance to Buy 8 Marla Coastal Commercial Plots – Latest Updates
by UPN
February 17, 2019
0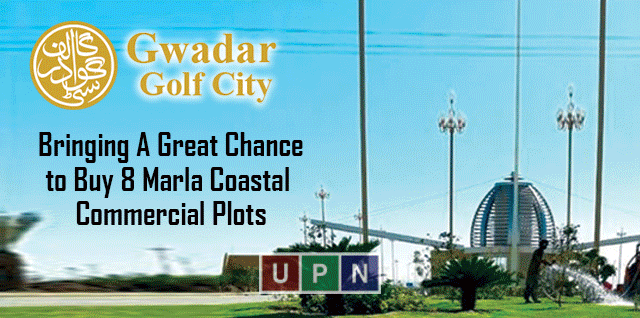 Gwadar Golf City is an emerging housing scheme located at the ideal location is now providing a great opportunity to interested clients to earn a promising profit with a secure investment. Yes, after the roaring success of residential plots cuttings & deals, they are bringing to you a great chance to invest in the 8 Marla Coastal Commercial plots. Located on the ideal location and all these commercial plots are double side open which is an added value point to invest in them. Gwadar Golf City is designed to provide the best and safest investment opportunities in Gwadar. So let's discuss the top features of these 8 Marla Coastal Commercial plots available in GGC.
About Developers & Project
Gwadar Golf City is an outstanding project of BSM Developers. BSM Developers Gwadar Golf City is the essence of architectural grace combined with the state of the art facilities thus converting the golden sands into an ideal of economic progress and development. Their introduction is enough to define the excellence of this project. BSM (Bilal Shabeer Malik) is the grandson of Mr. Malik Riaz, the owner of Bahria Town Private Limited, and so that BSM developers are fabulously progressing under the supervision of top property tycoon of the country.
Location Details
GGC is ideally located in Mouza Paleri Garbi. It is located at the distance of 3 Km from proposed 500 Acres International Shabi University and in the north of Makran Coastal Highway.
8 Marla commercial plots are known as Coastal Commercial for their premium location. These commercial plots are ideally facing Main Coastal Highway. Gwadar Golf City has launched these commercial plots in two blocks. These blocks are Coastal Commercial Block-1 & Coastal Commercial Block-2.
Latest Prices of 8 Marla Coastal Commercial Plots
These 8 Marla coastal commercial plots are available at the most reasonable rates but there is no installment plan is announced yet. As the demand for these plots is very high so you can only buy these plots on upfront payment.
8 Marla coastal commercial plots are now available at the launching price of 30 lacs. The processing fee for the plots is Rs. 35,000.
Note: The price charged to you is only of the cost of land. Development charges will be paid later as these 8 Marla plots are on-ground.
Investment Potential
Making the investment in these 8 Marla commercial plots is highly recommended by UPN. As GGC is a project of BSM Developers that itself guarantees that it will worth every single rupee you invest in it. These plots are ideal in term of location as facing Main Coastal Highway, are double-side open that are definitely an amazing feature of these plots. In simple words, these 8 Marla commercial plots are providing you with a great chance to start any type of business or to earn a promising return with minimum investment.
Stay connected to Universal Property Network.