Gwadar Golf City Main Gate Construction Completed – Latest Gwadar Golf City Update
by UPN
June 14, 2018
2 Comments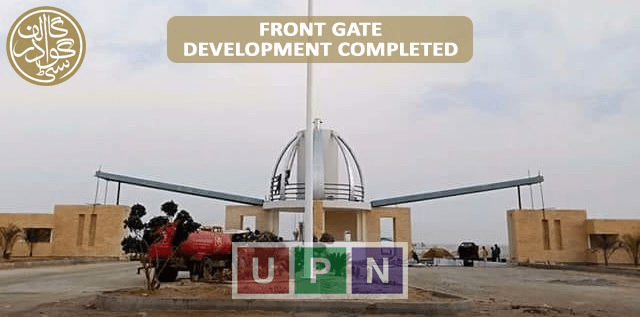 Gwadar Golf City is termed as a gateway to golden opportunities of investment in the city of Gwadar. Being reckoned as premium housing project in the port city, this GDA approved housing society will provide all luxuries of life to the residents. It will mainly include 24-hours power backup, water distillation plants, a gym and sports centre. The biggest of all will be its Hospital and medical care facilities which will have a great appeal among buyers. Development is a mandatory catalyst for bring mega project of this scale to shape and BSM Developers has mastered the art of development.
Gwadar Golf City Main Gate Construction Completed
In Gwadar Golf City, development is in full momentum now and these activities are being carried out at rapid scale. The magnificent Gate House of Gwadar Golf City which was under construction has been completed now. The design of this entrance gate is almost same as of Bahria Orchard and Bahria Nasheman Lahore. In a short span of time, development pace has increased mutiple folds on site and it will encourage investors further to buy Gwadar Golf City plots on reasonable rates. The developers of the project (BSM Developers) know how to lead in this specific category as they possess years of experience.
Desalination Plants Starts in For Gwadar
One of the basic requirements of drinking water availability overall in city has been a concern for all housing projects of Gwadar. Frontier Works Organization (FWO) in collaboration with Balochistan agreed to provide 2 million gallon drinking water on daily basis to Gwadar City. Desalination plants have started working and in first two months, it will provide 0.2MGD to this area. It will solve water scarcity issue in the entire Gwadar and a welcome development for all investors.
Gwadar Golf City is progressing really fast in this developing region and future belongs to it. In days to come, more investors will buy its plots.
For more updates and latest information, please keep visiting Universal Property Network (UPN).