Gwadar Port City News: $10 Billion Oil Refinery to be Established by Saudi Arabia
by UPN
January 15, 2019
0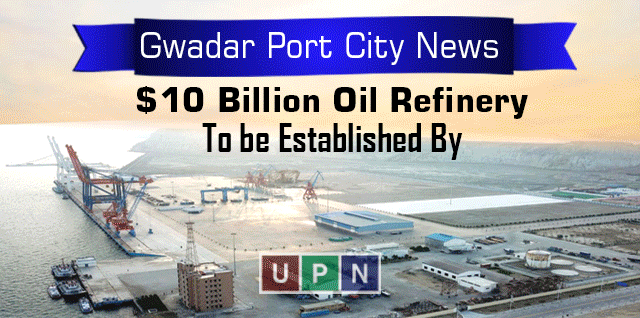 On Saturday, Khalid Bin Abdul Aziz, Minister of Petroleum and Energy of Saudi Arabia, stated that Crown Prince of Saudi Arabia Mohammed bin Salman bin Abdulaziz Al Saud will visit Pakistan, in order to sign an agreement for establishing oil refinery. He will visit in February.
The port city was visited by Saudi ministerial delegation, including Chief Executive Officer of Aramco Associated Company Al Buainain Ibrahim Qassim. He visited in order to inspect the area for the project of the oil refinery. This happened earlier on Sunday and later a meeting was held with officials and ministers of Balochistan. This project will be worth USD 10 billion.
At Gwadar airport, Saudi delegation was received by Minister for Marine Affairs Ali Zaidi, Balochistan's Information Minister Mir Zahoor Ahmed Buledi and Pakistan's Petroleum minister Ghulam Sarwar Khan.
Oil Refinery Project – A Step for the Betterment of Pakistan's Economy
Aziz said that with the help of this oil refinery, Saudi Arabia will be helping Pakistan in uplifting its economic situation. Saudi Arabia is also looking for partnership in CPEC project.
In order to make it the center point for importing, purchasing and exporting oil, this refinery will surely be helpful. Aziz also mentioned that it will be completed within a minimum time period.
Saudi Arabia always tried its best to support the country's slow-paced economic development by offering financial help. This demonstrates the deep-rooted, cordial economic and social friendly relations between Pakistan and Saudi Arabia, said by Saudi Petroleum Minister.
According to the arrangement, the oil city would be built on around 80,000 sections of land arrive with the reason to refine and store imported oil for forwarding transportation to China utilizing the CPEC course, other than building up the fuel production network for the landlocked Central Asian states
Moreover, the efforts of Saudi Arabia were appreciated by Pakistan's Petroleum Minister Khan and he also confidently stated that because of this oil refinery project, Saudi Arabia will become a significant partner in CPEC.
Gwadar Port City – A Significant Area for Pakistan
Gwadar is actually the port city that is located at the shores of Arabian Sea. Although it is the part of Pakistan, China also has a great interest in it. As a feature of the China-Pakistan Economic Corridor, and by expansion, that of the Silk Route Initiative, Gwadar holds significant significance. The port city of Gwadar is a center point of availability for the Corridor and a key trade for the Silk Route. Through its remote ocean port, Gwadar has helped China and Pakistan understand the objective of a 21st Century Maritime Silk Route, which will profit China and Pakistan, as well as Central Asia by turning into the district's key entrepôt
If you are living in Pakistan, you have definitely heard the name Universal Property Network. This is because it is the popular and an authentic real estate network that is guiding natives for years. It has the talented and qualified agents that guide you from head to toe in order to have a reasonable deal. So, if you are interested in buy land in Gwadar port city, call UPN without any hesitation!