Homes on Installments in Al-Kabir Town Phase 2 and Phase 3
by UPN
March 25, 2021
0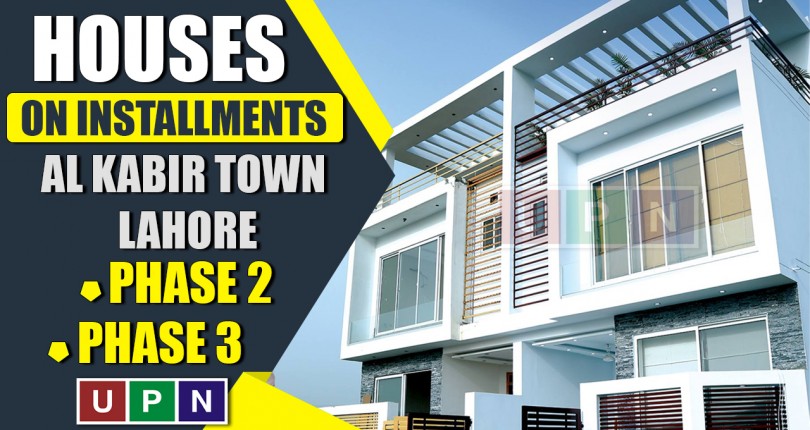 In the last few years, Al-Kabir Town has emerged as one of the best housing societies in Lahore. Its smart town planning, a wide range of properties, and all the modern-day facilities have made this project prominent among others. Even it has become a popular choice to buy homes on installments in Lahore. These homes in Al-Kabir Town Lahore are available in Phase 2 and Phase 3. Both the home's projects are attractive but have different specifications.
The homes on installments in Al-Kabir Town Phase 2 are 5 Marla double-storey Platinum Homes. The homes on installments in Kings Town Lahore (Al-Kabir Town Phase 3) are 5 Marla Triple-Storey Homes. So, which one of these is best? Let's discuss the details of both to get the right answer!
Platinum Homes in Al-Kabir Town Phase 2
Located in the B Block of Al-Kabir Town Phase 2, Platinum Homes are the 5 Marla double-storey homes for sale. Launched a few years ago, even most of these homes are ready. These homes were first launched at the price of 55 lacs with different payment plans. Later, the prices revised, and several deals were offered on 60 lacs, 62.90 lacs, and 64.90.
But with time, the popularity and the demand for Platinum Homes have increased a lot. That' why Al-Kabir Developers has recently launched another new deal of Platinum Homes in 2021. These beautiful 5 Marla Platinum Homes are now available at the total price of 68.90 lacs.
Booking starts with 16.70 lacs. The monthly installment for the homes is 48,000/- per month. Moreover, there are some annual installments as well.
You can also buy these 3 Marla Platinum Homes with a customized payment plan of 1 year, 2 years, and 3 years.
Kings Town Lahore (Phase 3) – Homes on Installments
Another good option to buy homes in installments in Lahore is available in Kings Town Lahore. Also, popular as Al-Kabir Town Phase 3, it's a recently launched, new housing society. Currently developing, this project is completely approved by LDA. Located on Raiwind Road, Kings Town Lahore offers you the best 5 Marla triple-storey homes.
These homes for sale in Kings Town Lahore can be purchased as a whole, or you can also a single floor as per your requirement.
Available with the flexible payment plan of 4 years, the prices detail for 5 Marla Triple Storey Homes are:
Category
Total Price
Booking
48 Monthly Installments
 Installment Every Year
On Possession
Ground Floor 5 Marla
4,200,000
800,000
30,000
200,000
1,160,000
First Floor

5 Marla

3,900,000
700,000
27,000
200,000
1,100,000
Second Floor

5 Marla

3,600,000
600,000
23,000
200,000
1,040,00
Which are the Best Platinum Homes or Homes in Kings Town Lahore?
Both the homes deal in Al-Kabir Town Phase 2 and Kings Town Lahore are good. Platinum Homes are was launched earlier, even most of them are ready to live. These homes are located in an already populated society. All the living amenities are available.
On the other hand, Kings Town Lahore homes on installments can also be purchased to live after 3 to 4 years. It's a newly developing project with no residence in the surroundings. That's why the prices are low, and the installment plan is flexible. However, you can consider them for investment or plan to move in them by the next 4 to 5 years.
For further details, please contact Universal Property Network.