Lahore Houses on Installments 2022
by UPN
June 23, 2022
0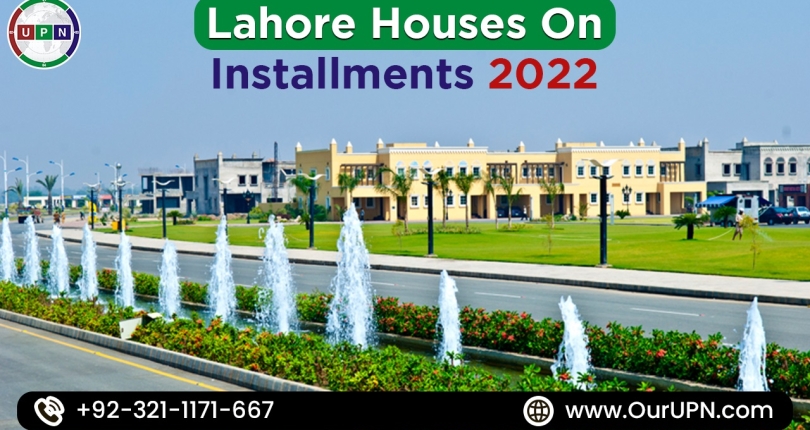 Everyone desire to buy a house, but buying a home is a big decision. Most people can easily invest in the houses of their dreams. But a large number of buyers are looking for Lahore houses on installments. They are searching for some good location houses, where all the top-class living amenities are available. Choosing a house in a clean and peaceful environment is also important. However, disturbing a routine budget or spending all the money at once would not be the right choice. If you are also thinking the same and desiring to invest in the houses on installments in Lahore in 2022, we have the best options for you!
Lahore Houses on Installments – Best Options
Getting a house at a reasonable price and also with a flexible payment plan seems impossible these days. But don't you worry, UPN brings you the chance of suitable investment in the following top options:
Houses for Sale in Bahria Orchard Lahore
Bahria Town Housing Societies are always an ideal choice to get a house; undoubtedly, it's a dream destination for many. However, a big hurdle is higher prices to enjoy a quality lifestyle. To facilitate people with low to medium budgets, Bahria Town management has smartly developed Bahria Orchard Lahore. This society has four phases, and all are exceptional in terms of facilities, location, and quality lifestyle. Also, Bahria Orchard is a budget-friendly housing option. Anyone can confidently invest in Lahore houses on installments such as:
5 Marla Double-Storey Houses in Bahria Orchard Phase 1
The best houses you can invest in installments are Eastern Villas. These are 5 Marla double-storey independent living spaces that come with the accommodation of 3 bedrooms. Launched at reasonable prices along with a convenient payment plan of 3 years, these are impressively developing houses. Eastern Villas's development work will be complete by the next few months and possession will be available.
Eastern Villas's location is outstanding as these are located in Eastern Extension. All the living facilities are available nearby. Most importantly, these houses can be easily got on installment by paying the down payment + the paid installments. Also, you will have to pay your own amount. The amount ranges between 7 – 10 lacs.
5 Marla Double-Storey Houses in Bahria Orchard Phase 4
If you desire to invest in low-budget, ideal location houses of 5 Marla, choose Bahria Orchard Phase 4. It offers you the exceptionally planned Jasmine Villas. It's an independent houses project launched by Q-Links Developers. These are basically the private, but the top and 100% approved developers by Bahria Town. These Jasmine Villas were launched at affordable rates of 70 lacs and with 3 years easy payment plan. Currently, these are developing houses where the possession will be available by the next 6 – 8 months. The actual location of these houses is G5 Block of Bahria Orchard Phase 4.
Booking in Jasmine Villas Lahore houses on installments is still possible. You can buy them happily by paying the down payment + the 20 paid installments. The remaining amount will be payable in the ongoing payment plan. These houses are ideal to choose for residence, investment and rental gains.
5 Marla Installments Houses in Bahria Orchard Phase 4
We have another affordable option of 5 Marla independent houses. These are Safari Homes. Designed smartly as per the latest trends and desires of investors and buyers. Safari Homes is also a project by Q-Links Developers. The location of these beautiful houses is G6 Block. Comes with the 3 bedrooms accommodation, these houses were launched with the reasonable price of 60 lacs.
The current development status of these Safari Villas is impressive. The grey structure of the houses is ready, and the other work is progressing speedily. Anyone wishing to invest in this project can confidently buy it by paying the down payment + 21 paid installments. Also, the profit amount on these villas ranges between 7 – 14 lacs. Possession of villas will be available within the next 10 – 12 months.
3 Marla Houses on Installments in Lahore
People searching for the Lahore houses on installments can also invest in 3 Marla double-storey houses. These houses are located ideally in Al-Kabir Town Phase 2. The location and the surroundings of these beautiful living spaces further add charm to it. Popularly known as Platinum Homes, these are high-in-demand houses, perfect for residence, investment and rental gains.
The first launching deal of Platinum Homes was at 54 lacs. Later, several deals came as a large number of people had invested in them. The currently available deal of Platinum Homes is available in 84 lacs. Booking starts with a reasonable amount of down payment. The remaining will be payable in a flexible payment plan. All the nearby blocks of these 3 Marla houses are developed and have top-class living amenities.
Prices of Houses Available on Cash
People looking for houses on lump-sum payments can also choose the best options. The 5 Marla houses in Bahria Orchard Lahore in PhaseLahore 1 will cost you from 1.55 crores to 2 crores. Similarly, the prices for the houses in Phase 2 range between 1.45 crores to 1.85 crores. Prices can vary.
On the other hand, if you are searching for 3 Marla double-storey houses on full cash, you can get them in 85 lacs to 1.10 crores. The prices of the houses vary as the condition i.e., used houses will cost you less. On the other hand, brand new houses and villas are available at higher rates. So, the choice is yours!
So, that's all about the best house options on cash and installments in Lahore in 2022. These house options are ideal to meet your residential needs, investment growth and rental generation. On the other hand, if you desire to invest 1 bed, 2-bed, 3-bed apartments or penthouses in cash or installments, you can contact us directly.
We Universal Property Network will surely provide you with the perfect options on lump-sum payments and also on installments.
Please contact Universal Property Network For More Information click here or visit our Youtube channel for further assistance.