Salman Farsi Heights Bahria Town Karachi
by UPN
February 23, 2023
0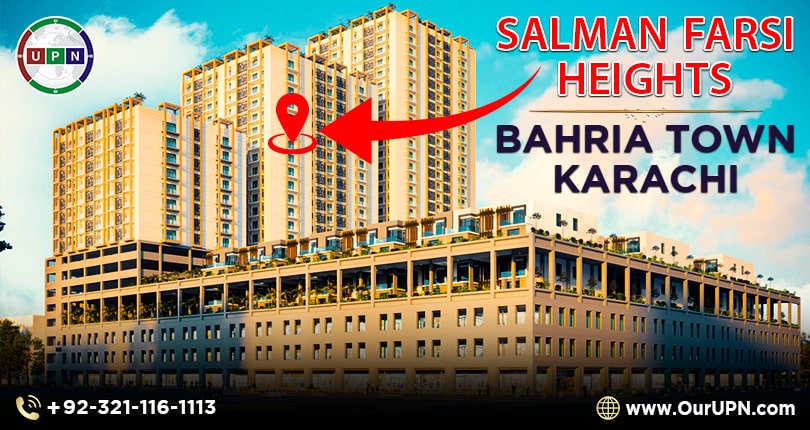 Salman Farsi Heights is a beautiful project launched at the prime location of Bahria Town Karachi. It's a top-class development with unique elevation and advanced features. Having no comparison with others, this project sits in the commercial zone of AQ Bazaar and Residency BTK. The entire project is planned exceptionally providing the chance for the best residential and commercial investment. Spreading over a large area, it's a secure and profitable property option in the city of lights. It's a masterpiece with several apartments that can be booked with a 25% down payment. The remaining will be payable in easy installments. Keep on reading to know more!
Salman Farsi Heights Location Map
Salman Farsi Heights is ideally located near Imtiaz Mega Store and Bahria Apartments (Legacy Club Commercial) in the heart of Bahria Town Karachi. The location of this top-class development is near the main Jinnah Avenue. Its actual location is Precinct 18. The main gate of Bahria Town is located just a 15-minute drive from AQ Bazar and Residency. The accessibility of these heights is very easy as many great projects of Bahria Town are in its close vicinity. Some of the best developments nearby are:
Bahria Apartments
Bahria International Hospital
Danzoo Day and Night Zoo
Bahria Adventure and theme park
Abul Qasim Super Market
This project is located adjacent to Imtiaz Super Store and within walking distance from PSO Fuel Station.
Salman Farsi Heights Project Plan
This ideally designed project is a part of AQ Bazaar and Residency. To understand its project plan, let's begin the discussion from the ground floor.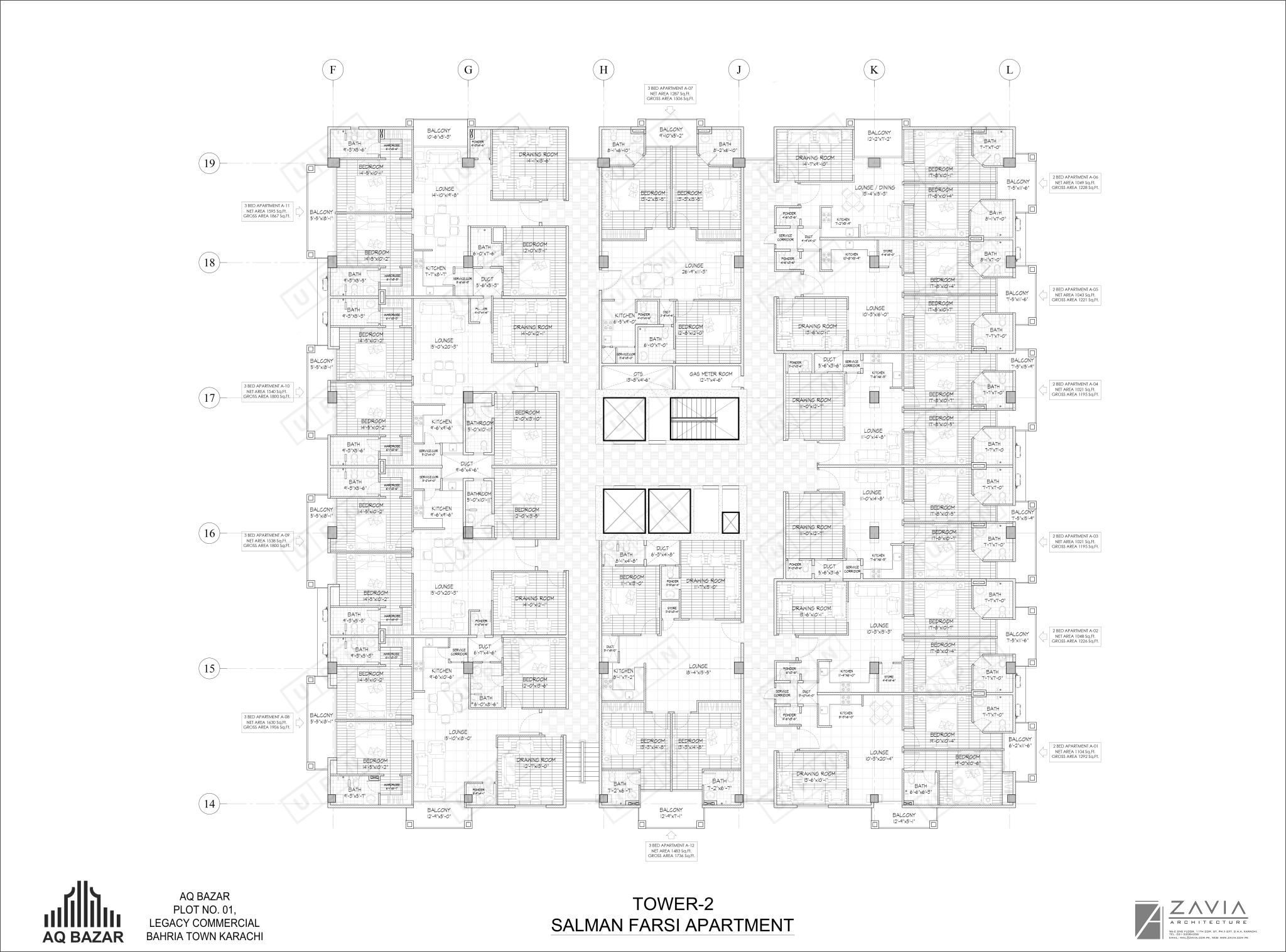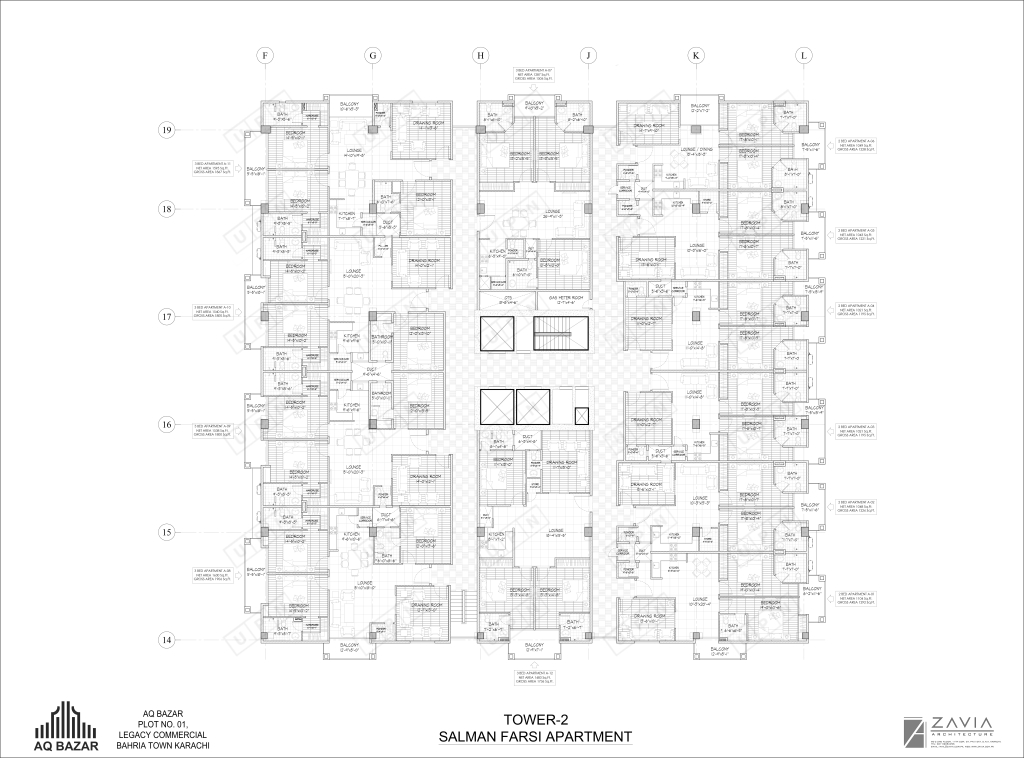 The ground floor and the first floor of AQ Bazaar and Residency are planned with shops for brands. The 2nd floor has a food court and an adjacent mosque. This mosque is beautiful and spacious enough to facilitate 1600 people at once. The third floor of this project features Duplex Villas. You will see the planning of apartments on the fourth floor. Next comes the three high-rise buildings named:
Ibn-e-Abbas Heights
Salman Farsi Heights
Maaz – Bin – Jabal Heights
Salman Farsi Heights is positioned in the middle of these three towers featuring studio apartments, 2 beds, and 3 beds luxury apartments. The total area of this project is 225000 SQFT. The total number of floors in this project is 15.
The following are the sizes of the apartments:
2 Beds: 1149 SQFT, 1187 SQFT, 1164 SQFT, 1151 SQFT
3 Beds: 1550 SQFT, 1835 SQFT, 1800 SQFT, 1716 SQFT
These apartments of Salman Farsi Heights Bahria Town Karachi are fully facilitated. Both buyers and investors will find it suitable to meet their property needs.
Salman Farsi Heights Payment Plan
These luxury apartments in AQ Bazaar and Residency are low-price and easy to buy. The booking of apartments starts with a 25% down payment. The same 25% will be payable at the time of possession. On the other hand, 50% of the total amount will be payable in 3 years easy installments. The payment plan of Salman Farsi Heights has equal quarterly installments. The budget-friendly prices of the apartments and the ease of installments make this project an ideal choice for investors.


People searching for good residency options in Bahria Town Karachi where they can confidently enjoy their dream lifestyle should definitely invest in Salman Farsi Heights.
You can check the complete payment and prices details below:
About Developers
Salman Farsi Heights (Part of AQ Bazaar and Residency) is smartly launched by AQ Developers. Abul Qasim is a well-reputed name in the real estate of Pakistan. But their popularity is much increased in Bahria Town Karachi. Abul Qasim Real Estate and Builders have also authorized developers of Bahria Town. This firm has launched several projects in Bahria Town, among which some are successfully delivered. Many of these projects are under construction, and some are in the finishing stages such as:
AQ Business Center 1 (Operational)
Al-Samad on Main Jinnah Avenue
AQ Mall and Residency
Bin Abdullah
AQ Super Market in the proximity of Imtiaz Super Market
AQ Bazaar and Residency and Many More
Development Updates
The development work of AQ Bazaar and Residency is started so far. Salman Farsi Height's delivery date is 2024. Hopefully, it will be delivered within the given time frame.
Investment Potential
Salman Farsi Heights brings you a life-changing investment opportunity in Bahria Town Karachi. It's a high-rise development with premium planning. This project offers you the best apartments for sale. All of its apartments are good to purchase however, its top 4 floors are four-sided open. You will surely enjoy the best view there. The prices are also reasonable and booking starts with a 25% down payment. The remaining in installments option is also heart-winning. Buying an apartment in Salman Farsi Heights will be a secure and profitable investment option for both buyers and investors. You should definitely consider it.
Please contact us through WhatsApp, Contact Us form, or visit our UPN Youtube Channel for further assistance.