Where to Invest In Bahria Orchard Lahore For Maximum Profit? Latest Details By UPN
by UPN
April 13, 2019
0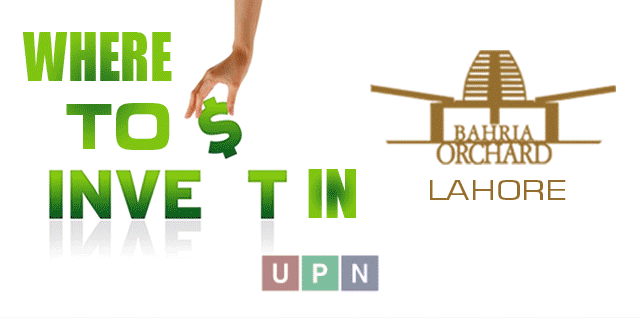 Bahria Orchard is an outstanding housing project of Bahria Town Private Limited that beautifully comprises of 4 Phases. After getting huge success in Bahria Town Lahore, the developers have presented a great housing project to facilitate more and more people with it. Bahria Orchard is offering all the top-class facilities and unique features that are affiliated with the trademark of Bahria Town but at the affordable rates. It's would be nothing wrong to term Bahria Orchard a budget-friendly project of Bahria Town for those who desire to live a luxurious lifestyle but at the affordable rates.
Location Details of Bahria Orchard All Phases
Bahria Orchard is located at the ideal location of Lahore. It is positioned on Main Raiwind Road. While moving from Thokar Niaz Baig to Raiwind Road, the project is located at the drive of only a few minutes. Phase 1 & Phase 2 of Bahria Orchard are situated at the right side, however, Bahria Orchard Phase 3 & Phase 4 are located at the left.  The famous Haier Factory and Lack City have also located nearby it.
Best Investment Options in Bahria Orchard Lahore
Bahria Orchard as a whole is an attractive housing project that is offering multiple options of investment in it. But these days, the residential plots of G Block and the newly launched plots of OLC B Block are hot-favorite for investment.
Latest Prices of Plots in G Block & OLC B Block With Location Details
G-Block is located close to the Transfer office of Bahria Orchard. It is positioned just at the right side of it. This block has two easy approaches. One is from the main entrance of Bahria Orchard and second, is the Sundar Road.
The plots cuttings of 5 Marla & 8 Marla are available in G Block. 5 Marla residential plots in G Block are available at the price ranges of 26 lacs to 30 lacs. However, 8 Marla plots are available at the price of 30 lacs to 33 lacs depending on the location.
OLC – B Block
OLC- B Block is located in Bahria Orchard Phase 2 and ideally located close to the main entrance of this fabulous housing project. These reasonable plots are available in newly launched Olc-B extension that is located attached to OLC-B Block.
Same like to G Block, both the residential plots of 5 Marla & 8 Marla are available in it. The starting prices of these 5 Marla plots in OLC-B Ext. are Rs. 24 lac to 28 lac. In OLC-B Ext. the plots of 8 Marla are available at the price of 35 lacs to 38 lacs. The prices of the plots are different as some of the plots are available on the Main Boulevard as well.
Investment Potential & Recommendations For Buying
In the current market scenario, making the investment in Bahria Orchard is definitely a profitable option. The prices of the property were down due to the land issues of Bahria Town Karachi, but as the issue is already resolved so there is an increase in the prices of plots has been noticed. But still, the prices of the plots are reasonable to invest. So investment in the affordable plots of 5 Marla & 8 Marla of G Block and Olc- B Block of Bahria Orchard Phase 2 is highly recommended by UPN.