Reasons to Invest in 7 Wonders City Islamabad
by UPN
September 5, 2022
0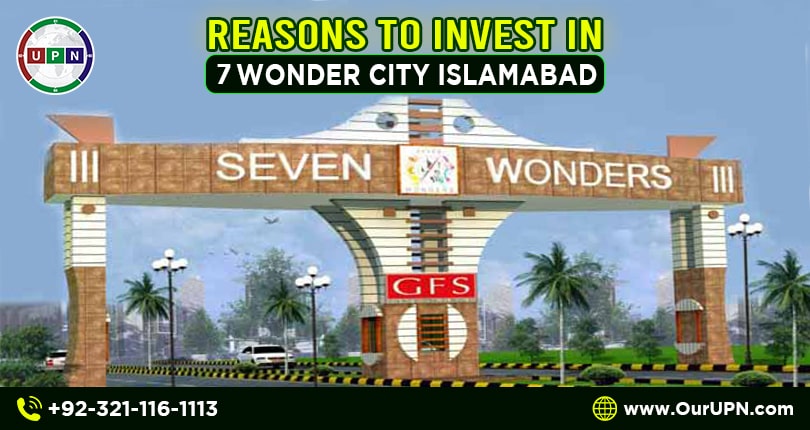 Are you looking to invest in 7 Wonders City Islamabad? Want to make a profitable investment in the real estate sector of the capital city? But still, confused about whether it will be the right decision or not? So, be happy! This latest write-up is for you, where you will get answers to all your questions one by one.
7 Wonders City Islamabad is a new housing project by GFS Developers located ideally. It's a state-of-the-art development spreading over more than 200 acres of land. Featuring a wide range of properties for sale starting from plots to villas and apartments, it's a low-budget, profitable venture. However, still many buyers are confused about whether to choose it or not. If you are also thinking the same, please keep on reading!
Invest in 7 Wonders City Islamabad – Top Reasons
Here we are discussing the top reasons for investing in this project.
High-End Amenities
7 Wonders City Islamabad is a new, but properly planned modern venture. It features all the heart-winning amenities, essential to call a place well-equipped and facilitated. Starting from its infrastructure to the speedy development and the provision of top-class amenities makes it the best. Its future residents will surely enjoy a high-quality lifestyle there. Undoubtedly, living there would be no less than enjoying in the womb of amenities.
Secure and Healthy Living Environment
Although, there is a number of options available in the real estate sector of Islamabad, where you can invest in. But the major reason to prefer invest in 7 Wonders City Islamabad is the secure and healthy environment. The location of this society is far from the hustle and bustle of busy city life. This project will provide you with everything inside, leaving no need to move outside for your basic requirements. However, the neat and clean environment of this project further makes it valuable among investors.
Premium Location
Choosing the right project for residence or investment is essential. But taking the real estate investment decision is only possible with a proper analysis of location. 7 Wonders City Islamabad has an outstanding location. The CPEC-Ring Road Interchange is directly across the street from this place. Moreover, the residents would easily reach the location via the M2 Islamabad-Lahore Motorway in approximately 30 minutes.
At the same time, the New Islamabad International Airport is only a 20-minute drive away from this society. This project also has two main entrances i.e., one is close to the CPEC route and the other close to Fatah Jang Road. This location is giving this society a batch of being the best.
A Project by Experienced Developers
Another significant reason for invest in 7 Wonders City Islamabad is its developers. GFS Builders and Developers is going to build 7 Wonders City in Islamabad. It is a well-known property management and development firm that has carried out projects across Pakistan. They have made progress on a similar scheme in Karachi. Due to their expertise and reliability, investors would consider them trustworthy for any investments. To make 7 Wonders City Islamabad a success, they will rely on their previous expertise from other development projects.
Complete NOC Approval
7 Wonders City Islamabad NOC is 100% approved by RDA.   Investors won't experience issues with plot purchase or development because it is a completely legal housing project. The developers have put in countless hours to meet all of the project's criteria. 7 Wonders City Islamabad NOC can be verified using verification number SL-N-I/TP/555. This approval surely makes it a prominent development and option among other projects.
Affordable Prices and Easy Payment Plans
Investment in the real estate sector especially with the increasing inflation rate is not an easy task. Every buyer and investor desires to get the property at the lowest rates. But the developers of 7 Wonders City Islamabad care for you. They are offering the best plots for sale in Islamabad at surprisingly affordable rates. You can confidently make a booking with a reasonable amount of down payment. The remaining balance will be payable in the flexible payment plan.
Conclusion
While concluding all the details of this society, we assure you that invest in 7 Wonders City Islamabad is beneficial for both residence and investment returns. It's a secure and beautiful place where your money will be safe and chances of growth and profits are high.
Please contact Universal Property Network. Visit our Youtube channel for further assistance.