Seven Wonders City Islamabad
by UPN
July 23, 2022
0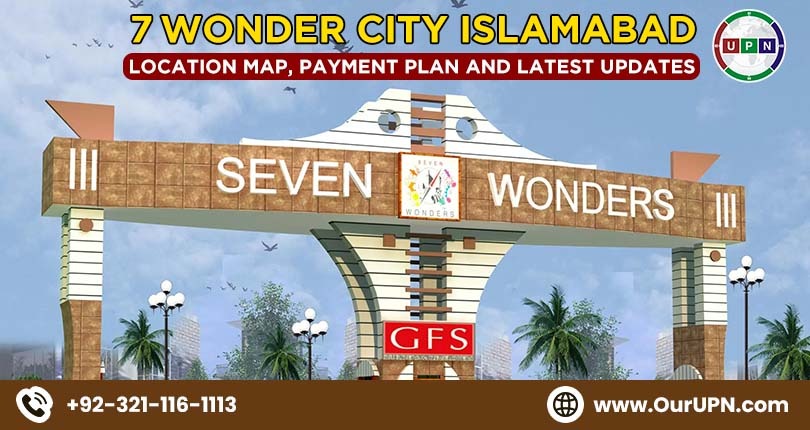 Seven Wonders City Islamabad is one of the most cutting-edge yet distinctive housing societies located on the grounds of Islamabad. It's a new and unique housing society that it decided to develop with the replicas of all seven world wonders in a single gated community.  Furthermore, the builders ensure the ideal living standards for future residents and investors. As a result, investing in this area is a valuable one.
Seven Wonders City is situated on over 200 acres of land. Furthermore, the proximity of this housing society to the M2 and CPEC-Ring Road Interchange is a distinguishing feature (Lahore-Islamabad). The community is the second similar project that the GFS developers have completed in Karachi. Also, this housing society stands out from others in Islamabad and Rawalpindi due to its affordability and lavish lifestyle. Further details are:
About Developers
Global Financial Solutions (GFS) Builders and Developers are the owners and developers of Seven Wonders City Islamabad. Mr Irfan Wahid is the CEO of this project. Furthermore, the company is well-known for building unique projects in Pakistan's real estate. The company has been creating real estate developments in several Pakistani cities for the past fifteen years. Some of the prominent projects by these developers are:
Clifton Luxuria, Clifton Block 4
Roshan Tours, Nishat Commercial DHA Phase VI
Lubaba Residency- North Karachi
Madina City
Palm City Sukkur
North Town Residency, Surjani Town
7 Wonders City Besides DHA City
New Sukkur City
Moreover, Downtown Residency is their project
Oxford Villas
Seven Wonders City Islamabad NOC
The NOC of this appealing project is completely approved by the Rawalpindi Development Authority (RDA) with the following reference number.
SL – N – I / TP / 555.
Also, this housing society enjoys legal status from Tehsil Municipal Authority (TMA) Fateh Jung.
Seven Wonders City Location
7 Wonders City is attractive, adding more value and charm to it. Moreover, the actual location of this society is near M9 Motorway. This society is located close to Nova City Islamabad, a short distance from Islamabad International Airport. Furthermore, this location is also termed as the center where anyone can easily approach it from Islamabad and Rawalpindi. Furthermore, the distance of this project from the nearby landmarks is:
New Islamabad International Airport is 21 minutes, and Bahria Town Phase 8 is at 22 minutes drive.
the M-2 Motorway is a 25-minute drive away
Islamabad is a 26-minute drive away.
Kanial, Rawalpindi, is a 3-minute drive away.
Rawalpindi is a 31-minute drive away.
Moreover, Bango Attock, is a six-minute drive away.
 N-80, Qutbal, Attock is eight minutes drive distance.
Dhok Korak, Attock, is a nine-minute drive away.
This society is right next to CPEC Route Ring Road Interchange. On the other hand, the housing societies nearby are Top City-1, Mumtaz City, Capital Smart City, and The Golf Residencia. Additionally, there are several commercial developments nearby.
Seven Wonders City Masterplan
The Seven Wonders City Islamabad master plan provides all the luxurious amenities and facilities at reasonable costs. Similarly, the development of replicas of the seven wonders within the housing society is the society's special key differentiator. Spreading over a large area, it is one of the biggest housing societies in the area. The entire land is further divided into several blocks offering the best living and investment spaces. People can confidently invest in the best residential and commercial plots for sale.  The world wonder's that further add value to this project is:
Egyptian Pyramid
The Statue of Liberty
The Taj Mahal
The Stonehenge
The Eiffel Tower
The Roman Colosseum
The Great Wall of China
Plots for Sale
Seven Wonders City Islamabad is exceptionally planned, with the best plots available in both residential and commercial categories. At the same time, it features farmhouses, land and villas that you can confidently buy at surprisingly the lowest rates. Following are the details:
Residential Plots
5 Marla
7 Marla
10 Marla
Commercial Plots
4 Marla
8 Marla
Farmhouses Land
2 Kanal
4 Kanal
8 Kanal
Villas for Sale
3.5 Marla
7 Marla
Following are the details of prices in 7 Wonders City Islamabad.
Seven Wonders City Islamabad Payment Plan
The property prices in Seven Wonders City are reasonable. Moreover, booking starts with a few percentages of down payment. Even, it starts from 2.15 lacs. The rest of the amount will be payable in 40 monthly installments. Also, the residential plots payment plan contains 8 half yearly installments.  Following are the payment plans details: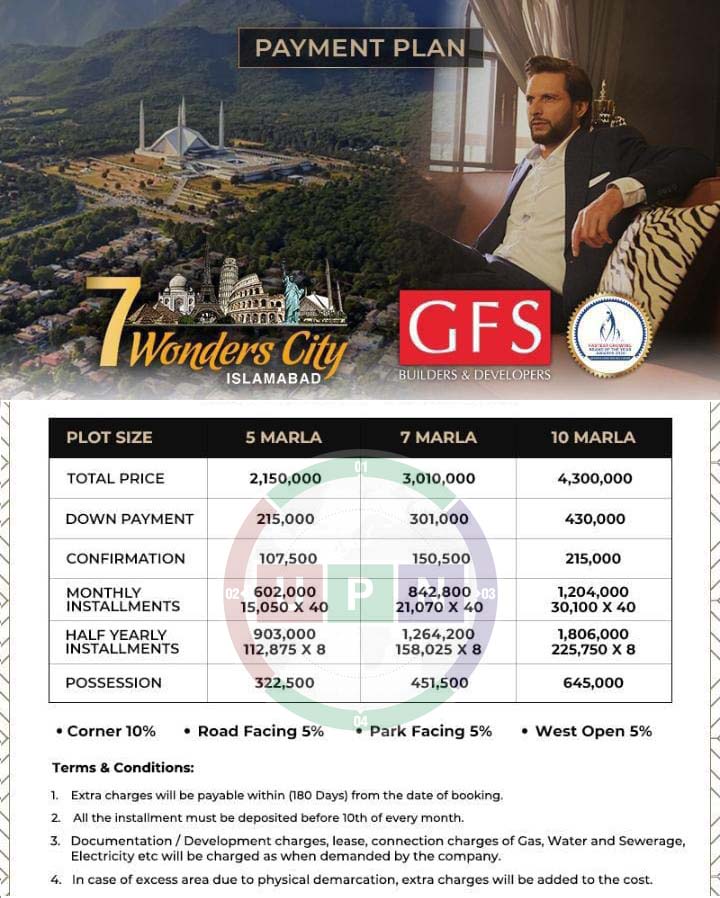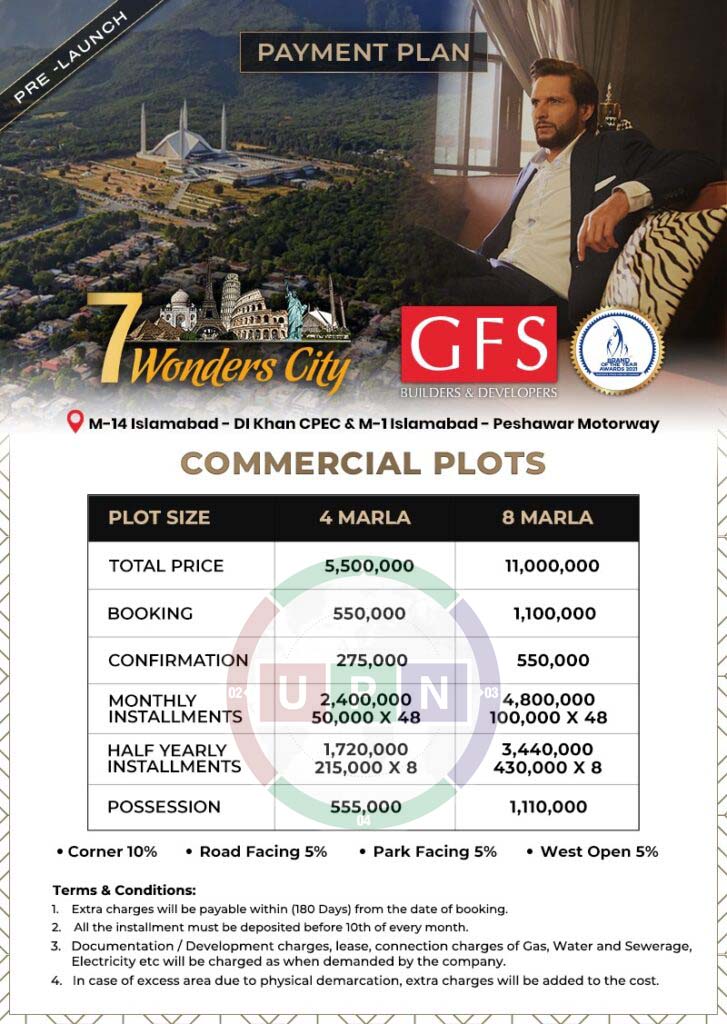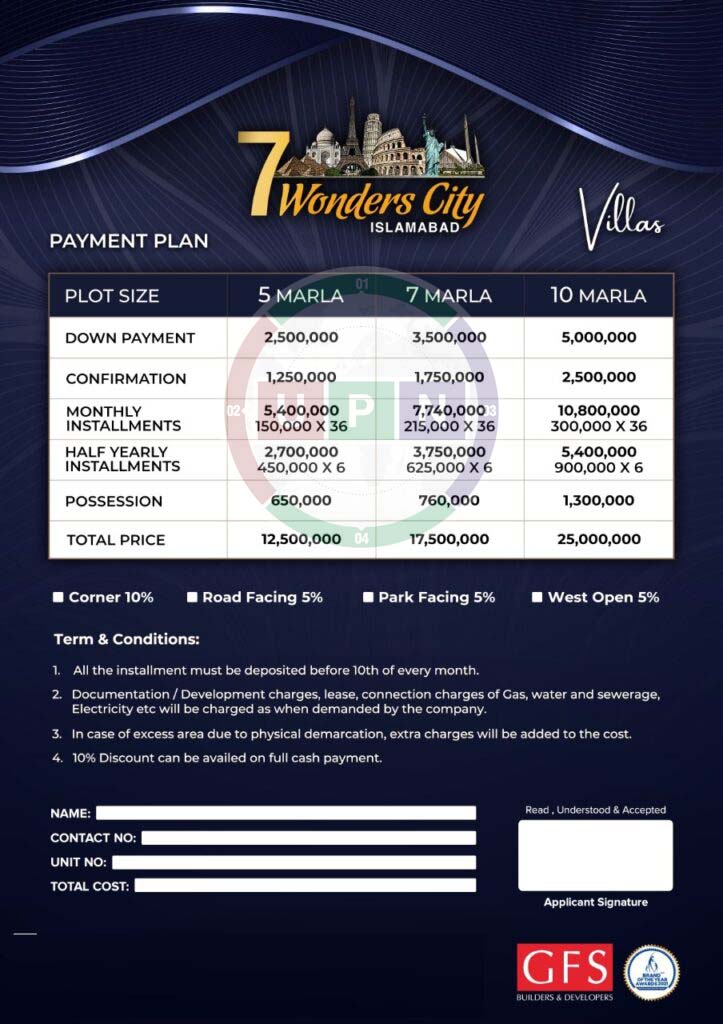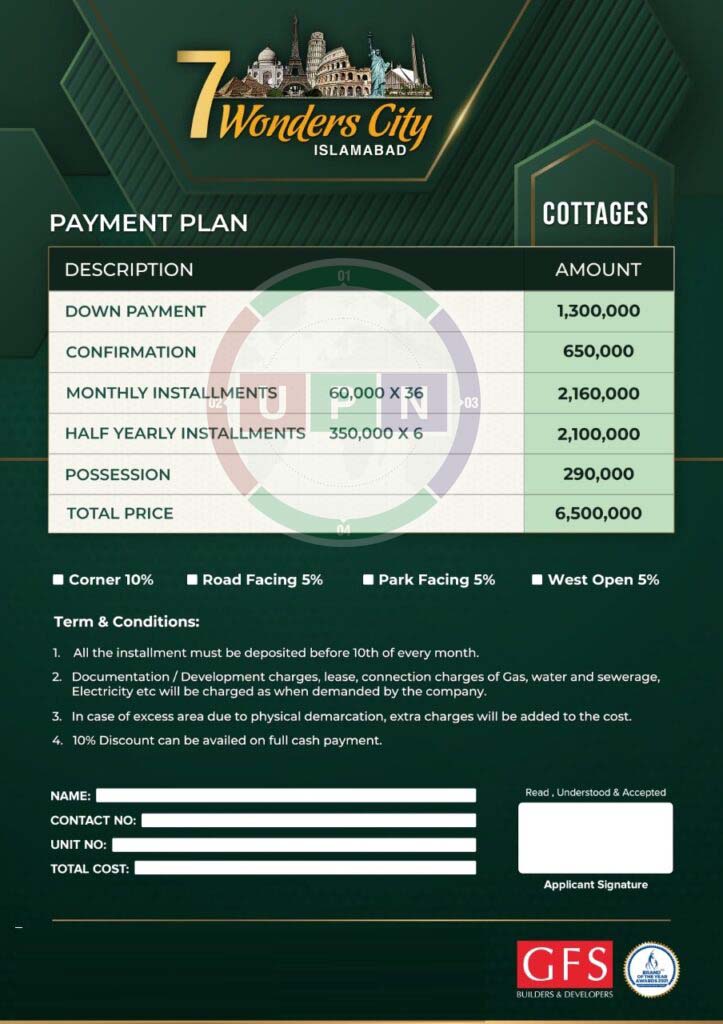 Seven Wonders City Residential Plots Payment Plan
The residential plots in this society will cost you:
Seven Wonders City Commercial Plots Payment Plan
The commercial plots in this society will cost you:
Seven Wonders City Cottages Payment Plan
Also, the cottages in this society will cost you:
Seven Wonders City Villas Payment Plan
The villas in this society will cost you:
Booking Details
It is generally advised to check before making a plot reservation to prevent any trouble. Booking a plot in 7 Wonders City requires the following documentation:
Passport Size Pictures
CNIC Copy
ID card Copies of Next of Kin
Photographs
Payment Receipts
Following are the terms and conditions for booking in this society.
The Rules and Regulations
Extra charges must be paid within 180 days of the booking.
Payment for instalments is due on or before the tenth of each month.
Also, development fees, lease payments, and connection fees for utilities, including electricity, gas, and sewerage, will be charged by company policy and market rates.
If there will any extra land, the owner will be charged for it after possession.
Moreover, there is special discount policy for people buying on lump-sum payment.
Reasons to Invest
There can be several reasons to invest in Seven Wonders City Islamabad, such as:
The residents of the society enjoy an extravagant and luxurious lifestyle, and it is a carefully designed society with separate commercial and residential areas.
In the future, 7 Wonders City Islamabad will be a pricey housing project.
Also, the project includes replicas of the seven wonders of the world.
Residents of the twin cities will use it as a tourism destination.
Society has everything needed for a peaceful as well as luxurious lifestyle.
It will soon turn into a destination for investments.
There is the availability of residential plots, commercial plots, farmhouses, land and villas.
This society offers all these properties on easy installments.
Seven Wonders City is 100% approved by authorities; your investment will be secure.
Also, the returns on investment in this project are high.
Facilities and Features
Seven Wonders City Islamabad's features and facilities are exceptional. Furthermore, this project offers all the top-class amenities essential to living comfortably. This latest society provides you:
Gated Community with Secure Boundary Wall
Advance Security as well as CCTV
Separate Commercial Areas
Sports Facilities as well as Entertainment Facilities
Lush Green Parks as well as Landscapes
Health Facilities
Advance Development
State of Art Masjid
Educational Facilities
Basic Facilities (Water, Gas, and Electricity)
Proper Sewerage System
It is the perfect place to invest because GFS, an experienced developer, is developing the Seven Wonders City Islamabad. In the upcoming years, it will achieve great success.
Property in this society is currently available at the lowest prices, making this an excellent investment opportunity.
Frequently Asked Questions
Here are the answers to commonly asked questions
Is Seven Wonders City a Good Project?
Yes, it is a development by re-known developers.
Is This NOC Approved Project?
Seven Wonders City Islamabad is completely approved by RDA.
Is Buying Worth in Seven Wonders City?
Investment in this appealing society is beneficial for both residence and investment gains.
So, what are you waiting for? Invest in 7 Wonders City Islamabad by contacting UPN!
Please contact Universal Property Network For More Information or visit our Youtube channel for further assistance.