Invest in the First Digital City of Lahore – Life-Changing Opportunity!
by UPN
January 18, 2023
0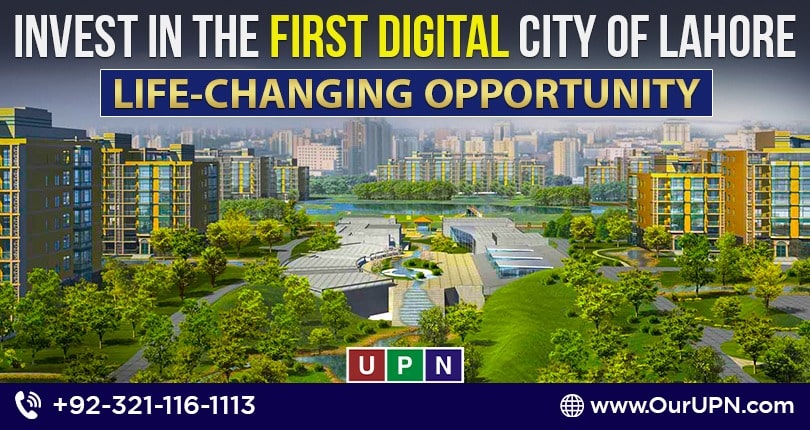 Want to invest in the best housing society? Then choose Lahore Smart City, which is the first digital city of Lahore. Habib Rafique Pvt. Ltd. and Future Development Holding Pvt. Ltd. has introduced this high-level housing society in the heart of Lahore. It will be the second smart city in Pakistan that is built with world-class amenities, modern infrastructure, attractive features, and a peaceful living environment. Lahore Smart City is an international-level project that is spread over 55,000 Kanal of land.
In this blog, we will discuss the Lahore Smart City as the first digital city of Lahore.
Features – First Digital City of Lahore
Lahore Smart City is going to become the first digital city of Lahore. This stunning project has great entrances, a well-designed structure, an international-level education system, an air purifying system, health zones, free Wi-Fi, IT hubs, and many commercial opportunities. It also connects to various districts. The top digital features of Lahore Smart City are:
Entrances
Lahore Smart City has a premium location on the Kala Shah Kaku interchange. This society has four entrances: A, B, C, and D.
Entrance A of Lahore Smart City will be from the Lahore Ring Road, and this access is under process.
Entrance B will be directly accessible from the main GT Road in Lahore.
Entrance C will be near the railway line, which is accessible in one minute from GT Road.
Entrance D will be from Islamabad Motorway.
Designer
Lahore Smart City is designed by the well-known organization Surbana Jourang from Singapore. This Singapore-based firm has created the master plan for this beautiful society. The primary goal of establishing this society is to provide people with a modern, luxurious lifestyle like the European standard.
Universities
The most significant factor is education. A large area has been allotted for educational sectors. Lahore Smart City will introduce IT universities. The international-level university campuses will be established for education.
International level colleges
Education is one of the most important factors in Pakistan. Lahore Smart City is going to introduce five international-level colleges, which also include medical colleges. Students will also be provided with residences.
Health Zone
Health districts and medical complexes will be built in Lahore Smart City. This health district includes hospitals, clinics, laboratories, and pharmacies. The medical complexes contain medical education such as medical colleges and universities. There will be a wide range of medical facilities available.
Mosques
Two grand mosques are under construction in the Overseas Prime block. One mosque has a covered area of approximately 4 Kanal of land and has a capacity of 12,000+ people for prayer. The construction will be completed within a few months.
IoT (Internet of Things)
IoT is the "internet of things." Introduced in Lahore Smart City. A new app will be launched that will allow you to control your home's doors, windows, roof covers, and many other things from anywhere. This brilliant feature will keep your home safe at all times.
Free Wi-Fi
Internet access is essential in the education and business sectors. One of the most amazing features of Lahore Smart City is the availability of free Wi-Fi. Every resident of this society will enjoy free Wi-Fi in their homes.
Security Cameras
In Lahore Smart City, the developer has ensured the highest level of security. They provided modern technology for residence security. CCTV cameras will be installed in the blocks and streets of this society. Every activity from the entrance to the exit will be recorded. Strangers will not be permitted to enter without the permission of management and security.
Water supply
Every residence in Lahore Smart City will have access to clean water. The management will use modern technology to ensure the purity of the water. There will be a continuous supply of water for each home to ensure that no one faces a water shortage.
Sewerage System
A huge sewerage system is introduced in Lahore Smart City, which is designed by an Italian company. They ensure the cleanliness and perfectly drained system of this society.
IT hub/System
IT hubs will be established in this project, which will start in 2024. A Los Angeles-based IT firm will manage this IT hub. They will provide 25,000+ desks, and 75,000 desks will be managed by Lahore Smart City. One of the most attractive news is that Lahore Smart City will provide 75% of its area free of charge to people interested in working for this IT Company for two years. People will simply pay their utility bills or electricity bills.
District Connect
Lahore Smart City has the best location, which connects many districts. Some districts are:
Sialkot District
Gujranwala District
Gujarat District and many others
Commercial Opportunities
Lahore Smart City offers a variety of commercial opportunities. You can start a business by purchasing commercial shops, plazas, or office space. Depending on your budget, various types of commercial properties are available. Investors can easily purchase a property and rent it out for a profit.
2,00,000+ Employment
Lahore Smart City will offer a variety of job opportunities. Many IT offices, software houses, universities, colleges, and other offices will be built in the future. An information technology building will also be built which contains 42 floors. There will be a wide range of jobs. You won't have to worry about finances once your studies are completed. In this high-level society, you can easily do your desired job or business.
Our Suggestions
You should make an investment in this fantastic housing society. It is the best investment opportunity in Lahore because of its architecture level, luxurious lifestyle, state-of-the-art construction, futuristic planning, and smart design. In comparison to other societies, it has the most reasonable properties and countless amenities. There are numerous options for residence, such as homes, villas, or apartments, as well as numerous options for investment, such as commercial shops or plazas.
Please contact us through WhatsApp, Contact Us form, or visit our UPN Youtube Channel for further assistance.