Investment in Bahria Orchard Lahore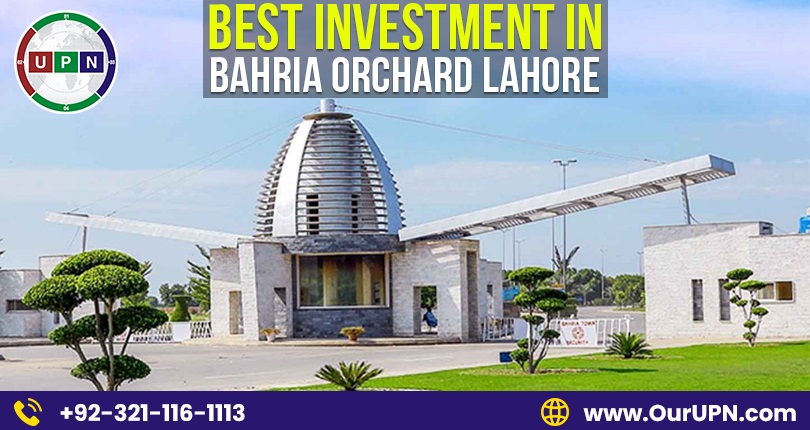 abundance. That's why investment in Bahria Orchard Lahore is one of the best choices in the real estate sector of Lahore.
But still, there are many clients who usually ask for the best investment in this society. They want to know about the top options which they can consider confidently to generate a good return on investment. So if you are also looking for the same attractive opportunities, please keep on reading.
Best Investment in Bahria Orchard Lahore
This latest write-up will discuss all the latest and beneficial investment opportunities available in the several phases of Bahria Orchard Lahore. So, let's explore the details together!
Investment in Bahria Orchard Phase 4
Located in the proximity of Phase 1, Phase 2, and Phase 3 is beautifully developed. Bahria Orchard Phase 4 features state of the art infrastructure, appealing living amenities and speedy construction. Moreover, people looking to buy residential and commercial plots can invest in:
10 Marla Residential Plots
1 Kanal Residential Plots
8 Marla Commercial Plots
The 1 Kanal plots in G1 Block are available in the price range of 1.40 crores to 1.80 crores. Moreover, the prices of the plots of 1 Kanal in G2 Block are starting from 1.20 crores to 1.60 crores. G3 and G4 Blocks are offering the best 10 Marla plots for sale. These 10 Marla plots prices range between 55 lacs to 90 lacs. At the same time, 8 Marla commercial plots prices are starting from 2.30 crores to 3.50 crores. All these residential and commercial plots possess and provide good opportunities for investment growth. You can also invest in them for construction as these are equally suitable for it.
On the other hand, if you desire to invest in a high-rise building in developing commercial and residential properties, we suggest you buy in:
Arabian 99 Mall and Apartments
Orchard Mall
Times Square Mall and Residencia
Tower 3
All these are impressive developments, developing at the prime location of Bahria Orchard Phase 4. Moreover, these commercial shops and apartments are available with convenient payment plans. Therefore, you can easily book your desired property by paying a minimum down payment.
Some of the other attractions investing in Bahria Orchard Lahore Phase 4 best to invest are:
The development of top private builders' projects
Complete infrastructural development and living facilities
The speedy development of Bahria School and several mosques
Several beautiful parks also are a part of this society
Investment in Bahria Orchard Lahore Phase 2
It's another beautiful and impressively developed phase of Bahria Orchard Lahore. Completely developed, this society also features a good ratio of inhabitation. Bahria Orchard Phase 2 offers several good investment opportunities in the following blocks:
OLC A Block
It's OLC A Block have several new deals of plots. You can invest in the residential plots of 5 Marla and commercial plots of 3 Marla and 5 Marla. Both these plots' categories are surrounded by maximum development. Moreover, the launching prices are reasonable, and availability is on open forms.
The launching prices of commercial plots are:
3 Marla Commercial Plots: 1.20 crores
5 Marla Commercial Plots: 2 crores
Furthermore, the residential plots will cost you between 60 lacs to 70 lacs, depending on location.
K, L, M Blocks of LCO Phase 2
Launched a few months ago, LCO Phase 2 extends Bahria Orchard Phase 2. This extension is providing investors with attractive investment in Bahria Orchard Lahore. Here the residential plots are available in the sizes of 5 Marla and 8 Marla. The starting prices of plots are 35 lacs to 55 lacs for 5 Marla. Similarly, 8 Marla plots cost 50 lacs to 70 lacs. Here we suggest investment for the growth of your capital and construction by the next 6 – 12 months. The work on provision of latest-day amenities is under process. Soon you will see the construction of houses on the site.
N Block and J Block
N Block is a new block in LCO Phase 2 offering residential plots of 5 Marla in the price bracket of 37 lacs to 39 lacs. At the same time, a new deal of plots is launched in J Block, offering the best 5 Marla plots for sale. The launching prices of new deal plots in Bahria Orchard Lahore:
General Plots Prices: 39.650 lacs. Booking with 15.50 lacs and remaining in 3 monthly installments.
Location Plots Prices: 42.50 lacs. Booking of plots starts with 15.50 lacs, and the remaining will be payable in 3 monthly installments.
All these plots are also available on open forms. Booking is available on a first-come, first-serve basis. These are new deals, so the prices are also low and affordable. Most importantly, these are open form deals that mean no transfer fees or hidden charges. It is the best and the ideal opportunity to buy residential plots at affordable rates in Bahria Orchard.
Investment in Bahria Orchard Lahore
All the above mention options of investment are attractive and provide low-budget properties. People with the desire to invest in residential plots and commercial plots can consider the hot-selling plots of Bahria Orchard Phase 4 and Bahria Orchard Phase 4. On the other hand, if your preference is in investment in high-rise buildings where the properties are available on installments, then the best options await you in Bahria Orchard Phase 4.
Buying in the plots, shops, and apartments of Bahria Orchard Lahore is 100% safe and profitable. You can easily choose from the several options available.
For further details of these available options, prices, payment plan schedules, and investment analysis, contact Universal Property Network. We are here to provide you with the best options as per your requirements and needs!
Please contact Universal Property Network For More Information click here or visit our youtube channel further assistance