Investment in Bahria Sports City Plots and Villas
by UPN
July 21, 2022
0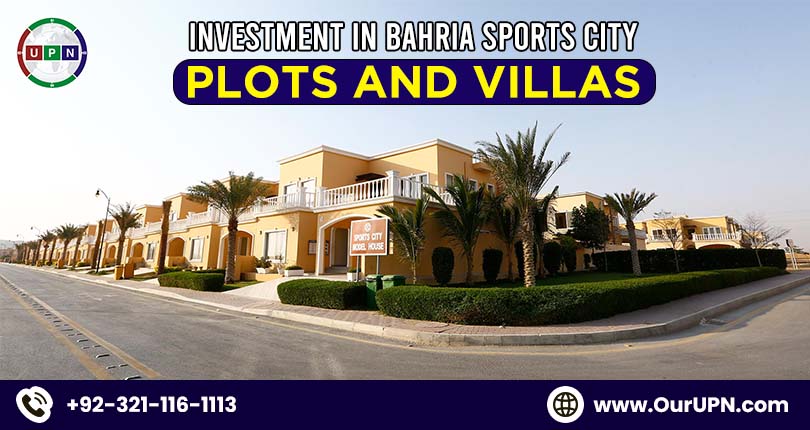 Bahria Town Karachi is an ideal place to buy property in the city of lights. This mega venture is perfectly planned with state-of-the-art infrastructure, unique amenities and features. But investment in Bahria Sports City appears the best choice as this project is designed with Pakistan's largest cricket stadium. Located inside the heart of Bahria Town, this biggest sub-project provides people with an opportunity to live high-standard living. A large number of families are already living there in its different precincts. On the other hand, the potential investment in Sports City benefits investors who smartly want to maximize their capital.
In this latest blog, we bring you a chance for easy and profitable investment in the best plots and villas of Bahria Sports City Karachi. Following are the details:
Investment in Bahria Sports City
This project spans a large area of land and features several precincts. Its precincts are good to invest in and reside in as it has unique living amenities and a peaceful environment. However, the best precinct where we suggest your investment in plots is:
Precinct 34
It is the first precinct of this sub-project developed completely. Having easily accessible location and beneficial surroundings, Precinct 34 offers possession plots. It is nearest to the speedily developing Rafi Cricket Stadium and shopping gallery, a beautiful mosque and several other attractions of Bahria Town.
Precinct 34 plots for sale include 250 sq yards of on-ground plots. These are the hot-selling plots of Bahria Sports City as their location is outstanding and access is easy. Moreover, the complete development is making these options ideal for end-users. Another reason for people's preference is the reasonable prices. Yes, the rates of these 250 sq yards plots are affordable, making them perfect for investment in Bahria Sports City. These plots are currently available in the price range of 80 lacs to 90 lacs. Some of its plots will cost you more because of the category.
In the past, the same plots were available in the range of 1 crore to 1.20 crores. These days, the prices are stable, providing people with a chance for smart and suitable investment in Karachi's property. Also, the same size plots are available in Precincts 40, 36 and 37. Their prices are also low and equally good for residence and investment gains.
After discussing the details of the plots, let's have an overview of the very popular Bahria Sports City villas, where buying has been beneficial since the day of their launch.
Precinct 35
It is one of the most popular precincts of Bahria Town Karachi. Precinct 35 is famous for featuring the best 350 sq yards residential villas. Have 4 bedrooms accommodation; these villas are perfect for living a peaceful and comfortable lifestyle with your family. Launched at surprisingly lowest rates with installments plan, these villas are now available in lump-sum amounts only. At the same time, the current prices of these villas of 350 sq yards are affordable but increasing speedily.  The latest prices of Precinct 35 villas are starting from 2.40 crores to 3.25 crores. These are the ideal villas for investment in Bahria Sports City as your capital will be secure, and chances of growth are evident.
Once Pakistan's largest cricket stadium, i.e., Rafi Cricket Stadium Bahria Town, gets operational, these villas will become out of reach. The expected future price of these Sports City villas is between 6 crores to 7 crores. Whenever a property lies close to any sports complex or stadium, its rates are double the other properties. So, this is the right time to buy these budget-friendly villas in Precinct 35.
Bahria Sports City investment is always fruitful, and people, whether end-users or investors, find it a suitable project. But now, the current prices of plots and villas are attracting more buyers and inviting them to grow their money with a safe and smart investment in Bahria Town Karachi.
Frequently Asked Question
Here are the answers to the most commonly asked questions:
Is Investment Safe in Bahria Sports City?
Yes, buying plots and villas in this project is 100% safe. In the past, there was some disputed/non-developed land. But now, the maps are updated, and issues are resolved.
Bahria Sports City Villas Good for Residence or Also for Investment?
These exceptionally developed villas of 350 sq yards are available at reasonable rates. We UPN highly recommends investment in them for both residence and investment growth.
Please contact Universal Property Network For More Information click here or visit our Youtube channel for further assistance.