Largest Cricket Stadium of Pakistan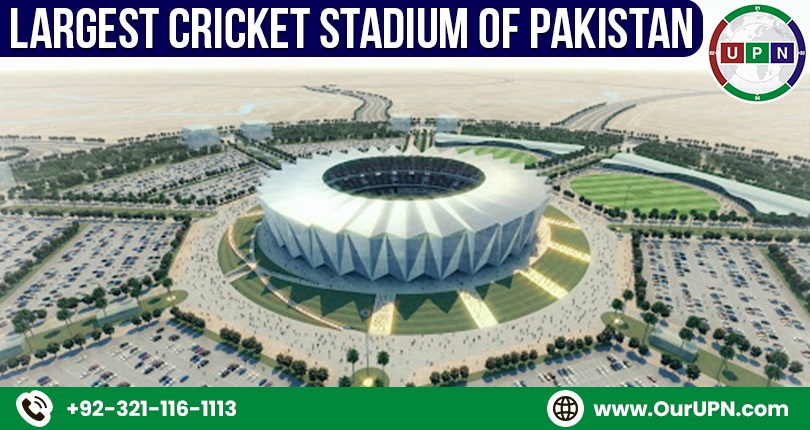 Rafi Cricket Stadium Karachi is the largest cricket stadium of Pakistan. It is developing at the fastest pace and is located perfectly inside Bahria Town Karachi. This housing venture Bahria Town is not only society but a complete city developed inside the city of lights Karachi. Launched a few years back in Bahria Sports City, a thoughtfully planned project with world-class sports facilities. Rafi Cricket Stadium is the major attraction of Bahria Town Karachi; moreover, once developed, it will be one of the significant developments of Karachi city. ICC completely approves the design of this stadium while it is 100% developing as per international standards.
With more than 50,000 spectators, soon Rafi Cricket Stadium Karachi will host the world's famous matches, championships, and leagues.
Largest Cricket Stadium of Pakistan – Rafi Cricket Stadium Development
Since its announcement to date, UPN has always wanted to update our visitors with real facts. Once again, bring you the latest updates of developments which are enough to make someone happy. Yes, the current development status of the largest cricket stadium of Pakistan is impressive. The grey structure development is completed so far. Now the work on sheer walls and main entrances are going on smoothly. One can also see the grass levelling work on the outer sides; moreover, the work on the pillar is under process. The development work of Rafi Cricket Stadium is progressing day by day.
Heavy machinery, hardworking labour, and experienced teams of engineers are working day-night for the timely completion of this mega project. Hopefully, some of the important matches of PSL 2023 will be playing in Rafi Cricket Stadium Bahria Town Karachi.
Why Rafi Cricket Stadium Is Important and Looks Attractive?
The state-of-the-art development of Rafi Cricket Stadium makes it a major project, but no one can ignore the thoughtful planning of Bahria Town Management. Everything in this project is perfect, from the prime location to the surroundings and attractions. But if you are still in search of reasons which makes it unique and attractive, then do read out the points below:
Rafi Cricket Stadium is the Largest Cricket Stadium of Pakistan, located perfectly in Bahria Town Karachi.
Its design is completely approved by ICC and developing as per international development standards.
The location of this stadium is outstanding while the surroundings are made more attractive with a good network of roads. All infrastructure and roads are planned to facilitate the visitors rightly.
Bahria Sports City Stadium has a capacity of 50,000+ spectators.
Rafi Cricket Stadium features two cricket grounds, a well-equipped gym, and the largest swimming pool.
There is a high-standard hostel and sports academy as well.
This stadium features impressive floodlights for day and night matches.
Moreover, it also has LED Screens and Digital Scoreboards.
When Rafi Cricket Stadium Will Operational?
The construction work of Rafi Cricket Stadium started in 2018. From then, it has been going on smoothly. Moreover, the current development updates are satisfactory. The completion date of this largest stadium in the country is December 2022. Hopefully, it will get operational on time.
Investment Near Rafi Cricket Stadium
Once the development work of this stadium completes and it's got operational, it will change the fate of Bahria Sports City. The properties located nearby, such as Bahria Sports City Villas, 500 sq yards plots, and commercials will never be available at the current prices. All the properties in the proximity of Rafi Cricket Stadium are perfect for real estate investment in Karachi. Buying there will surely benefit you more than your expectations. Also, this is the right time for a safe and smart investment in Bahria Town Karachi.
Please contact Universal Property Network For More Information click here or visit our youtube channel further assistance