Investment in Bahria Town Lahore in 2023
by UPN
February 20, 2023
0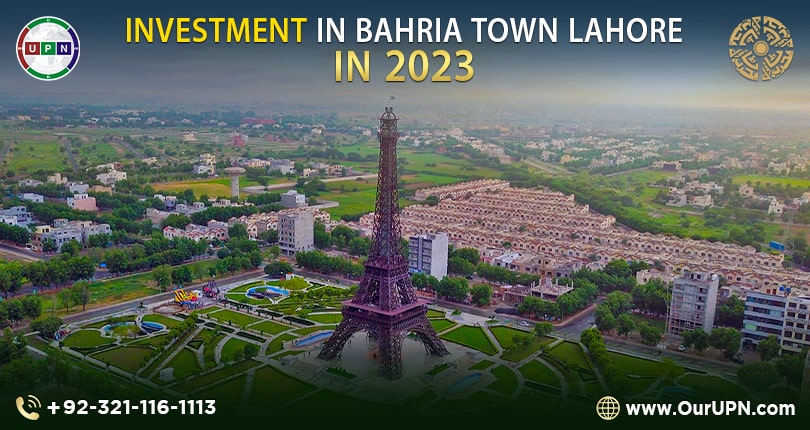 Bahria Town Lahore is a name of excellence. This mega project needs no introduction. Full of opportunities and the best property options, investment in Bahria Town Lahore is the heartiest desire of everyone. Both investors and buyers find it the most suitable society for residential and commercial property. Equipped with all the latest-day amenities and attractions, this project always shines like a star. That's all the reason that people always remain in search and wait for new deals. If you are also one of those investors who want to get the most profitable deal of 2023 in Bahria Town Lahore, be happy as we are here with something exceptional.
Yes, it's a new deal of plots!
After a long pause, Bahria Town Management has finally launched the most exciting deal of residential plots in Bahria Town Lahore. Located ideally, these are reasonable price plots available with numbers and maps. Further details are:
Investment in Bahria Town Lahore – New Deal Plots
The best price plots of 5 Marla are launched in Rafi Extension. It's a beautiful block of Sector E. All these are on-ground plots that can be purchased with numbers and on the map. Above all, there is no transfer fee or any hidden charges in Bahria Town Lahore new deal plots. You will be the first owner and soon the possession will be handed over.
Rafi Extension new deal plots are launched over a land of 15 – 16 Kanal. The new 5 Marla plots are announced in the surroundings of already developed 1 Kanal plots. The launching prices of the plots are 80 lacs to 90 lacs. The difference in the prices is because of the category. Both general and special category plots are available for sale. Booking of the plots can be made with a 50% down payment. The remaining amount will be payable after 1 month.
Comparison with Other/Nearby Plots
The same size plots of 5 Marla are available in the surroundings of the Rafi Extension. However, their prices are high. The 5 Marla residential plots of Jinnah Block and Rafi Block are available in the price range of 1.10 crores to 1.20 crores. On the other hand, the new deal plots provide you with the ideal investment in Bahria Town Lahore by offering plots for 80 – 90 lacs.
Development and Possession
The Rafi Extension Bahria Town Lahore plots of 5 Marla are available with numbers and from the official map. Soon their development work will be completed. By keeping in view the history of Bahria Town, we can assure you that these plots will be 100% ready to construct by the next 3 – 4 months. Plot possession will be handed over within six months of booking.
Investment Potential
Currently, the launching prices of plots in Bahria Town Lahore Rafi Extension are low. The rates will go high with the development work progress and increasing demands. These new deal 5 Marla residential plots are ideal for both short-term investment gains and long-term returns. The plot prices will surely increase in the next 3 – 4 months, providing you with the desired profits. So, don't miss out on this chance for a life-changing investment in Bahria Town Lahore. These plots are not only good for buyers and investors, but also it's a builder's location. Surely, they can purchase and construct luxury 5 Marla houses. This will benefit the builders a lot.
Rafi Extension New Deal Plots Location
The new deal of 5 Marla residential plots is launched in Sector E Bahria Town Lahore. The location of these plots is Rafi Extension which comes when we move from Talwar Chowk towards Jamia Mosque and Clock Round About. On the life side, you will find the Rafi Block and on the right side, there is a beautiful development of Jinnah Block. The location of Rafi Extension plots is super-hot. The surroundings of the plots are completely developed. All the basic to luxury living amenities are available. Bahria School, Hospital, Park, and Petrol Pump are a short distance. Imtiaz Super Store is also operational nearby.
No Physical Appearance Required
The new deal plots of 5 Marla brings the best investment in Bahria Town Lahore. These plots are available on open forms. It means there is no requirement to appear physically. You can book plots by contacting us directly. The following documents will be required to book these Rafi Extension plots:
2 Passport Size Photos
2 Copes of CNIC
CNIC Copy of Nominee
50% Amount of the Plot
Buying property in Bahria Town Lahore is always the right decision. But this new deal brings you a chance to get maximum profit within a few months. So, be quick and contact us to get the best and most profitable deal of plots in 2023. We are here to serve you with excellent as per your demands.
Please contact us through WhatsApp, Contact Us form, or visit our UPN Youtube Channel for further assistance.